Who doesn't love enchiladas? I can't say I have met that person if they exist. I am a huge fan of all Mexican food, but have a real soft spot for enchiladas. But I have found making true enchiladas while camping is pretty tough, but making this dutch oven enchilada casserole is easy and is a delicious spin on the regular enchilada.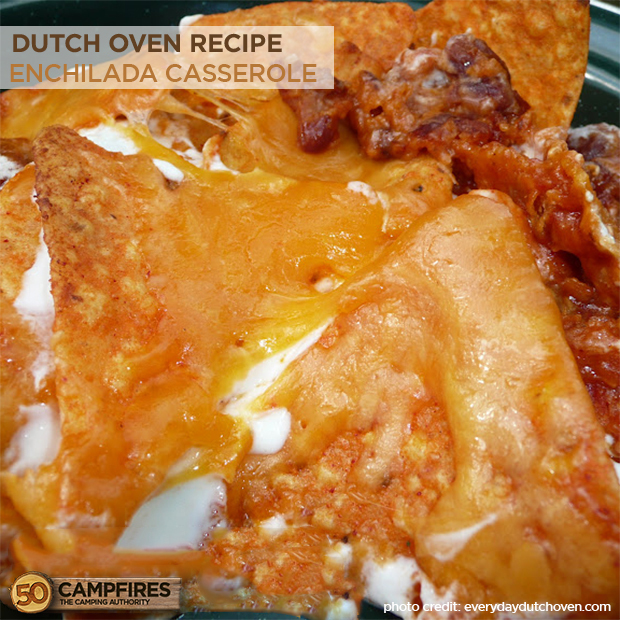 This recipe has been adapted several times, from a oven recipe to the dutch oven recipe we found at Everyday Dutch Oven. We also made some adaptions to fit our tastes and families needs. This enchilada casserole works great in the dutch oven and can be ready to eat in less than 30 minutes. The thing that is truly great, is how easy it is to make camping. There is no real preparation that has to be done and you won't take up a ton of room in your cooler with meats etc. The only thing I did before I left for the campsite was chop up my onion so I didn't have to do it on the picnic table.
For this recipe I used about 10 coals on the bottom and lined about 20 on the top, that provided a pretty good even heat for the casserole. When I first decided to make this recipe, I had some apprehensions on how the doritos would effect that beautiful enchilada taste, but I was pleasantly surprised. I have actually found that kids seem to enjoy this dutch oven enchilada casserole even more than the ordinary enchiladas!
Dutch Oven Enchilada Casserole
Ingredients
1 package Doritos, save 2 cups for casserole topping
2 tbsp onion, chopped
1 10 oz. can chili with beans
1 10 oz. can enchilada sauce
1 8 oz. can tomato sauce
1½ cups shredded sharp Cheddar cheese
Topping:
2 cups Doritos
½ cup shredded Cheddar cheese
1 cup sour cream
Instructions
Lightly oil or spray dutch oven. You can also line with tin foil and coat with non stick spray. Reserve 2 cups of Doritos from bag for topping. Crumble remaining 6 cups Doritos into a large mixing bowl.
Add the onion, can of chili, enchilada sauce, tomato sauce and 1½ cups Cheddar.
Stir with a rubber spatula to combine; pour mixture into prepared dutch oven.
Bake at around 375 degrees for 20 minutes or until cheese has melted and mixture is bubbling. Remove lid from dutch oven.
Spread sour cream over the top of the casserole with large spoon or spatula. Top with remaining 2 cups of uncrushed Doritos; sprinkle with remaining ½ cup Cheddar cheese.
Cover with lid and bake for 5 minutes or until cheese has melted.
Everyday Dutch Oven, has some really great dutch oven recipes, they truly share their passion for dutch oven cooking with the world. Click here for other great recipes.
By the way –
Here's our favorite Dutch Oven.
And here's the best way to clean it.