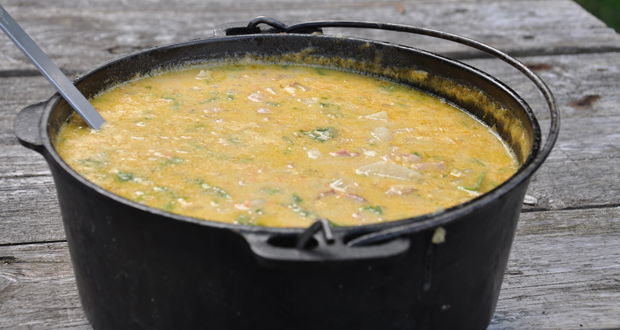 Easy Camping Potato Soup Recipe
This easy camping potato soup recipe sings to my Irish blood! It is perfect for a large group, serves 12, and is especially delightful on a cool autumn evening. I first made a pot several years ago at "Harvest Fest." It's a gathering of friends that has since become an annual campout in September none of us would miss intentionally. My friends have a property in rural northeastern Iowa where tents are pitched, firewood is gathered, and food is thoughtfully prepared that honors and celebrates our country's harvest. Apple pork roast, cream of squash, stews, and this savory soup, to name a few of the dishes, have been prepared then enjoyed around the fire in the crisp autumn air.
As always it is easier to do some preparation at home and bring it to the campsite. I have at times, cooked the bacon and the onions to put in a container that stays cold in the cooler. I usually cut all of the potatoes & vegetables and seal in containers for when I am ready to cook them.
All this soup needs is a loaf of crusty bread, a dab of sweet cream butter, and a blessing . . .
May the road rise up to meet you
May the wind be always at your back
May the warm rays of sun fall upon your face
And may the hand of a friend always be near

TOP OF THE EVENING POTATO SOUP
INGREDIENTS:
¾ pound of bacon, diced [apple-smoked bacon takes it up a notch]
1 medium onion chopped
5 lbs of potatoes, peeled and cut into generous bite size chucks
1 medium carrot, grated or cut fine
5 to 6 cups water [potatoes should be covered with water]
2 Chicken Bouillon Cubes [I use Knorr]
1 can [12 ounces] evaporated milk
3 tablespoons butter
4 to 5 teaspoons minced parsley [fresh if possible]
2 teaspoons Worcestershire sauce
1 teaspoon ground mustard
1 teaspoon ground nutmeg [freshly ground if possible]
1 teaspoon salt
½ teaspoon red cayenne pepper
DIRECTIONS:
In a large pot, cook bacon until tender but not crispy. Remove cooked bacon from pot and place on paper plate. In the bacon grease cook onions until onions are tender. Remove onions and place with cooked bacon and cover. Pour water into the pot. Add the potato chunks and bouillon cubes. Bring to a boil and cook for twenty minutes or until tender. [Fork inserts easily into potato.] Do not drain because the water is the liquid part of the soup Add grated carrot. Stir in the remaining ingredients: evaporated milk; butter; parsley; Worcestershire sauce; mustard; nutmeg; salt; and red cayenne pepper. Mix well. Add cooked bacon and onions. Cook soup for ten minutes or until heated thoroughly. Add additional water, milk or beer if soup is too thick for your liking.
Before you savor this hearty soup, lift your drink to an Irish Toast . . . "May your home always be too small to hold all your friends!"