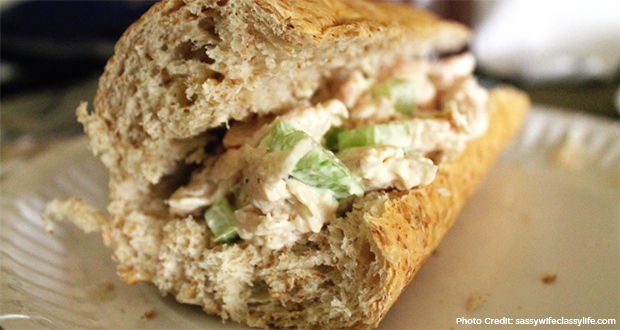 Foil Packet Chicken Salad Sandwich Recipe
It's one of those super easy lunch ideas that pretty much anyone can make. I'm talking about a chicken salad sandwich. They're quick and delicious making them perfect for a camping meal. But if you're out camping with a group it can get annoying to make individual sandwiches – so this chicken salad sandwich recipe allows you to make a sub style sandwich for a larger group.
If possible, I try to do as much prep work at home as it makes the time at the campsite much more relaxing. You can easily use canned chicken for this recipe but I do prefer to use chicken breasts that are shredded. So I will make sure to cook this before I leave and get the chicken shredded. You can easily make the entire chicken salad before you leave or you can have your ingredients diced and ready to throw together at the site.
This group recipe has you using a loaf of French Bread. Cut it in half and hollow out both sides, leaving about a 1/2 inch of innards. Take your chicken salad sandwich and scoop it in to the bread. Cover with the other half and wrap in tin foil. If you want to just refrigerate and eat it cold you can do that, but if you're looking for a toasty, warm lunch then throw the wrapped sandwich in the coals of the fire for about 10 minutes. Slice in to about 8 sandwiches and enjoy!
Foil Packet Chicken Salad Sandwich Recipe
Ingredients
3 cups chicken, shredded
⅓ cup green onions, chopped
¼ cup almonds, chopped
¼ cup plain fat-free yogurt
¼ cup light mayonnaise
½ teaspoon parsley
1 teaspoon Dijon mustard
⅛ teaspoon salt
⅛ teaspoon freshly ground black pepper
1 French Loaf, sliced lengthwise
Instructions
Combine first 9 ingredients, stirring well.
Cut the french bread lengthwise and hollow out both sides, leaving about a ½ inch. You can either discard the inner bread or use it for a dip.
Take the chicken salad mixture and scoop it inside the bottom of the loaf, until it is slightly piled over the top. Take the top half and pres it down over the sandwich.
Wrap the sandwich and tin foil and cool. You can then eat the sandwich cold. If you want it to be toasty and warm, throw it over the coals of the campfire for 10 minutes. Cut in to about 8 slices and serve.
More Great Sandwiches
10 Sandwich Recipes For Group Camping

Grilled Ham and Cheese Sandwich Loaf
Philly Cheese Steak Sandwich Loaf
BBQ Shrimp Po' Boy
Italian Crazy Bread Loaf
Meatball Sub
Caprese Sandwich