From where we sit, the battle has been fought, and won, when it comes to bringing technology into the woods. Sure, there are some folks who think that the campsite isn't the place for phones, speakers or even cameras. We're not those people. The outdoors is our place to relax, and to us, music, photography, and GPS are part and parcel of finding that Zen moment.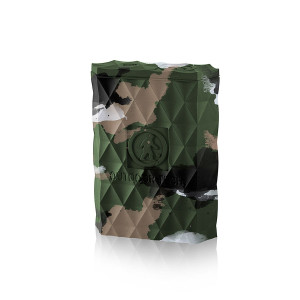 Now that's settled, let's agree on the fact you're going to need to keep your devices juiced. At home, we plug in our devices every night; it's just what we do. Enter the Kodiak Power Bank from Outdoor Tech. Think of it as your own personal power outlet. Jamming 6000mAh into a rugged, pocket-sized power bank was a task Outdoor Tech obviously took seriously, and delivered with style. Just like the bear that Kodiak is named after, the Kodiak Power Bank has got a thick skin. So thick in fact that it's been given an IP67 rating, meaning that it's totally protected against dust and can survive full immersion in up to 3 feet of water. It's a tank.
Equipped with a 2.1 amp output, this little bear is built to handle even the toughest USB charging situations.
Did you know that many portable batteries can't stand up to charging a tablet? That's not a problem with the Kodiak. It's got the skills to pay the bills, and to complete the package, the Outdoor Tech Kodiak has a battery level indicator button, showing you exactly how much juice you've got left under the hood.
The Outdoor Tech Kodiak is available in five colors, for less than $50, and it's easy to see why the Outdoor Tech Kodiak made our short list.

Price: $49.95