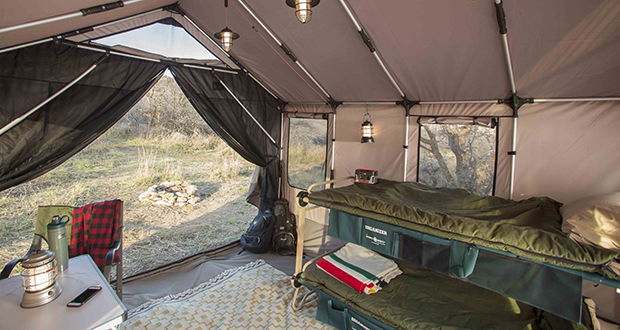 Gear Of The Year: Disc-O Bed Cam-O-Bunk XL Cot
Prices were accurate at the time of publishing
Good sleeping mats and cots aren't cheap. A high-quality sleeping mat can run you $200. But it can be hard to justify such a purchase if you're only using it when you go camping. The Disc-O Bed Cam-O-Bunk XL is different though.
People gravitate toward cots over a sleeping mat because they're more bed-like. The Cam-O-Bunk XL has no cross bars on the ends for you to bump into, and the bed is 34.5" wide so you have plenty of room to stretch out. What makes it unique is that if you have more than one they can be stacked like bunk beds. In a larger tent, this doubles the floor space for gear, playing cards if it rains, etc. When you're at home, you'll suddenly have the ability to accommodate two extra guests with a sturdy, comfortable bunk bed.
The Disc-O Bed Cam-O-Bunk XL cot stores efficiently into two carrying cases and requires no tools to assemble. Set-up takes roughly 15 minutes. Each bunk can support up to 500 lbs, and the rounded feet stop it from sinking into the ground or damaging your tent. When you're not sleeping, the bunk easily converts into a couch. All you do is move one side down from the top and stuff it with a sleeping bag or two. If you're looking for a comfy place to crash that can fill a lot of different needs, check out the Disc-O Bed Cam-O-Bunk XL.