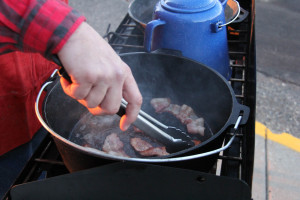 This egg bake certainly means business and can be adapted in many different ways to suit your style. Most recipes call only for sausage, but this version includes 5-6 slices of chopped bacon too. If you have a crew that likes some pepper's heat in the a.m., add half a dozen roasted, peeled and seeded jalapeños to the mix.
Unlike the chuck wagon cook of old, you have the option of prepping your ingredients before you even leave home. Chop the peppers, onion, garlic, bacon, and shred the cheese ahead of time, put them in baggies, and bring them to camp in a cooler. You can even beat the eggs and put them in their own Ziploc bag. You just got yourself an extra half hour of good sleeping bag rest!
There are so many different variations of the Mountain Man Breakfast. 50 Campfires adapted this one from Diabetic Connect.
By the way –
Here's our favorite Dutch Oven.
And here's the best way to clean it.
Mountain Man Breakfast
Ingredients
1 lb. mild pork sausage, crumbled
5-6 strips of bacon, cooked and crumbled
1 onion, chopped
1 clove garlic, minced
1 red bell pepper, chopped
1 green bell pepper, chopped
2 lb. pkg frozen hash browns, shredded
6 roasted, peeled, seeded jalapeno peppers, chopped (optional)
12 eggs, beaten
1 pkg shredded Cheddar cheese
Instructions
Cook and stir the sausage, onion, and garlic in a 12-inch cast iron Dutch oven raised over the coals to medium-high heat, until the sausage is no longer pink and the onion is tender.
Stir in the red bell pepper, green bell pepper, and hash brown potatoes until evenly mixed. Cook, stirring occasionally, until the hash browns are hot and the peppers are tender, about 15 minutes.
Pour the beaten eggs evenly over the top of the potatoes, allowing them to sink into the potatoes. Cover the Dutch oven, and place 6 to 9 coals underneath, and 12 to 18 on top.
Allow to bake until the eggs are firm, about 40 minutes. Sprinkle with Cheddar cheese and crumbled bacon, cover, and continue cooking until the cheese has melted, about 5 minutes.