Although they might not be the 8th Wonder Of The World, the Natural Chimneys Park in Virginia offers some amazing scenery. We had the chance to speak with Kelly from Natural Chimneys Park, who shared with us the history of the park, where to camp – and what to see and do. Listen to our full interview here:
Natural Chimneys Park Camping in Virginia
Camp Virginia: I'm talking with Kelly today. She's the Park Coordinator. We're going to talk about the Campground in Natural Chimneys Park in Virginia. How's it going today, Kelly?
Kelly: Pretty good, thanks. How are you?
CV: Really well. So let's start by talking about how long Natural Chimneys Park has been there and how it got its start.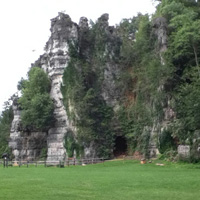 Kelly: The Park itself has been around for quite a while. The Campground itself and Park has been owned by Augusta County for the last, oh, three years now, but it's been a campground since around the '50s actually.
CV: Okay. And what types of camping do you offer there?
Kelly: We have full hook-up. We have electric and water hook-up, and then we also have primitive tent sites as well. We have 165 sites total.
CV: So, pretty big. That's a lot of campers.
Kelly: Not too bad. Yeah.
CV: Yeah. What are the most popular activities for campers there?
Kelly: A lot of times, in the spring, people come to trout fish. We have North River running through. It's stocked in the winter and spring with trout. It does go underground in the summertime, so that kind of dies out, but then a lot of folks come for different holiday events. Halloween is especially popular. We do a lot of halloween activities on the last weekends in October.
CV: Okay. And the Natural Chimneys – the photos here are pretty amazing. What causes those?
Kelly: Well, they were formed, you know, 500 million years ago. Basically, there's an inland sea, so there's a lot of deposits being laid down there, and then just over the millions of years, erosion and everything kind of worked away and eventually exposed the chimneys themselves.
CV: Okay, they're pretty cool-looking. And if I was staying there for the weekend, what are some of your favorite attraction in the area, if I were going to kind of head outside of the Park?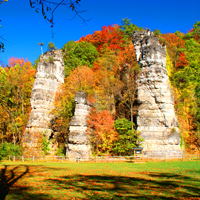 Kelly: We're very close to George Washington National Forest, which is nice. There's a lot of hiking and there's a couple lakes back in that, that people like to fish and swim in. We're not too far from the Town of Bridgewater and Daton. Harrisburg is just down the road, so there's a lot of good restaurants and things there. Stanton is also not very far. Only about a half hour from Stanton, which is a real cute, little town. So, yeah, we're kind of tucked out of the way in the country, but we're not too far away from some pretty nice, little towns.
CV: Okay, two more questions for you, Kelly. If you were going to spend just one hour hanging out in Natural Chimneys Park, how would you spend your time there?
Kelly: I would spend my time walking the trail that we have all the way up to the top of the chimneys. There's a little overlook on the back. So you can look down on the chimneys. You can get a good look at the layering of the rock and you also get a real nice view of the valley, spreading out before you. And then there's also a nice, little trail that goes along the river there. So, I tend to spend my time hiking anyway, so those are the things I like to do out there.
CV: Okay. And if you were going to spend just one night in Natural Chimneys Park, which specific campsite would you choose and why?
Kelly: I guess it depends. I tend to like to be a little more tucked away. I tend to like shadier spots, so the D-Loop, we call it. It's kind of on the top side of the campground. It's kind of its own little separate loop back there. They all have 30amp electric and water hook-up, so you've got power and water right there for you, but it's still nice and shady and a little more tucked away. So, those are kind of my favorites.
CV: All right, sounds good. Thanks for the tip and thanks for talking us today about the Campground at Natural Chimneys Park in Virginia.
Kelly: Thank you.