A new outerwear manufacturer has hit the market and a lot of people are taking notice. Mia Melon Clothing is taking the outerwear and fashion industry by storm with their fashion-forward outerwear for women. Functionality meets fashion with their trendy styles and weatherproof wear. We were able to speak with Todd to get some of the inside scoop on why Mia Melon Clothing is so cool, what inspired them to move in to the outdoor world and what their next steps are. They are currently running a Kickstarter campaign, so if you think their designs are as awesome as we do, then make a pledge to support this great company.
50 Campfires: We are speaking with Todd from Mia Melon Clothing. What is your title over there, Todd?
Mia Melon: Well, I would have to call myself the President and owner.
50 Campfires: Great, that's fantastic. And is it just you that owns the company?
Mia Melon: No, my partner is my wife, and together we run the business.
50 Campfires: That's great. So, where is Mia Melon Clothing based out of?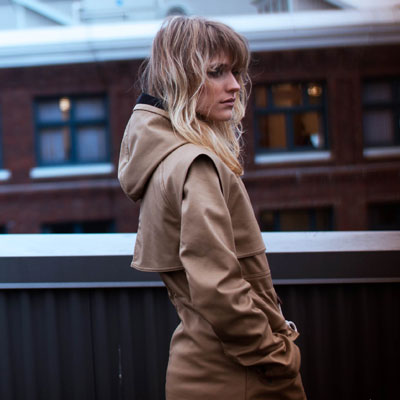 Mia Melon:
Well, we're based out of Vancouver. We have a design office in Vancouver, and we have our warehouse in Delta, which is near Vancouver, and then we have our home office, which is in Half Moon Bay, very close to Vancouver.
50 Campfires: Perfect. So, you're based out of the Half Moon Bay area?
Mia Melon: I am, yes.
50 Campfires: So, Mia Melon is certainly a unique name. Where'd you guys get that name from?
Mia Melon: Previously I had a person that I was in partnership with. She was a designer, and she created the brand. She created its identity and its look. But she was a house mom and had a hard time. She was an amazing designer. She was really fashion-forward, but over time, she just wasn't able to make the products fit. It was mostly dresses and street wear at the time. We didn't have this type of outerwear that we're offering now. And eventually I just took over the company from her, but we did start our first prototypes to our weatherproof fashion coats back in 2011, and she was still a part of that – she designed those first two coats for us.
50 Campfires: Cool, that's great. I was reading on the website that it's a fictional character that's kind of taken on its own identity.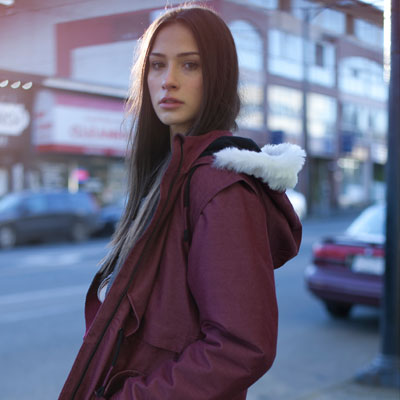 Mia Melon:
Yes, it was, since our weatherproof coats are really starting to take off, we're going to start focusing more on the them and eventually get into fashion weatherproof fleece. As we move forward we will slowly get out of the street wear part. We're going to have to rewrite our homepage eventually.
50 Campfires: That's not a bad thing. Speaking of the outerwear, what has your experience with the outdoors been? Do you enjoy camping, fishing, biking – that type of stuff?
Mia Melon: Where I actually got the concept from was in the '90s. I was one of the pioneers in the snowboard industry. Living in British Columbia, it's a hub for snowboarding. This area allowed the snowboarders on the hills in the early '90s, including Black Hole and Whistler. Basically, as time went on, our snowboard products became more commercial. We started offering street wear, called Lifestyle Clothing now. That's where I learned how to bond and how to make fabrics waterproof; it was from snowboarding and the snowboard fabrics. And as time went on, our goods became more mainstream and commercial, and before you know it, there's fashion dresses and fashion coats, and I ended up working for a company that evolved just into young women's fashion, concentrating on coats.
So, for the first 12 years of my working history, I was dedicated to the snowboard lifestyle industry, and then, in the last 12 years, I've been focused in on women's fashion, evolving from the snowboard industry. And I said, "Well, you know what, this technology is around, but no one's thought about applying it to fashion coats before," and so that's basically what I've done; is taken my experience from the snowboard industry and merged it with the fashion industry, and now it's a hybrid of the two in one.
50 Campfires: Yeah, absolutely. Is that what inspired you to mesh fashion with top-of-the-line outerwear for women?
Mia Melon: Exactly. That's just where the idea came, and then we executed it in fall 2011. Gained the first series. Had a few problems with fit, it's not an easy thing to develop. You have to develop the fabric. It's got a little more structure than normal fabrics, and now we're at the point where we've perfected everything, where we can design beautiful women's coats that offer the same functions as one of the mountain-type brands, such as North Face, Columbia, Helly Hansen and Patagonia.
50 Campfires: Yeah, absolutely. So, what makes Mia Melon Clothing's process a little bit different than others? Do all outerwear companies bake their coats in an oven?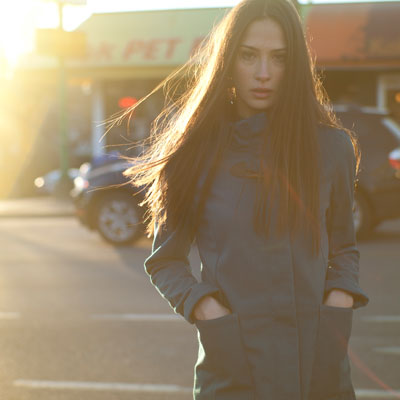 Mia Melon:
Well, we've got three processes, and yes, the main treatment that keeps the water and wind out is a poly membrane, similar to Gortex that's bonded in between the two fabrics. So, it's bonded in between a nice, cozy micro fleece on the inside. That part is nice to touch to keep you warm. And the outside is a fashion fabric, such as cotton or cotton blend that looks fashionable, not sporty. In between, is the membrane that's waterproof and breathable and windproof.
But on the outside, we actually put a DWR treatment on, it's fairly common. A lot of companies will produce some garments, and they call it water-resistant, and that's what DWR does; it actually makes the water bead off the fabric, but it does have a lifespan. It wears out after a certain period of time. And those companies that make water-resistance garments using DWR coating as their primary treatment, will lose their ability to repel water after several washes. So, we just put the DWR coating as an extra precaution and to help make the water bead off so it doesn't absorb into the membrane.
50 Campfires: That's great. It's cool to get some insights into how all of that works. People are certainly taking notice of the brand. KickStarter has, so far, been a huge success. Why do you think the Mia Melon outerwear line is going to be so cool? What does it have that maybe others don't?
Mia Melon: The thing is we really don't have any competition at this stage. There is one more waterproofing process that the snowboard and ski companies use, and some of the mountain companies, where they spray or roll a goop underneath the fabric and that's kind of similar to the membrane that I was mentioning that we use. So, we actually make some items using that type of fabric, but it ends up being a little more sporty-looking. We're all about fashion. We're all about looking good. There are a lot of women that don't want to even go outside because they don't like the elements. They don't want to get cold. They don't want to get wet, but they have nothing to wear.
They are not in to wearing something sporty, mountain-y type of product. They're all about fashion, and we are too; We are about being outside and looking good.
50 Campfires: Yeah, absolutely. It's kind of like fashion with functionality as well.
Mia Melon: Exactly.
50 Campfires: So, what's next for the brand? Is there going to be men's outerwear? Kid's outerwear?
Mia Melon: We want to get this Kickstarter campaign to full potential because we need to raise some funds and we have plans to come out with a fashion fleece program. This Kickstarter campaign has also given us a lot of free marketing and the demand for a men's collection is massive, but it's a very expensive product to develop and it takes almost a year from the initial concept to sourcing, designing and developing the fabric, and to actually put it into production. So, we're hoping to have a successful campaign so we can actually get a men's program going.
The other thing with this
Kickstarter
program is it's brining a ton of exposure will continue after our campaign. We do have really high profile, wholesale retailers that retail our product already, mostly fashion boutiques. And we plan to sell our product online, which we are, but we have a limited supply. I could probably order three or four times more product than I can afford to buy. We've gone into production right now, so if anyone really wants to secure these products for next September, the best way to get one is to pledge because all the pledges will get filled. After that, it goes into our normal chain of distribution, and we're pretty excited with the demand that we're getting right now.
50 Campfires: Yeah, absolutely. So, if people do want to get involved in the Mia Melon Clothing Kickstarter, there is still time to do that?
Mia Melon: Yes, they have until Saturday, May May 10 at noon.
50 Campfires: Okay, so they can certainly get on it then and be able to still get a pledge in.
Mia Melon: Yeah. It will help us raise funds for the men outwear line. I don't think men have as many choices in the fashion world as women. You know, the coat collections for women offers so many choices, where the men seem to be a little more interested in technology, but they also want to look good and there really isn't anything for them. So, we're really excited to get a men's outerwear line going.
50 Campfires: Yeah, absolutely. How can our readers learn even more about Mia Melon Clothing?
Mia Melon: They can follow us on Facebook and see who we are and what we do. We've originally been indie band or indie music supporters, and we do have some young up and coming musicians that are indie band artists, and we promote them, so we're all about indie music. And even as we shift our focus from street wear to fashion weatherproof coats, we'll still be indie music inspired.
50 Campfires: Great. That's fantastic. We really appreciate you taking the time to speak with us and we're excited to be able to help promote Mia Melon Clothing to our readers as well.