On a chilly Fall morning, it is a little tough to get out of a warm sleeping bag and crawl out of the tent, but knowing you're about to make an amazing pie iron breakfast helps me get moving. The Ham Omelet that we prepared was well worth it, I promise. Breakfast over the campfire is one of my favorite things to make, from campfire burritos to pie iron biscuits and gravy, there is just something about making your morning meal over a flame.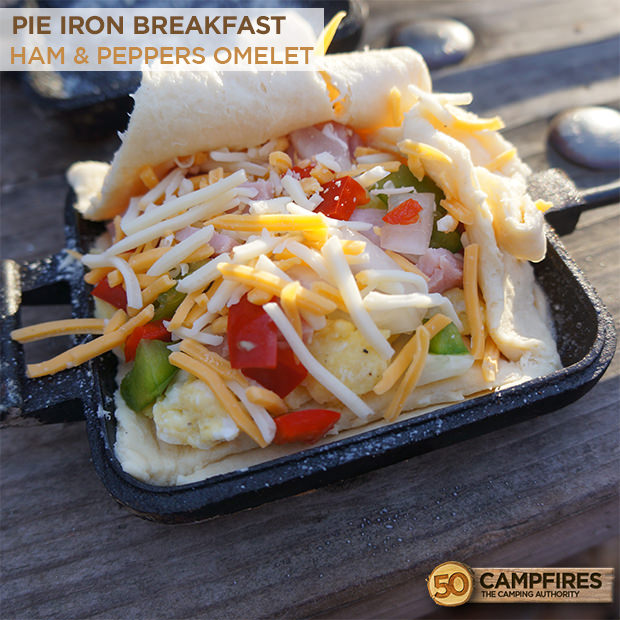 I've always loved a good omelet and this pie iron ham omelet is simple to make and oh so delicious straight from the coals of the campfire. As with a lot of camping recipes, I tend to prepare as much of the meal at home as possible to make it easier when we're at the campsite. You can certainly use left over ham for this recipe but it's also easy to just grab Oscar Meyer Carving Board Ham and dice that. Before we left I also diced all my peppers and onions. I even went as far as cooking and scrambling the eggs. Then all we had to do at the campsite was assemble the meal.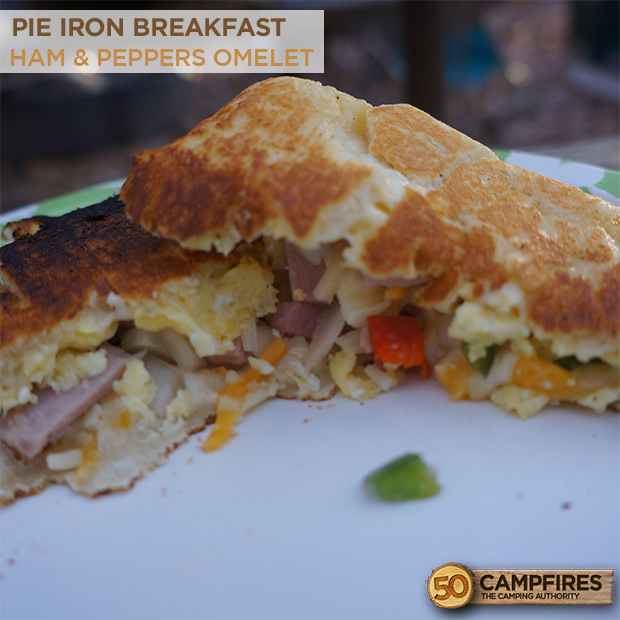 When we make this recipe we use crescent rolls. Using crescent rolls gives the omelets a little more of a buttery biscuit taste, but you can use bread and it works just as well. Always make sure to spray the pie iron well to keep the meal from sticking.
This ham omelet recipe has always been a hit when we've been out camping and it is fun for kids to add the ingredients they want for their omelet.
Pie Iron Breakfast: Ham Omelet
Ingredients
5 eggs, scrambled
½ green pepper, diced
½ onion, diced
½ red pepper, diced
½ cup shredded cheese
8 oz carving board Ham, chopped
2 packages crescent rolls
cooking spray
mushrooms, optional
Instructions
Dice the ham, green pepper, red pepper and onion. You can combine in one container if you want or leave them separate. In a skillet, scramble the 5 eggs.
To assemble in the pie iron, spray both sides with cooking spray and lay out 2 crescent rolls in the bottom of the pie iron. Add your egg, ham, diced veggies and cheese. Cover the mixture with 2 more crescent rolls and pinch the sides all around to seal.
Put in the coals of the fire, cooking 2 minutes per side. Check often as it can start to burn quickly.