Music is the glue that holds our camping trips together. Whether we are sitting around the fire, playing games or having a cold drink, having our favorite playlist rocking provides the context to which everything else happens. In our opinion, camping wouldn't be the same without your favorite music playing in the background.
Long gone are the days of bringing a "Boom Box" to the campsite and listening to a radio station. Bluetooth allows you to take your favorite music anywhere, and what better place to relax with your favorite tunes than a campsite. Whether you are going on a backpacking adventure or setting out with your friends and family for a weekend camping trip, you will be able to find the perfect Bluetooth speaker for your music needs. Like a big sound and a lot of bass? We've got it. Looking for something ultra-portable and waterproof? We've got it. Take a look and find the perfect speaker for your music needs.
Small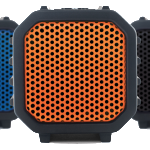 EcoXGear Pebble
Don't let its size fool you; the Pebble is a serious speaker. Turn it on and you'll instantly be surprised at how crisp your music will be. To call the Pebble packable would be an understatement. It literally fits in the palm of your hand. No worries if you happen to drop it in the water. EcoXGear designed the Pebble with a true IPX7 waterproof rating, and it floats. This little speaker goes from zero-to-fully-charged in less than 2.5 hours with a playtime of 7 hours.
Click here to buy!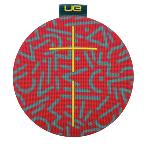 UE Roll
You've never seen a speaker with this profile. The Roll has a completely unique design, which makes it completely packable, portable, and waterproof. This profile creates a full 360 degrees of sound. UE also allows you to pair multiple UE speakers together to increase the volume and make sure everyone around the campsite feels like they're front row. We love the marine-grade bungees to strap on your backpack. UE also has a downloadable app with tons of great features, which allow you to control your music from afar and unlock an expanding set of cool features.
Click here to buy!
Mid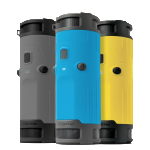 Scosche boomBOTTLE
If you've been on our website, you've noticed this speaker has made its way into contests, reviews, and overview articles. What can we say? We really love this speaker. It fits perfectly in a cup holder or water bottle cage. The integrated controls allow you to control your music on the speaker itself without having to deal with your phone or device. The dual 40mm drivers and a passive subwoofer featured in the boomBOTTLE put out an impressive sound that doesn't distort your music at high volume. Like music with deep base? This is the Bluetooth speaker for you.
Click here to buy!
Big Boys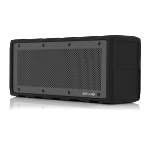 Braven HD
Have an all day party to attend? This is one of the few Bluetooth speakers on the market that can outlast your playlist with a 28-hour playtime. The functionality of these speakers is great because you are able to daisy chain them with a second BRV-HD or Braven 8-series speaker for an immersive music experience. While it doesn't have a true waterproof rating like other speakers on our roundup, it is IPX3 weatherproof. Pair that with a shockproof exterior and aircraft grade aluminum, you aren't giving up much in terms of durability.
Click here to buy!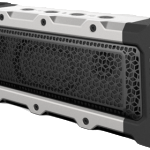 Fugoo Tough XL
Fugoo hit a homerun when it comes to directional sound and listening experience. With 8 drivers facing all directions and pushing out up to a ridiculous 100 decibels of sound, this is a great speaker. Optional hand straps and strap mounts mean this goliath can go anywhere with you. So you've got all the volume you'll need and it's portable for a larger speaker, but the crowning feature is the battery life. At up to 35 hours of playtime, the Fuggo Tough XL will keep rocking all weekend.
Click here to buy!