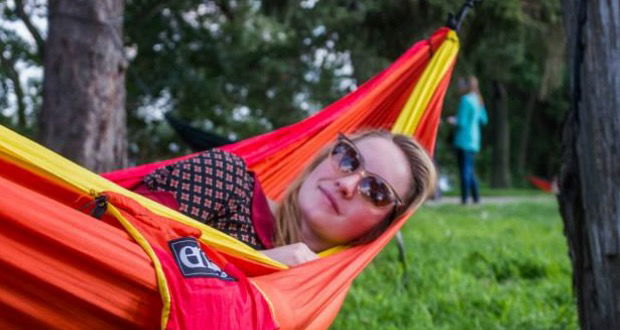 The Mocking Trend: What It Is, Why You Should Do It, And What You Need To Get Started
Is it just me or are there way more hammocks around this year?
While driving around Minneapolis this summer I started to notice something that I quite enjoyed: hammocks. Like, a lot of hammocks. On a nice day I'd see 10-20 of them driving around the lakes in the city. Soon after, I started to notice them in my neighborhood in South Minneapolis. Sometimes one, but usually it would be two or three. Right around that time my wife said, "hey, have you heard about mocking? 50 Campfires should look into it." Apparently her coworker's son and his friends were all into "mocking."
What's the deal with all these hammocks? (Insert my terrible Jerry Seinfeld impression there)
Teenagers are simply discovering how nice it is to relax in the great outdoors vs. sitting inside on the couch. "I like to sway. It reminds me that taking time to take a step back is important. Just be," says Drew, from the Hammock Initiative in Minneapolis. "We are not human doings, we are human beings." It comes as no surprise that the goal of mocking is to, well, not really do much at all. I couldn't be happier about this trend. Between coursework and sports most kids barely have time to eat these days, and it's still important that they find time to do nothing at all.
I spent a lot of time in the woods when I was a kid. Exploring, walking around, climbing trees, making guns from sticks with my cousin, and just looking around for new things to do. It was all moment-to-moment, and it played a large part in the connection I have with the outdoors to this day. Finding out that REI is having a hard time keeping hammocks in stock because kids are snatching them up and heading outside to relax is one of the best things I've ever heard. If you get hooked on the outdoors as a kid, it usually sticks. 
You have a lot to choose from if you want to get into mocking. 
For the longest time your only option to sway in your backyard was the classic woven rope hammock. I found out the hard way (more than once), that these are surprisingly tippy. They're ok once you get situated, but they're very limited and to be honest, not all that comfortable. Nylon has made modern hammocks truly portable, as well as more functional. You can now carry around a travel hammock in your backpack that weighs less than a pound. Drew's first hammock only weighed 10 ounces. "I bought a travel hammock from Byer of Maine. This was the start of my mocking adventures. That hammock also went with me to Hawaii when I spent some time working there and hitchhiking around the islands. It was my shelter, my home, my hammock." That hammock can be purchased directly from Byer of Maine for only $24. 
ENO Hammocks are also popular among the mocking crowd in Minneapolis. You can pick up an ENO Single Nest for jus $60. They're well made, light, and pack down to the size of a Nalgene bottle. With 16 different color combinations, you're sure to find one that suits your personality.
Due to the popularity of group hangs, we're starting to see companies like Treble Hammocks create products like the Tree-O Hammock Frame. It's a smart little setup that allows three hammocks to easily hang out in close proximity.  Mocking is about hanging together, and the Tree-O does a great job of accomplishing that. Their project was recently funded on Kickstarter.  Congrats Tree-O!
The transition from mocking to camping
Some mockers we talked to have also camped overnight in their hammocks, but it's certainly not the majority. Mocking is all about taking a relaxing break from the daily grind, and part of the attraction is that it doesn't require any planning or extra gear. Still, there are those who want to take it to the next level. There are a lot of companies that offer overnight hammock setups, and much it comes down to personal preference. I'll speak about the all-in-one camping hammock I've had the most experience with, which is Hennessy Hammocks.
Hennessy Hammocks have been on the market since 1999, and are massively popular with the hammock camping crowd. They're usually sold as all-in-one hammocks that have mosquito netting built-in, and also include a rain fly. I have a Jungle Expedition Zip that has a few neat features. First, the mosquito netting can be unzipped, so it functions more like a regular hammock. Second, all Hennessy Hammocks can be flipped over and used as a seat, which is great for changing shoes or just chilling by the campfire. And last, the Jungle Expedition Zip has a double layered bottom that allows you to slide a pad in, making it much warmer during cool weather. There are clips inside that hold the pad in place, which works great. Considering that it comes with mosquito netting and a rain fly, the price of $220 for an all weather hammock is reasonable in my opinion.
Mocking is very similar to what I like to call "day camping." One of my favorite things to do is to setup a hammock in a remote part of a park, and simply lounge around for the afternoon. I'll sleep, read, hike, and maybe cook something. It's one of my favorite ways to relax, because it can be done at a moments notice, and requires zero planning. I'm glad a younger generation is doing the same thing, and I hope I see twice as many of them scattered around the city next summer.