The guys from Tinlid Hat Co. had an idea. Create a hat that people not only want to wear, but give back to the community while they're at it. The idea blossomed, and with every hat sold Tinlid supports three different non-profit groups. The group that receives the donation is based upon the hat purchased.
We had a chance to check out their Thrive hat. It's a solid green hat that's complimented with a square leather patch embellished with a lone pine tree. Which makes sense. Every time someone purchases the Thrive hat from Tinlid Hat Co., a tree is planted through the National Forest Foundation. Charitable fashion – love it.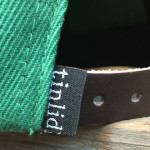 Flip the hat around, and the leather buckle strap on the back will keep the hat locked on your lid with style. One of the neatest features of the hat? The side strap that's designed to hold your pencil, pen – or anything else that you'd traditionally tuck behind your ear.
The Thrive hat is built well enough on its own to justify the $25 price tag, but add in the National Forest Foundation angle, and we've got a winner.
Be sure to check out the Tinlid Hat Co website to purchase, and check out their other hats for a cause.