Did you, or do you, play Tetris? Could there be any better training for packing the back of your SUV for a family camping trip? No matter whether you're a couple headed for a long weekend or a family on a multi-state driving tour, making everything fit is always a challenge – let alone making sure the gear is easily accessible when you need it.
Here are some tips on packing the vehicle efficiently:
1) Give Yourself Time
If possible, pack the vehicle the day before your trip so you don't feel rushed. There are few more stressful ways to begin a road trip that everyone standing around as you pack the gear and telling you to hurry up.
2) Know What Your Dealing With
Take a close look at the vehicle in which you'll be traveling. Scope it out for the space you have to work with and to discover all of the storage and cargo options. In the Nissan Pathfinder for example, there are seven full passenger seats in three rows. With all the seats up cargo storage is 16 cubic feet. Drop the third row and you more than double the capacity to 47 cubic feet. Dropping the second row reduces the number of passengers to two, but gives you nearly 80 cubic feet to work with.
Look to see what additional space is available, too. In the Pathfinder there's a large under-floor storage area that can be easily accessed even when all three rows of seats are used. "Hidden" spots like this are great for keeping valuables out of sight or for stowing cargo you may not need access to when other gear is piled on top.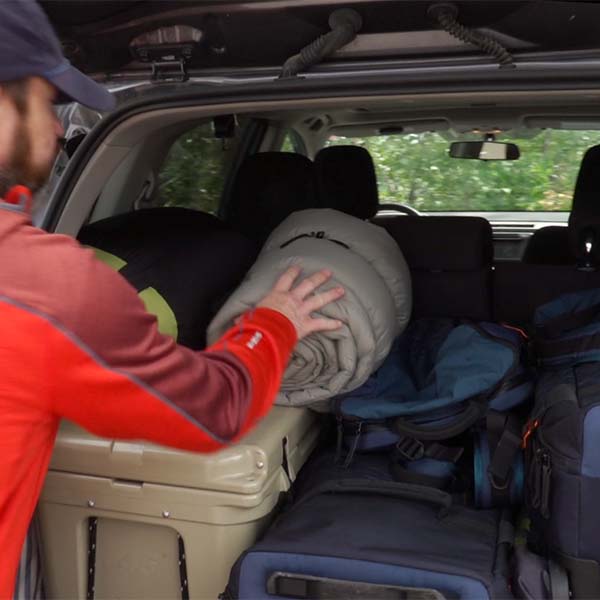 3) Soft Gear Packs Tighter
As much as possible, opt for soft-side luggage. It packs tighter. Soft side bags, duffels and packs will conform better to fill oddly shaped openings you might have in your car trunk or the cargo area of an SUV – even around the wheel wells in the bed of a pickup truck.
4) Gear Up to Fit
Camping requires a lot of oddly shaped items – some large, many small. Selecting bags, boxes, coolers, duffels, etc. that have relatively straight lines will maximize packing space. Think back to Tetris. Each piece in the game is composed of the same squares and when you do it right, they all fit together precisely and fill out the space completely.
A larger number of smaller bags and boxes also allow more options for using space most efficiently than do a few large ones.
Of course, your aren't going to be able to select all gear that fits in perfect cubes, but if you view the selection with a master plan of how it's going to fit in whatever vehicle you'll travel in, you'll be able to take it all with you without stress or having to decide what stays behind.
5) Lay Out the Gear; Lay Out the Day
As you prepare to pack, get everything everyone wants to take laid out near the rear of the vehicle. Sort it into the order in which you'll need it once you arrive. Remember the first gear to go in should be the items you'll need last.
So, say for example you'll be driving to a campground early on Saturday morning. You'll get there around 10 a.m. What is your schedule for the day?
On the way you'll stop for gas and coffee, and the kids will want some treats. The drive will take about two hours, so the kids may want to watch videos or play games. You've been to this campground once before, but you've heard there's road construction on the way so you might have to take a detour. Everything you'll need related to this part of the trip goes in the passenger compartment of the vehicle. Plan for surprises, too. For example, maybe you'll see some wildlife along the way and everyone will want to have a closer look, so keep the binoculars up front and available.
The family wants to go straight to the beach and picnic area once you've checked in, so the beach stuff, the coolers, and the like need to be packed last since you'll need it first.
At the campsite, you'll want to set up the tent first, so it and any related gear need to be accessible next. By the time the tent's up everyone will be starting to think about dinner and you may want a cocktail – so that's the gear you'll need next.
After supper and s'mores it will be time to turn in – so cots, pads, and sleeping bags will be the last things unpacked. So, plan to pack them first.
6) Fill the Holes
If you're taking a lot of gear or especially if you have a big group, utilizing every cubic inch of available space is important, so as you pack fill the holes with smaller, perhaps oddly shaped items.
For example if the rolled sleeping bags go in right behind the back seat, do they leave room in between for individual hiking boots or that roll of contractor's bags no camper should ever leave home without.
Look for the holes and fill them as you go.
7) Heavy Gear Goes Low and Forward
If you have some heavy equipment to stow, it should go low and forward. First, it's safer if you have to slam on the brakes because it will be held in place by the gear on top of it and a seat back. Second, any vehicle handles and rides better if the majority of the weight is packed ahead of the rear axel rather than behind it.
8) Take Advantage of Vehicle Features
Your vehicle likely has features meant to help you pack and travel more efficiently. Get familiar with them and you'll come to love them.
On the Nissan Pathfinder, for example, the newest models have an available motion activated lift gate. Even if your arms are full of firewood and you approach the rear of the vehicle, all you need to do is swing your foot underneath the sensor below the rear bumper and the gate will open automatically for you. You can close it the same way if your arms hands are full of gear you've just taken out of the trunk. Sweet!
Take the time to locate all of the various power outlets in the vehicle, too. You'll certainly have the 12v lighter style outlets, but newer vehicles usually have USB ports, too. There's probably a Bluetooth connection, and SUVs and pickups often come equipped with power inverters to provide 120-volt outlets as well. When you're packing, you'll want to consider how accessible you'll need all the outlets during the drive.
9) Pay Attention to Details
If you know you're going to have plenty of space, you might be tempted just to throw your gear in the back and hit the road. Chances are, though, at some point you're going to want some gear that's buried below something else. When you do, it's way more convenient if the zipper on that bottom duffel is pointed up rather than down, against the car's carpet.
10) Perfect As a Picture
When you've maneuvered everything into perfect, locking Tetris position, and it's all on board, get out your camera and snap a photo of your masterful success. Then when everything needs to be put back for the trip home, look at the photo for a reminder of how you packed it the first time.