From alpine deserts to lush mountain sides, these nine national park trails meander and climb through some of the best and most diverse wildflower displays in the country. 
1. Great Smoky Mountains National Park – Townsend, TN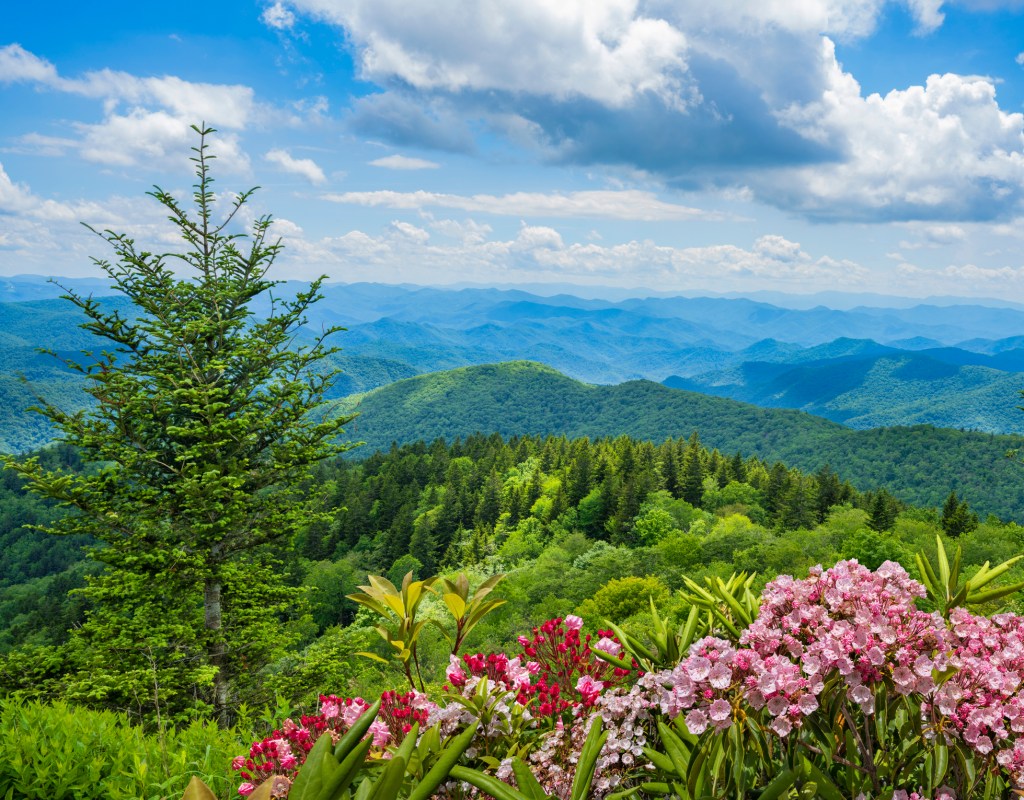 Middle Prong Trail
How to get there: The nearest major city to the park is Knoxville, Tennessee, about a 45-minute drive away. Parking is limited during peak visitation hours, so get there early!
Best time to visit: Though the park boasts year-round wildflower viewing opportunities, April is also when the annual Spring Wildflower Pilgrimage happens. This three-day festival features professionally guided walks, speakers and exhibitions.
What to expect: Middle Prong Trail is a fantastic trail in the park because it packs in gorgeous wildflowers, four waterfalls and tons of history. This is a moderate day trip of 8.3 miles and just over 1,100 feet of elevation gain.
During the peak month of April, hikers will find foamflower, toothwort, violets, wood sorrel, dwarf irises, trilliums, jack-in-the-pulpits and other wildflowers within just the first 2 miles of the hike. Hikers who continue down the trail as it follows the Lynn Camp Prong, a major tributary of the Little River's Middle Prong will pass by a series of waterfalls, an abandoned 1930s Cadillac and remnants of the Middle Prong Civilian Conservation Corps camp.
2. Crater Lake National Park – Chiloquin, OR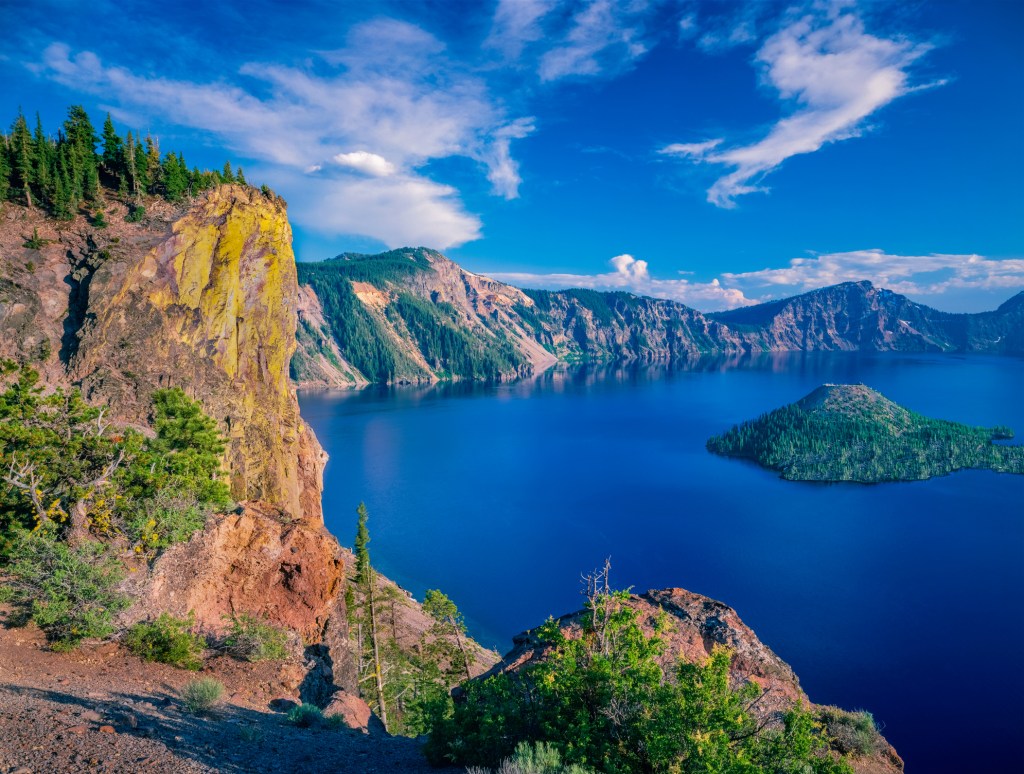 Mazama Village to Rim Village 
How to get there: Portland, Oregon is about a four-and-a-half-hour drive to the park. Closer Oregonian towns include Klamoth Falls (70 miles), Medford (89 miles), and Eugene (140 miiles), but their airports don't offer as many flights.
Best time to visit: For some of the most stunning wildflowers, the best time to visit is right after the snow melts, which is typically around June in this region. Some heavy snow years, like 2023, indicate a longer snow season and a delay in peak wildflower blooming. All facilities, roads and trails in the park are typically open from July to September, which is peak visitation season in general for this park.
What to expect: The trail from Mazama Village to Rim Village is a moderate 8.5-mile out-and-back hike that gains nearly 1,700 feet in elevation. It runs through the forest and crosses multiple creeks before opening up to breathtaking views of the lake.
Wildflowers are the most abundantly growing flora within the park and can be spotted everywhere from the lowest points of the park to the highest, from the shade to the sun, and from the water's edge to the rocks. Keep an eye out for beauties like western springbeauty, spreading phlox, Washington lily, phantom orchids and upland larkspur along the trail.
Honorable Mention Hikes at Crater Lake
​Castle Crest Wildflower Garden Trail: It's less than half-a-mile jaunt takes you through some spectacular wildflower views!
Plaikni Falls Trail: You'll see spectacular wildflowers and a waterfall on this 2-mile round-trip with less than 150 feet of elevation.
3. New River Gorge – Shady Spring, WV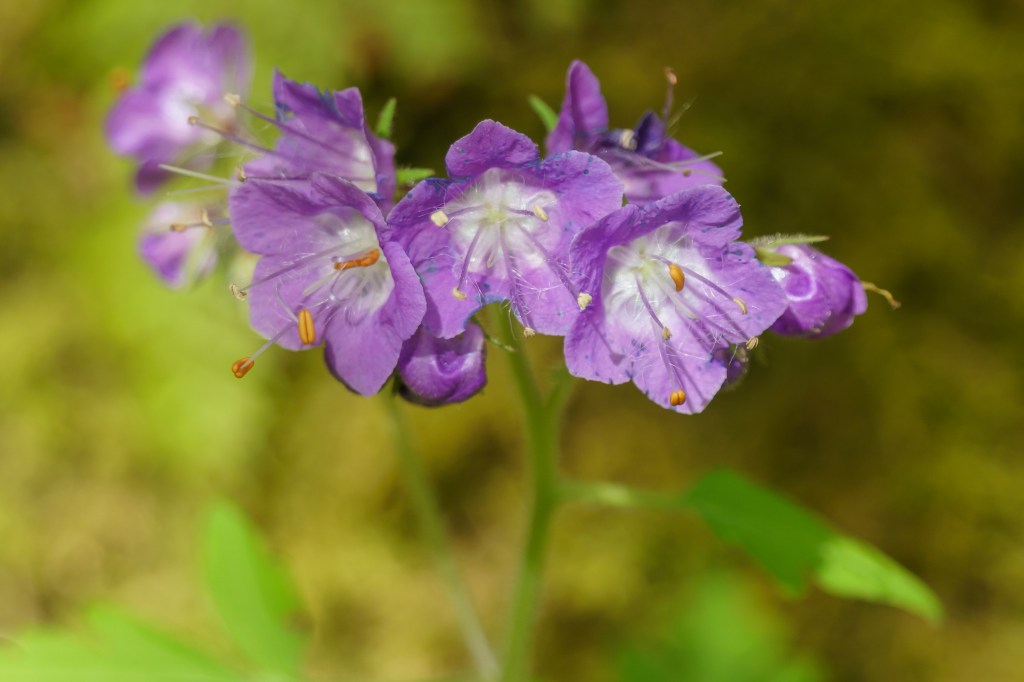 Big Branch Trail 
How to get here: This trail is on the western side of the New River and is reached by an easy two-hour drive from Roanoke, Virginia.
When to go: Early spring is the best time to see flowers here. The stunning flowers start to pop out as soon as the weather starts warming but if you miss these, there's plenty of opportunity to see more in other areas of the park throughout the summer.
What to expect: A short and easy hike, the Big Branch Trail is 2 miles long and gains less than 600 feet of elevation. Along this trail, hikers are led to many stunning sightings of local wildflowers such as red trilliums, Jack-in-the-Pulpit, Virginia bluebells, and more.
New River Gorge is unique in that it acts as a geographical barrier that limits the east-west distribution of other species, giving this area the most flora diversity in the central and southern Appalachians. Hikes at New River Gorge are all relatively short, perfect for families or fitting multiple trails into one trip.
Honorable mention hikes in New River Gorge
Grandview Rim Trail to Turkey Spur Rock: This classic hike at New River Gorge features beautiful rhododendrons along the 3 miles of overlook walking.
Little Laurel Trail: Over 2.5 miles with 1,500 feet of gain, hikers can see too many different types of species of flower to count.
4. Haleakala National Park – Maui, HI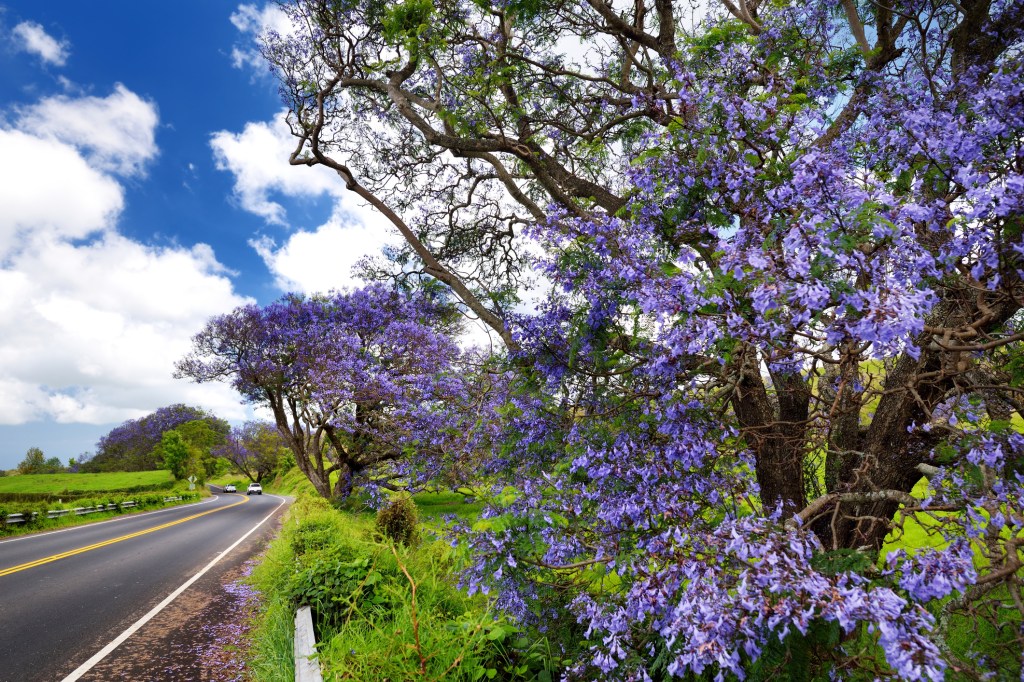 Halemauu Haleakala Overlook Trail 
How to get there: Haleakala is located in southeastern Maui. Visitors can fly into Kahului and drive about an hour into the park. Fair warning: This road features many switchbacks as it climbs over 8,000 feet to the trailhead, so the drive is an adventure in itself.
Best time to visit: Summer months are the best opportunities to see Silverwood blooms, but the weather will be hot. Flowers at lower elevations can be seen earlier in the year. Sunrise and sunset are revered times to visit the park, regardless of the time of year.
What to expect: The Halemauu Haleakala Overlook trail is difficult, but the views and opportunities to see the unique species in this high-elevation climate is thrilling. Its nearly 8 miles and almost 2,400 feet of elevation gain is just the half of it—this hike is exposed and hikers should not expect any shade.
But the reward is great for making the trek. This national park features more than 300 plant species that are endemic to Hawaii and is divided into three zones, from sea level to over 10,000 feet. The Halemauu Haleakala Overlook is one of the best in the highest region at the summit. In this alpine desert, plants have had to adapt to little water and total exposure to the elements. The most notable bloom to keep an eye out for is that of the 'āhinahina or Haleakalā silversword. The plant is a spiky, silvery ball close to the ground with stalky blooms that shoot up several feet high and feature hundreds of purple flowers. Other flowers that can be found along this hike are the evening primrose and Kūpaoa.
Honorable Mention hikes in Hakeakala
Seven Sacred Pools Trail: This jaunt is just over a half mile to bring you to a lush series of falls and pools with abundant tropical flowers along the way.
5. Kings Canyon National Park – Independence, CA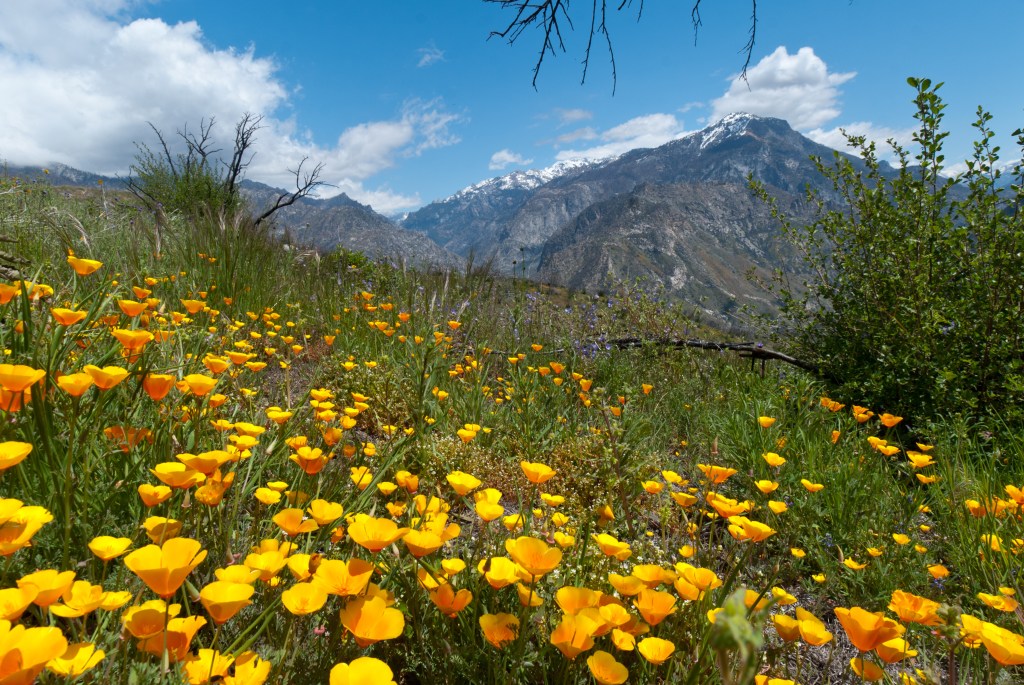 Forester Pass via Kearsarge Pass
How to get there: The trailhead is about a 3.5-hour drive from LAX.
Best time to visit: Depending on the winter's snow levels, June is typically the perfect time to visit the High Sierra to see wildflowers. This trail is rocky and can be dangerous to navigate with snow on the ground, so take caution and keep your eyes on current conditions.
What to expect: This trail is difficult, gaining over 6,000 feet of elevation in around 34 miles total (though daytrippers can turn around at any time). Endemic to the rocky, high-elevation Sierra Nevada Mountains are sky pilots, beautiful clusters of violet flowers, and Forester Pass features an astounding display of these flowers. Hikers will also pass shooting stars, Lewis' Monkey Flower, Mariposa Lily, Sierra penstemon, and more.
The trail's full distance plus the plethora of camping opportunities—including the beautiful Lower Vidette Meadow—makes for a great weekend trip, but be aware that any overnight stays will require a permit and bear canisters for food storage. 
6. Acadia National Park – Mount Desert, ME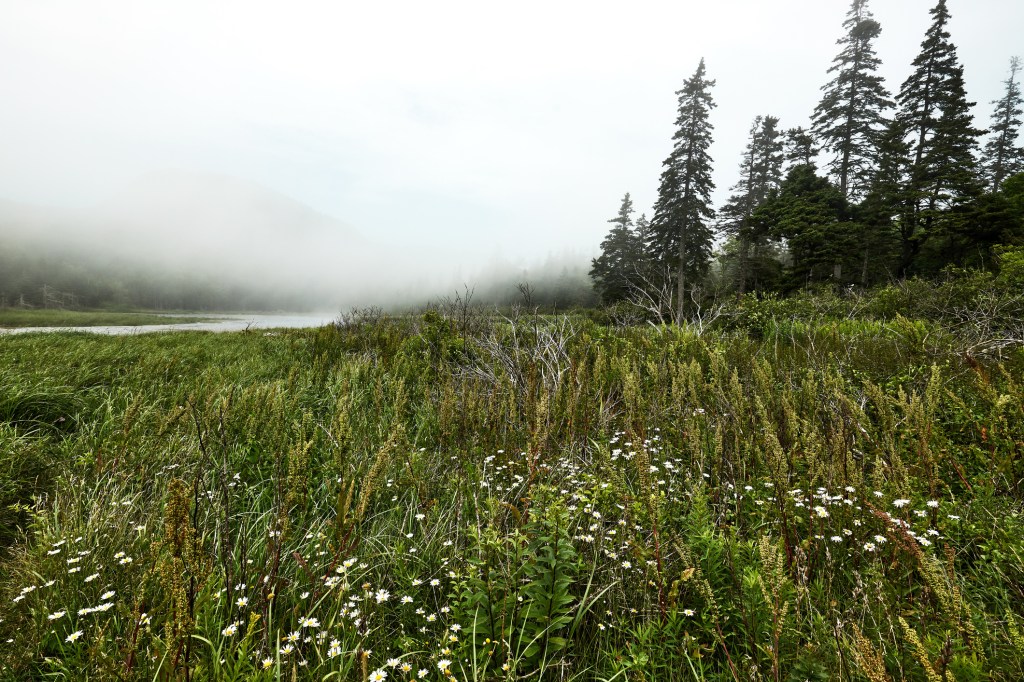 Cadillac South Ridge Trail
How to get here: From Portland, Maine, it's about a three-hour drive to Acadia National Park.
When to visit: Late spring and summer are great times to visit Acadia for wildflower viewing. However, visitors coming as late as September will still view stunning blooms.
What to expect: This hike is easy, traveling 1,500 feet in elevation over 7.1 miles out-and-back. As one of the longer and more scenic trails at Acadia, it travels through forests and meadows before opening up on a rocky ridge with incredible views of the ocean. Along the way, hikers will see pinks, yellows, purples and whites of flowers like the rugosa rose, harlequin blueflag, yarrow, broadleaf milkweed, foxglove and so many others.
7. Indiana Dunes National Park – Gary, IN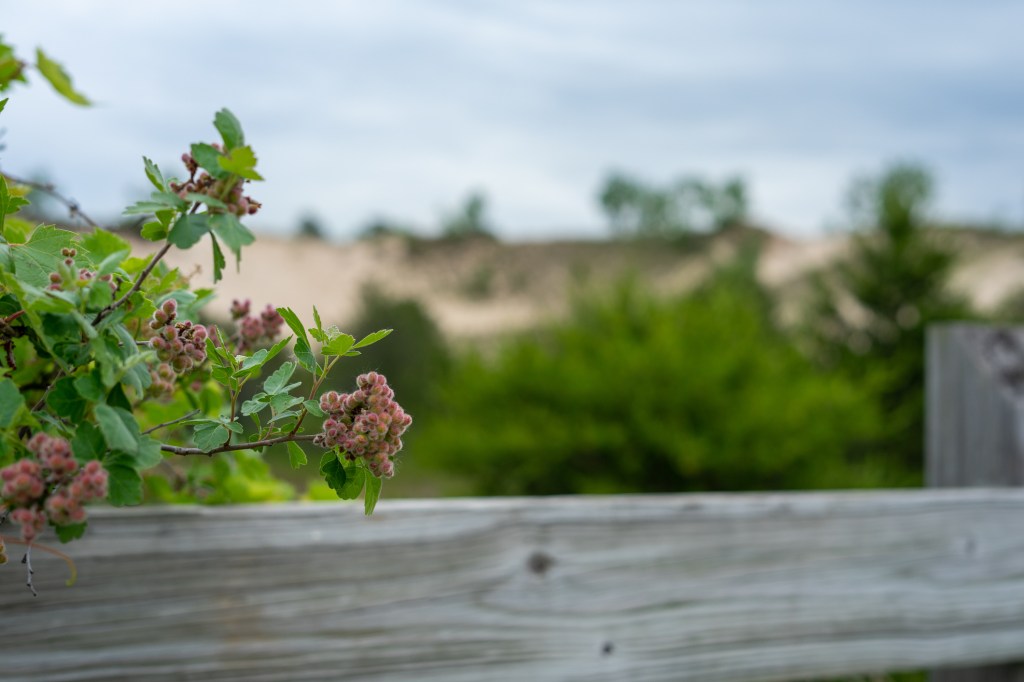 Paul H. Douglas Trail
How to get here: The park is a quick 40-minute drive from Chicago, Illinois. Public transportation can also be taken into the park; it's about a 1.5-hour ride on the SSL train from the Millenium Station.
When to Visit: May and June offer the best overall wildflower viewing, though June is the best for lupines.
What to expect: The Paul H. Douglas Trail meanders an easy 3.4 miles with little elevation gain as it travels through wetlands, black oak savanna, open dunes and beach. Indiana Dunes ranks fourth in biodiversity out of all of the national parks with more than 1,100 flowering plants found here. This trail is an awesome way to see a variety of flowers, from spotted beebalm to Virginia bluebells and everything in between. One spectacular sighting is the thousands of blooming lupine through the forest floor of the savanna. Watch out for poison ivy, as it is common along the edges of the trail.
Honorable Mention hike in Indiana Dunes
Heron Rookery: This 3-mile stroll rewards with wildflowers abound.
8. Saguaro National Park – Tucson, AZ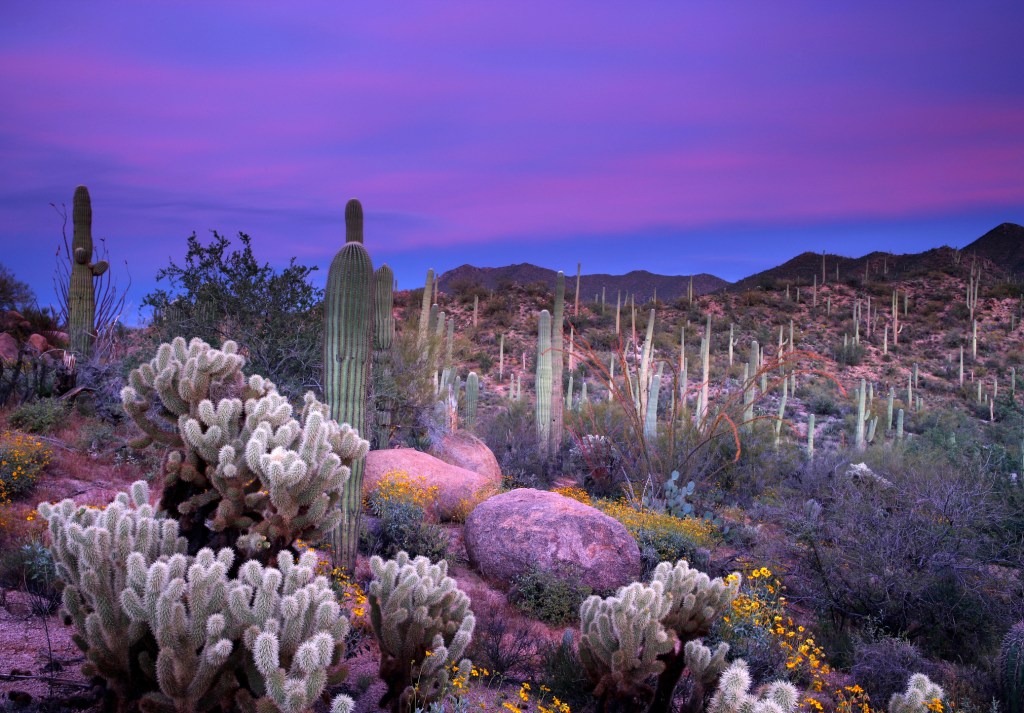 Garwood Dam and Wildhorse Tank Loop
How to get here: Saguari National Park is bisected by the city of Tucson. This trail is located within the Park East, but because the East/West bit can often confuse GPS navigation, the National Park Service recommends putting the exact address (3693 S. Old Spanish Trail, Tucson, Arizona) into your GPS to locate the trailhead.
Best time to visit: Saguaro flowers bloom from late April to early June, but peak flowering is late May.
What to expect: Garwood Dam and Wildhorse Tank travels 6.4 miles and gains just under 1,000 feet of elevation. This hike is phenomenal—it's this terrain that inspired the creation of the park in the first place!
As soon as hikers start on the Garwood Trail, they will see magnificent cacti standing tall with wide arms and white flowers at their crowns. Endemic to the Sonoran Desert, these beautiful cacti are primarily found in Arizona. The trail ascends a series of switchbacks that rewards a sweeping view, then continues its loop towards the wash with incredible views of the Santa Catalina Mountains.
9. Olympic National Park – Port Angeles, WA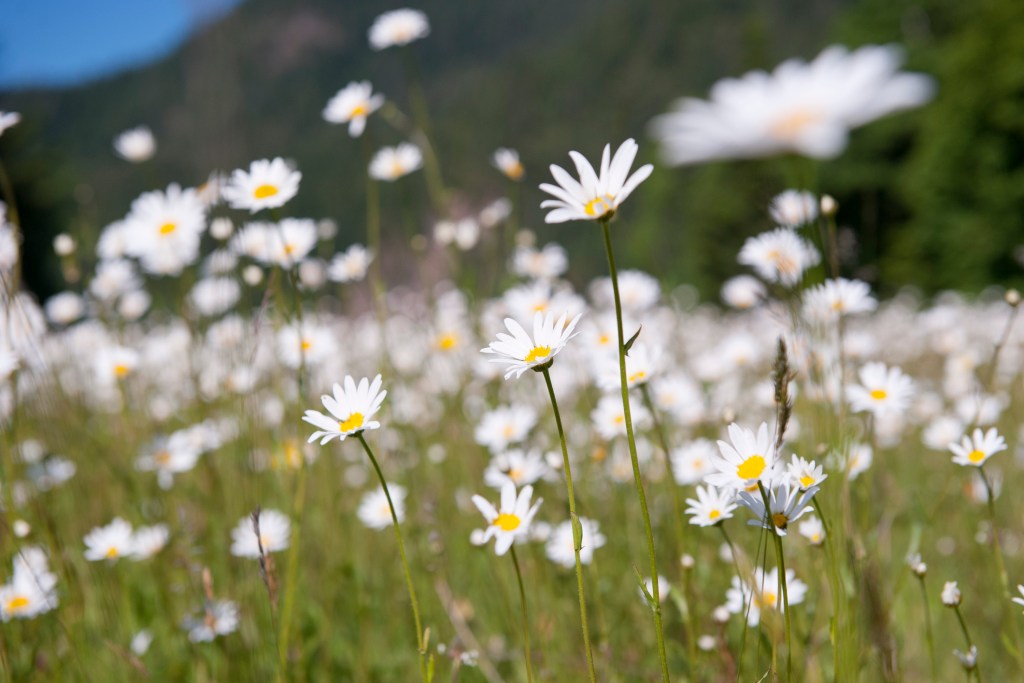 Klahhane Ridge Trail to Lake Angeles
How to get here: The trailhead is at the Hurricane Ridge Visitor Center, a 2.5-hour drive from Tacoma, Washington, and a three-hour drive from Seattle, Washington.
Best time to visit: July and August are the best times to visit to see wildflowers. 
What to expect: The trail to Lake Angeles is a 12.5-mile roundtrip and gains over 4,500 feet in elevation. This would make a challenging, long day hike or a pleasant overnight trip. Forest, incredible views, and plenty of wildflowers grace this stunning trail. Hikers can spot a variety of lilies including the white avalanche lily, glacier lily, and Columbia tiger lily. Other notable flowers in this area include mountain owl's clover, woodland beardtongue, sickletop lousewort, taper-tip onion and spotted saxifrage.