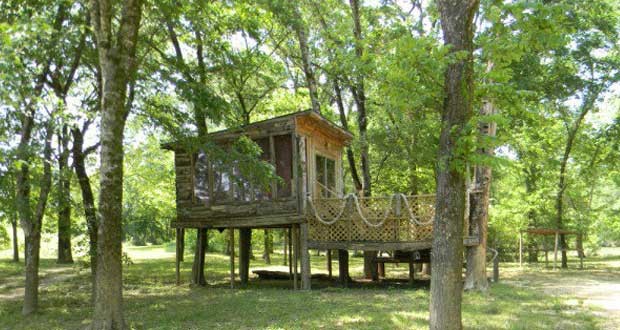 Camping Diamond Johns Riverside Retreat in Arkansas
If you're looking for a weekend away, and the opportunity to strike it rich – don't overlook Diamond Johns Riverside Retreat. We spoke with Claire from the resort, and she filled us in on the cabins, the teepees, and where to find diamonds (sort of). Listen to our full interview here:
Diamond Johns Riverside Retreat Camping, Arkansas
Camp Arkansas: I'm talking with Claire today. She's from Diamond Johns Riverside Retreat in Arkansas. How's it going, Claire?
Claire: Wonderful weather and it's a busy weekend. We're having some festival in town.
CA: Oh, fun. Now, let's start with how long Diamond Johns has been there and how it got its start.
Claire:
It's probably about six years now, or seven years. And we've just built it up from scratch. We bought the house, and then we built teepees. We had four teepees. And we have a tree cabin and three other cabins. So, four cabins, including the tree cabin, and four teepees.
CA: Okay. Now, it looks like there's quite a bit to do there, on the grounds. What are the most popular activities for your guests?
Claire: Well, mostly, the people come to stay with us because they want to go mining at the diamond mine next door, which is the only public diamond mine in the world, where you can dig for diamonds and, you know, it's finders keepers. So, that's why they go to the diamond mine and they see we're across from the diamond mine, so it's a convenient location. But also, on our property, we have fishing and canoeing, because we're on the little Missouri River.
CA: Okay. Now, I was curious about this when I was looking at your site. How often do you have a guest actually find some diamonds?
Claire: It's hard to say, you know, but from time to time they do fine diamonds. You know? Every day someone finds diamonds at the mine. They find a couple of diamonds, in fact, every day, but doesn't always happen to be one of our guests, because there are hotels in town. But we do have guests who find diamonds from time to time.
CA: Sure, what a fun thing. So, in addition to the diamond mine that's nearby, what are some other local attractions that guests like?
Claire: In town, there's a really interesting 1,000-year-old Indian archeological site, where you can dig for arrowheads. You can also observe old Indian villages. And there's several Indian graveyards. And they've rebuilt everything, so that's the kind of Indian Village.
CA: Sure. Okay. So, Claire, when you get a little bit of time off from Diamond Johns, where do you like to head and spend your time in the area?
Claire: In the area, I would sometimes go to Lake Greeson. That's about 6 to 10 minutes away, and that has beautiful, clean water and you can swim in the lake. And there's also fishing and boating in Lake Greeson. One and a half hours away is Hot Springs, which is a spa city. An hour and a half away and, you know, you can go to Hot Springs that has the bath house rule, all the old spas, and restaurants, and the Botanical Gardens. And also, there's Mount Aida, where you have the crystal mine.
CA: Okay, sounds like a lot of fun.
Claire: Yeah, it's an interesting area. It's the Southwest Arkansas region.
CA: Two more questions for you. If you could spend just one hour doing something at Diamond Johns Riverside Retreat, how would you spend your time?
Claire: Probably mining for diamonds.
CA: You would. Have you found any ever?
Claire: No. No, but you know, it's a real diamond mine and they've actually got diamonds there. So, you know, that's a very rare thing to have. You know, a diamond mine. It's the only diamond mine where you can actually look for diamonds and find diamonds. And people do find diamonds. You know, the locals find anything from 70 to 500, you know. So, it's a very unusual State Park, but mostly you go out there to enjoy the beauty. That's one that you can actually find something that will pay for your entire vacation.
CA: That would be amazing, wouldn't it?
Claire: Yeah, and you know, just memories of digging for treasure. You know, everyone loves treasure hunting. As kids, we go treasure hunting in our backyard even, you know. So, this is like the real treasure hunt and you're all grown up.
CA: Yeah, very fun. And one last question for you. If you could spend just one night at Diamond Johns Riverside Retreat, which specific spot would you stay at and why?
Claire:
I would probably – it's tough. Well, it's either the teepee or the tree cabin, because they're both very unique lodging facilities. No one has air conditioned teepees. You know, they're real Indian teepees that come with beds in them, and air conditioning and TV. The tree cabin is also very unique because we've built it ourselves. It's made out of grass, you know, so great deals of retreat and everyone loves the uniqueness of the tree cabin. You know, you don't get to stay in a tree cabin every day.
CA: Okay. Thank you so much.
Claire: The teepee and the tree cabin, yeah.
CA: Sounds good. Yeah, I was surprised to see the air conditioned teepees. That sounds like the best of both worlds there.
Claire: Yeah, it's called glamping – glamorous camping. It's very popular in Europe right now.
CA: Nice.
Claire: We have luxurious amenities combined with the fun of camping.
CA: Okay. Well, thanks, Claire, for taking some time out of your day to talk with us at Fifty Camp Fires. We'll go ahead and get this information out to our visitors right away.
Claire: Okay, thank you so much.