Camping in Southern Texas: Cascade Caverns Campground

Camp Texas: I'm talking with Jeremy Collins today. He's the General Manager at Cascade Caverns Campground in Texas. Jeremy, why don't you get us started with a little bit of history of Cascade Caverns?
Jeremy Collins: Well, originally, Cascade Caverns Campground was first started in 1928 by the Gray Family. And they started our RV Park initially because of the cave system that runs underneath it. And from the 1932 until the present day, we still offer camping out here and cave tours every day.
Camp Texas: Okay. And tell me a little bit about the types of camping that you offer.
Jeremy Collins: Well, we have 101 sites out here. Everything from no utilities, which would be our tent camping site. We have electric only, electric and water, and full hook-up RV spaces. Like I said, there's a total of around 101 sites here. Half of those are all full hook-up RV. The full hook-up sites usually run about 30 dollars a night, and all the prices go down five dollars per utility.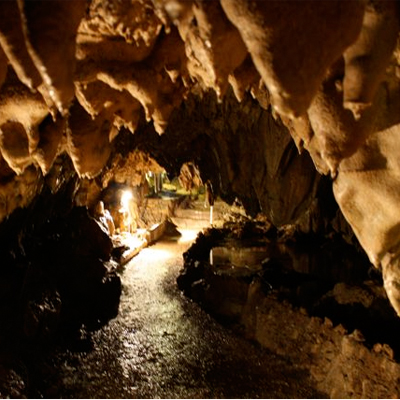 Camp Texas:
Okay, nice. And so, obviously the caves and the caverns are the most popular activity there on the property. What else can campers do when they stay there?
Jeremy Collins: Well, we have about three to four miles worth of nature trails that are maintained around the property, and that's the big adventure out here; is actually getting out to be able to explore a 103-acre park out here. Along with that, we also have restroom facilities and laundry facilities for all the campers to enjoy, and a few other recreational activities, like badminton courses setup, tennis court is setup, and then a soccer field and that sort of stuff.
Camp Texas: Okay. Now, Jeremy, let's say I was staying at the campground there for maybe three or four days and I wanted to venture outside of the campground. What are some of your favorite attractions in the area that you might recommend?
Jeremy Collins: You know, we're right in the middle of the wine country, and that's one of the main attractions here in the hill country. In total, there are around 30 wineries that are all within an hour away from us. And more so than that, there's also a lot of dude ranch sort of places like Enchanted Springs Ranch, where you can actually get out, experience the wild west type of life and kind of see what us, as country folk around here do on a daily basis to survive.
Camp Texas: Okay, nice. Now, tell me a little bit more about the cave tour. About how far underground am I going and how long is it going to take?
Jeremy Collins: On the general tour, we go about 155 feet underground. The total length is about 1500 feet into the cave. Average tour time is 45 minutes to an hour, all depending on the group and how fast the group wants to go or how slow they want to go and enjoy the cave. Now, we are the wettest show cave in Texas, meaning the most active with 95% activity down in the cave. So, when you walk into it, the whole place is glistening with water. There's water dripping from the ceiling, water coming out of the walls from the very first room all the way to the very last room.
Camp Texas: It sounds awesome. I can see here on your site. It looks like there was a film also that was shot there.
Jeremy Collins:
Yes, sir. Back in 1993, Hollywood producer came out here and filmed about five minutes of movie, Fatherhood, starring Patrick Swayze. And there's several scenes in that segment, and you actually get to see where Patrick Swayze was hiding underneath the bridge, and his kids, and you get to see what they portrayed as the emergency exit, which is our deep 90-foot drop straight down into the cave entrance.
Camp Texas: Very cool. Two more questions for you, Jeremy. If you were going to spend just one hour at Cascade Caverns, how would you spend your time there?
Jeremy Collins: I would definitely go see the cave. The cave is, by far, the biggest attraction here. It's a beautiful cave. It's very active. It's very growing. It's a great experience for children and adults of all ages.
Camp Texas: Okay. And last question: if you were going to spend just one night at Cascade Caverns, which specific campsite would you stay at and why?
Jeremy Collins: Personally, I like A21. It's a full hook-up RV site. Just because it's surrounded with beautiful oak trees. Now, I don't want to downplay the rest of my Park because there are trees pretty much on every single site. And when I say trees, I mean fully mature, 30, 40, 50-year-old oaks. But A21 is just a gorgeous site and I love it, and I've actually camped there myself several times.
Camp Texas: Perfect. Well, thank you for that tip, Jeremy, and thank you for taking some time out of your day to tell us about Cascade Caverns in Texas.
Jeremy Collins: All right, thank you, sir, and you have a great day.