Listen to our full interview with Andy Bartlett, Park Manager at Ledges State Park here:
Ledges State Park Camping Iowa
Camp Iowa: Talking with Andy Bartlett today; he's the park manager over at Ledges State Park down in Iowa. How's it going today, Andy?
Andy: Not too bad, how are you?
Camp Iowa: Pretty good, pretty good. Tell listeners where you guys are situated within the state?
Andy: We are in central Iowa, about 45 minutes north of Des Moines and just about 15 minutes west of Ames. Pretty accessible from all corners of the state.
Camp Iowa: And how long has Ledges State Park been there? How did it get started?
Andy: It was dedicated in 1924. It was proposed as early as 1921, and it was just a unique area, unique to the central Iowa landscape of agriculture and farm fields. You come into the Ledges and it's a stark contrast of ravines and forest and creeks, hills. Just a lot different than the surrounding area.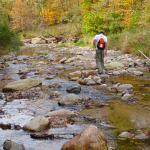 Camp Iowa: Sure. What are some of the most popular activities in the park?
Andy: Most popular is camping and hiking. We don't have a lake, so there's not really much of a use with that regards, but we've got 10 miles of hiking trails and 95 campsites. We stay pretty busy with day use and overnight camping.
Camp Iowa: Nice. Tell me a little bit about the campsite. How many sites do you guys have?
Andy: 95 total. We have 40 sites with electrical hookups and 42 that are regular nonelectric sites, and then 12 sites that are actually hike-in, where you park and hike back to the site. And we do have one organized youth group site.
Camp Iowa: Tell me a little bit more about the hike-in sites. Generally, if I go camping, that's the kind of thing I'm looking for, is more of a secluded experience. How far is the hike back in?
Andy: The farthest one back is only about three-tenths of a mile, so it's really not that far. If you're training to go out West or something for a longer backpack experience, this isn't the place to come. But if you do like a little bit more peaceful of a stay on a weekend and not have people right next to you, then these are the sites for you.
Camp Iowa: That sounds great. Are there any group sites there?
Andy: There's a youth group site. It's designed just for chaperone-organized youth groups whose members are under the age of 18.
Camp Iowa: How many of the hike-in sites are there? Did you say?
Andy: We have 12 of them.
Camp Iowa: 12 of them, okay. So those have fire pit, is there a tent pad?
Andy: No, there's not a tent pad. There's somewhat of a designated area to each site. They do have a fire ring and a grill for cooking, and a picnic table is about all that we provide back there.
Camp Iowa: What are some other attractions in the area worth checking out?
Andy: The High Trestle Trail is about six miles south of us, and it runs through the town of Madrid. It's a 25 mile paved bike trail that actually connects – it starts in Woodward and then runs east clear down to Ankeny, Iowa. The focal point of it I guess is between Madrid and Woodward, there's an old trestle bridge, a train trestle bridge that they converted into a bike bridge and a hiking bridge. It goes over top of the Des Moines River and the Des Moines River Valley. It provides some pretty spectacular views and it's well worth checking out. They light it up at night with arches and stuff. It's pretty cool.
Camp Iowa: Sounds pretty fun. Two more questions for you. If you could spend just one hour in the park, what would you do with your time?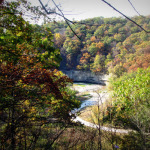 Andy: I would definitely hike through our canyon area. Our canyon area is a very unique area. It's where the park actually got its name, is from the sandstone ledges down there. The glacial melt-water kind of carved down through the landscape years and years ago and created the dramatic cliffs and ledges that are sheer walls of sandstone that rise up maybe 100 feet some places. There's pretty near overlooks along each side of the canyon rim that you can hike up to and where you can wade in the stream with your family or just have a picnic, or just drive through and take in the scenery.
Camp Iowa: And if you could spend just one night in Ledges State Park, which specific campsite would you choose and why?
Andy: I would probably personally pick one of the hike-in sites, just because of the little bit more secluded nature of each site. You get a chance to even, some mornings or evenings as you're sitting there around the campfire, you might see a deer walk through or some other wildlife in the area. But even if it's on a weekday and you're out at one of our regular nonelectric or electric sites, you still have the chance of seeing some wildlife just meander through the park during the day or in the mornings and evenings.
Camp Iowa: Do you have a favorite?
Andy: I personally don't have a favorite, I guess. There's a couple out of each one of our loops, a couple of electric sites I'd probably choose over the other. But I always tell people when they ask me that question that there really isn't a bad site in the campground.
Camp Iowa: Sure. But you're going with hike-in, huh? That's your first choice?
Andy: I probably would. That's my personal preference. You get some of these people that have big RVs and they're obviously not going to want a hike-in site. You just kind of go with what each individual person's preferences are.
Camp Iowa: Sounds good. It sounds like a fun place to be, and that little canyon hike that you explained sounds fantastic.
Andy: Yeah, that's our most popular attraction.
Camp Iowa: Cool. Thanks a lot for taking some time out of your day this morning to chat with us, Andy. Much appreciated.
Andy: You're welcome.