Camping Lewis and Clark Caverns State Park in Southwest Montana

Camp Montana: I'm talking with Ria today. She's going to tell us all about Lewis & Clark Caverns State Park in Montana. Ria, why don't you get us started by giving us a little bit of background on Lewis & Clark Caverns State Park?
Ria: Yeah, Lewis & Clark Caverns State Park is Montana's first State Park. Pretty much the attraction was then just the uniqueness that we had a cavern, so cave tours were a big draw. Over the years then, we've developed hiking trails, which we allow mountain bikes on a large portion of those, and then of course we have this campground. And so, I know you're going to ask me specific questions about that, but I would say that now the large portion of our group is now outdoors as well as in the cave.
Camp Montana: I absolutely love caves, and so I'm just a little bit more curious about that. How long are the tours? How far does it go down into the ground? Things like that.
Ria:
The tours are ten miles and two hours, including the walk to the cave and back. You're an hour and fifteen minutes underground, almost three quarters of a mile passageways, and you're really close to the rock, so there's lots of bending and stooping, and even one little, small slide that you sit on your rear-end and go down a little ways inside the cave.
Camp Montana: Really?
Ria: Yeah.
Camp Montana: And how far down underground does it go?
Ria: You know, it's about three hundred feet difference in elevation throughout the cave. You kind of do two complete circles to come out underneath where you go in.
Camp Montana: Fun. Now, what types of camping do you offer in the campground?
Ria: Yeah, we have nine electric sites, and then we have 30 sites that are not electric. So, they'd be accommodating tenting or else they'd allow you to use a generator up until ten 'o clock at night. We have three cabins and one teepee in the summer. Plus we have a group use area at the end of the campground, so you could camp as a group separate from the rest of the campground, and it has a pavilion with picnic tables, a barbecue, a little utility sink, and a fireplace.
Camp Montana: Okay. And what are some other attractions around that area that you might recommend checking out if I were staying at Lewis & Clark Caverns State Park?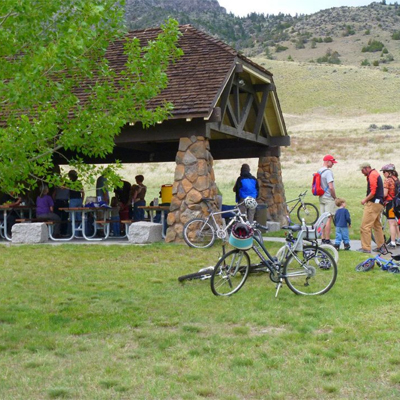 Ria:
Yeah, you know, it's a central location for a couple of day trips. We've got two State Parks also close to us. As you head towards (Unclear 2:18.9), that's the headwaters of the Missouri and the Buffalo Jump. Bozeman is only 55 miles away, so that's the Museum of the Rockies and what Bozeman has. Butte is only about 45 miles away, and there are lots of mining museum things and the campus there has a Mineral Museum. Helena is another direction. It's only about 72 miles away, so the gates of the mountains are something we recommend for a day trip that way. And then Yellow Stone is 118 miles from us. So, day trips would be a good idea if you were camping here and wanted to see something and just kind of go. A day out would be good.
Camp Montana: Perfect, two more questions for you, Ria. If you were going to spend just one hour at Lewis & Clark Caverns State Park, how would you spend your time there?
Ria: There is a hiking trail that has a self-guided nature trail along part of it, and you could easily do it in an hour. It is called the (Unclear 3:14.7), so upper visitor's center, and they just call that the Nature Loop because you can do that self-guided tour and it's usually in the shade. Plus you can get a view up on top of the mountain and look down into the canyon, so that's what I would do for just one hour.
Camp Montana: Sounds gorgeous. And last question: if you were going to spend just one night at Lewis & Clark Caverns State Park, which specific site would you stay at and why?
Ria: You know, our most popular sites are the electric. I'm assuming because people like to have the amenities of whatever they bring in. So, if I was doing it, honestly I don't have an electric setup, so I would try to go into probably the B or C Loop and be farthest away from what I would consider most of the people using in the Park. We do have a playground in the center there, and then you're not right on top of the playground, but your kids could go play. And I think I would do something like that, so probably in the C Loop.
Camp Montana: All right, perfect. Well, thanks for that tip and thank you, Ria, for taking a little bit of time out of your morning to tell us more about Lewis & Clark Caverns State Park in Montana:
Ria: Okay, thank you.