Crystal Grove Diamond Mine and Campground NY
Camp New York: She's one of the Owners at Crystal Grove Diamond Mine and Campground in New York. Why don't you get started with telling us how long the campground has been there and how you and your husband got started?
Interviewee: Well, it's actually been here about 40 years, and we found it on a website. We were just looking for a nice campground that the two of us could run, and we saw this one listed and checked it out. And it's a beautiful campground. It's only 35 sites, so it's small, but it's got a lot of trees and wildflowers, and birds and stuff. And then it also has the Diamond Mine, which we knew nothing about, but it sounded interesting, so we checked it out and liked the place.
CNY: So tell me a little bit about that. What is the Mine like itself and how often are people successful when they're mining?
Interviewee: Well, there are actually three collecting areas. There are two open pit mines, so nothing is underground. The biggest one is about the size of a football field.
CNY: Wow!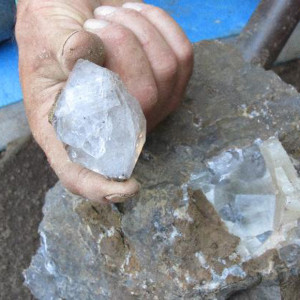 Interviewee: Yeah. And one is a trail in the woods, and you would be digging for Herkimer Diamonds. So, they're not carbon diamonds. They're quartz crystals. But a special type of quartz that's only found in this part of Upstate New York, so they're very special to collectors. And people find them all the time. We guarantee you'll find something.
CNY: Okay, sounds fun. What types of camping do you offer there?
Interviewee: We have sites for tents, RVs, and some camping cabins.
CNY: Okay. And in addition to the mining, what are some of the other activities that the guests enjoy there?
Interviewee: Well, that's pretty much it for us. Like I said, it's only the two of us, but we are a mile from the southern border of the Adirondack State Park. We're 45 minutes from Coopers Town or Howe Caverns. There are a lot of Revolutionary War sites. Animal attractions. There's a lot of stuff around, just not necessarily right here.
CNY: Sure. What are your favorite attractions in the area? If you have a little bit of time off, what's your go-to place?
Interviewee: Well, a lot of our visitors like to go to the Baseball Hall of Fame in Coopers Town.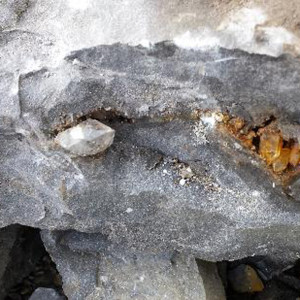 CNY: Cool.
Interviewee: And there's also the Farmers Museum, which is good for the non-baseball fans. Howe Caverns. The giant cave. That's always an attraction for rock towns. Those are the biggies.
CNY: Okay, one last question for you, (Unclear 02:49.8). If you were going to spend just one night at Crystal Grove Diamond Mine and Campground, which specific campsite would you stay at and wy?
Interviewee: Well, it kinds of depends. If you're in a tent or a small RV, site ten is the best. That's the only one. We have a little trout stream. Very pretty little creek.
CNY: Nice.
Interviewee: Most of the sites on it don't have electric. Site ten is the only one that has electric hook-ups, so it can, like I said, accommodate tents or small RVs. And if you wanted to not sleep on the ground, then the cabins are good. They're all pretty much the same.
CNY: Okay, perfect. Well, thank you for that tip and thank you for giving us some more information on Crystal Grove Diamond Mine and Campground in New York.
Interviewee: Okay. Well, thanks for calling.