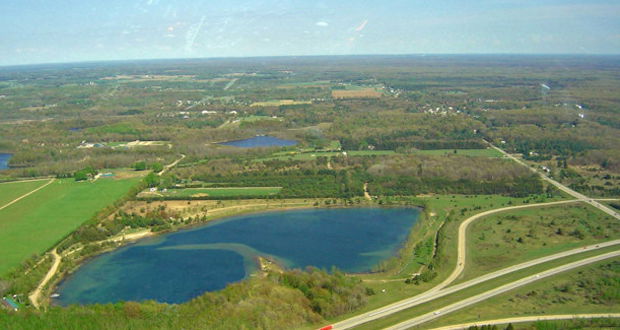 Camping Lucky Lake Campground in West Michigan
Camping Lucky Lake Campground in West Michigan
Camp Michigan: We are speaking with Don today from Lucky Lake Campground. How are you doing?
Don: Oh, we're right now in the middle of winter, but we're hoping for summer.
Camp Michigan: Yeah, it's never too fun to be in the dead of winter, but there's always spring and summer on the horizon.
Don: Always hope.
Camp Michigan:
Yes, absolutely. So, kind of getting into it I guess, when was Lucky Lake Campground started?
Don: About four or five years ago. We have a big property next door called The Double J Resort and we have a big music concert there called The (Unclear 00:34.6) or Electric Force, and we're literally right next door and we also do special events. We have a Regional Burning Man, called Lakes of Fire. A couple thousand campers and we do big events like we've got Cobra next year. Five thousand Boy Scouts and families coming in.
Camp Michigan: Wow, so definitely you have a lot of space to be able to put that many campers.
Don: We have almost 200 acres. We have about a mile of shoreline on a private lake. So, we can camp you in a tent for a family of four for 25 dollars a night or, if you've got two thousand relatives, we can take care of them too.
Camp Michigan: Wow, that's great. So, I'm assuming both tent and RV campers can come.
Don: Yeah, we have sites with 50amp electric and water. We don't have sewer sites. We're themed a rustic campground, but we have flat sites, big sites or probably four or five times the State's minimum size. Some are 60 to 70 feet long and 35 feet wide.
Camp Michigan: Great. And so, when people are there for the weekend, what are usually the most popular activities that they like to do in the campground?
Don:
Basically we have trophy fishing. We have a pipe that's caught over 42 inches bass. 27 to 28 inches. Walleyed 27 inches. Crappies 18 inches. So, it's a trophy lake. In Michigan, they really like to hit the outer for license, but this is a private lake. It's catch and release, but you don't need a license to fish. Any kids. Families. Anybody can grab a pole and throw a line in.
Camp Michigan: That's great. That sounds like a perfect place to go fishing then.
Don: We have a mile and a quarter of shoreline and it actually was made back in the late '70s as part of the expressway, so it's all dug out of sand. We tested down to 50 feet. It's all basically beach-type sand. So, we do have a big sandbar. Our website is LuckyLakeCampground.com, and you can see the great big sandbar. They saw a couple acres in the middle of the lake and in summertime we send up a couple water volleyball courts. It's all roped off with and flags so you know where the edge of the waterline is, where the sandbar drops off. And a big swimming dock. A 30 by 30-foot. And they do all kinds of different. We have ceremonies scheduled this year for a couple weddings in our picnic day use area.
Camp Michigan: Wow, yeah, that's certainly seems like a pretty awesome place to spend a weekend in the summer.
Don: It's setup a lot like a State Park. A lot of property and we have six miles of trails. People are allowed to bring golf carts in and walk the trails. Ride bikes and things like that. And then we can cater to almost anything in our picnic area. So, it's really like a little — well, actually, we're bigger than one of the State Parks, but we have 250 sites so we can literally handle them crowds of two thousand.
Camp Michigan: Great. Yeah, so where is Lucky Lake Campground located?
Don: We're right north of the Muskegon. About 20 minutes north of Muskegon, Michigan, which is only about an hour and a half north of the State line from coming out of Chicago. And then we're right about a mile. Our property borders the expressway on the east side, so it's really easy off, easy on. (Unclear 4:04.1). So, fully improved exit ramps and roadway, and you'd come literally a 100 yards off the highway or so and you come right into the property.
Camp Michigan: Oh, that's awesome.
Don:
We're right really between the Michigan Adventure to our south, which is just north of Muskegon, which is a big wet/dry water slide amusement park. And just about that distance to our north is the Silver Lake area. So, we really cater to both crowds.
Camp Michigan:So definitely a lot of things to do if you're going to venture out for a day.
Don: Yeah, you don't have to leave the property and have a good time for a week. But if you're one that likes to go to exploring, there are really a lot of nice places in this area.
Camp Michigan: Great. And so, I guess two more questions for you. If you could spend just one hour in the campground, what would you do?
Don: I work here 24/7 in the summertime, so I'd probably take a nap. You can do that. We have hammocks in our picnic area that we leave up in the trees. Thick Amazon family hammocks. I've seen Lord more than five to six people in them sometimes. You can sit there and throw horseshoes. Even walk the trails. It's really sometimes – a lot of people don't realize all the options.
Camp Michigan: Yeah.
Don: And we have blinds during the wood wildlife lines. And a lot of people will say they found them all, but so far nobody has found them all. And then we have geocaching. They do that here with all the acreage and the trails. It's really an ideal place for a woodsy weekend in a tent or you can use your smartphone and play geocache all weekend.
Camp Michigan: Cool, that's great. And so, I guess final question here. If you could spend just one night at Lucky Lake Campground, which campsite would you choose and why?
Don: Oh, well, we've got one that's a favorite. That's right on the water. It's all by itself on the shoreline. On one side you've got white paper birds. On the other side you've got blueberry bushes that have fruit on them. And end of July, August, September, there are blueberries all the way around the lake. That one side has probably a dozen of its own bushes. And you have your own sand beach, and I've had a dozen people tell me that they've caught the biggest fish in their life right from the campsite, but I can't tell you the site number because we get too many reservations on it already.
Camp Michigan: Absolutely. Well, I'm sure when someone is there, maybe they'll be able to get the number from you.
Don: Well, it's a whole lot easier to pick a nice site and be here. We've used camp and State Parks all my life and, boy, sometimes that can be real challenging. And people ask where the best site is. If it's available, we'll put you on it.
Camp Michigan: Absolutely. Well, we thank you so much for taking the time. It has been very insightful and it's great to learn a little bit more about the campground.
Don: Well, it's cold now, but we're open from May 1st to November 1st, so you're welcome to pop off the highway for a night. We give week rates and we also give monthly rates.
Camp Michigan: Perfect. Well, thanks so much.
Don: All right, take care now.
Camp Michigan: Thank you.