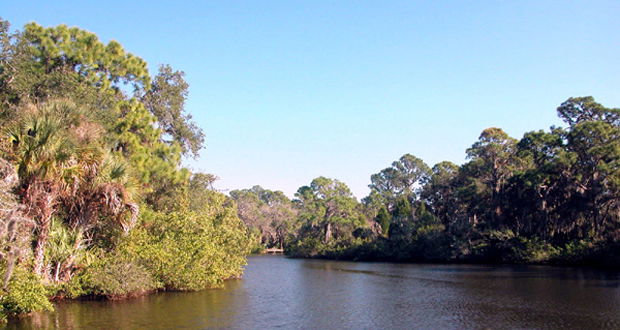 Oscar Scherer State Park Camping
We had a chance to connect with Tony Clemens, the Park Manager at Oscar Scherer State Park. He filled us in on the proximity of the park to both nature and necessity, as well as where you can swim with the 'gators. Listen to our full interview here:
Oscar Scherer State Park Camping, Florida
Camp Florida: I'm talking with Tony Clemens today. He's the Park Manager at Oscar Scherer State Park in Florida. How's it going today, Tony?
Tony Clemens: It's going great. It's a beautiful day down here, in Florida.
CF: I work in Minnesota. You've got better weather than us, I'm sure.
Tony Clemens: I can guarantee you that.
CF: So, let's start with how long Oscar Scherer State Park has been there and how it got its start.
Tony Clemens:
Sure. Well, back in 1955, a lady by the name of Scherer Borrows donated 460 acres to the State of Florida to become a Park. Then, in 1956, the Park was opened to the public.
CF: Okay.
Tony Clemens: She named the Park after her father, who's Oscar Scherer. Oscar Scherer is a gentleman who's a businessman, who invented a patent for leather.
CF: Okay. Some of these properties. You know, I was just talking with St. Joseph Peninsula State Park, and I just can't imagine what it must have been like to own that as private property.
Tony Clemens: Yeah, back in that day, they had a chicken farm out here. They had a cattle ranch. They did some logging. So, you know, they had to live off the land during those times.
CF: Sure. Now, what are the most popular activities for guests in that Park?
Tony Clemens: We have a little bit of everything here. I like to say that we're close to it all, but a thousand miles away. You know, within a few miles, you can be at a grocery store or at a beach. But once you come into the Park, you feel like you're a thousand miles away from everything. So, we have about 15 miles of hiking and biking trails in the Park. We also have the Legacy Trail, which runs through the middle of the Park that's a paved rail to the trail, so that goes all the way from Venice, which is the town south of us, all the way up into Sarasota, which is the town north of us. And that's the trout  trail. It's good for biking, hiking, rollerblading – any kind of activity like that.
We also have about two miles of navigable water for canoeing and kayaking. We do rent canoes and kayaks here at the Park. We also have three large picnic areas. A lot of people will come out for family reunions or just have a picnic with their family.
CF: Okay.
Tony Clemens: It's also a great place to do nature study. A lot of folks come out here to hike the trails and look for birds. We're well known for our Florida Scrub Jay. In Southwest Florida, Oscar Scherer State Park is the best place to view the Florida Scrub Jay in its natural habitat.
CF: Okay. Now, tell me a little bit about the camping there. What's the setup for the sites?
Tony Clemens: Oh, the setup is great here. We have 104 campsites here, at Oscar Scherer State Park.
CF: Wow.
Tony Clemens:
Each of them has water hookup, electric hookup, a picnic table, and a grill, and we do have one main dump station in the Park. The beautiful thing about our campground is that it's isolated. Each of the sites has buffers, so you're not camping in a big, open field like you are some of the other campgrounds. Here, at Oscar Scherer, we have great buffers, so you're not camping on the land. You're camping in the land, and you do have privacy at each site. Half of our sites are on the water. We do have a tidal creek that runs through the park, so half of our sites are on the water. The sites on the water are not pet friendly, because we want to keep our pets away from anything such as alligators, so we put our pets on the other side of our campground.
CF: Okay.
Tony Clemens: We have daily activities in the park also. Whether it's a bird walk or kayak/canoe program. We have exercise classes. Pancake breakfasts. So, during the season, there's multiple programs going on every day. And we also do ranger lead guided walks, canoe programs, and PowerPoint presentations of that nature for the visitor while they're down here to learn a little bit more about why it's important to save our natural resources that we have at the Park.
CF: Okay, so you guys do have alligators in the Park, or no?
Tony Clemens: Sure, we do. It is brackish water. The tidal creek that runs through the Park is brackish. Alligators do prefer freshwater, but you will find them in brackish water also.
CF: But they're not around the swimming area, I'm assuming.
Tony Clemens: No, we do have a freshwater swimming lake. There's always a chance of an alligator being in there of course, but we do check it every night. The field ranger, we call it, checks the lake for alligators by flashing a powerful beam across the water. And if they see an alligator, it reflects their lights back. And then we'll go out and assess it during the day. Any alligator over four-foot we automatically remove from the lake. If it's under that, we do what we call an alligator assessment. And if the alligator is non-threatening and has that natural fear of people, then we leave it in the lake under four-foot. But if it has, then we do remove it.
CF: Oh, okay, interesting. All right, have you guys ever had any problem with anyone getting bit or anything?
Tony Clemens: Only years and years ago, back in the early '70s. It was a different era back there. During that time, we used to actually have a concession here. And the concession would sell food that you could feed the alligator with. But as you know, now that's the worst thing you can do. You're either going to hurt somebody or you're going to condemn that alligator to death by it losing that natural fear of people.
CF: Right. Right. Just two more questions for you. If you could spend just one hour in Oscar Scherer State Park, how would you spend your time?
Tony Clemens: Oh, that's a great question. If I could spend one hour, I would either go out into the Scrub habitat, which is a unique habitat that there's only 5% of it left in the State, and I would try to look for either a Florida Scrub Jay, those are endemic. Only found in Florida that you'll find in this habitat. And it's also amongst the – you have some – bald eagle nests. So, you can kind of take care of two birds at once. You can view the bald eagle sitting on the nest with its young while also viewing the scrub jays. Or I probably might take a leisurely kayak or canoe tour down the tidal. That's a beautiful, relaxing thing to do also.
CF: Okay. And if you could spend just one night in Oscar Scherer State Park, which specific campsite would you choose and why?
Tony Clemens:
Oh, that's an easy one actually. I would choose Campsite A6. A6 is right on the water. It's close to a bathroom, and it's got this beautiful live oak tree with Spanish moths hanging off of it that goes out over the water. It's a really beautiful site. You can fish right from your site. It's a nice place to just relax. That site actually has two levels to it. It's got a lower level and a higher level. So, that's always the site that most people try to request. Of course our busy time is typically from December to April. We're completely booked through the season, but either side of the season you have a pretty good chance of getting in. And of course reservations are made through Reserve America. And we do also have about 1/5th of our campsite is on a first come, first serve basis, and you can stay up to two weeks with us during our busy time.
CF: Okay, great info for our visitors on our website. Thanks a lot so much for taking some time out of your day, Tony, and we'll talk to you soon.
Tony Clemens: Okay, come on down and visit anytime.
CF: I'd love to.