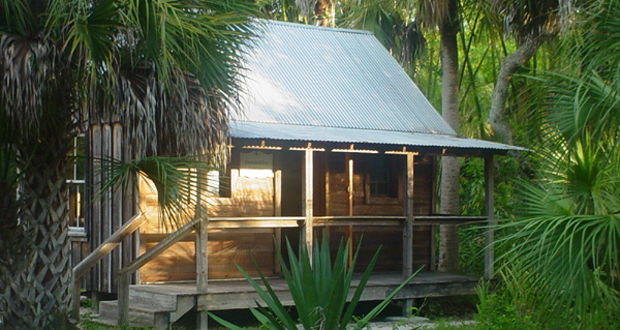 Camping at Koreshan State Historic Site Florida
We had a chance to speak with Michael about the great opportunities for camping at Koreshan State Historic Site. He also gave us some insights to touring the historic settlement at the park, their proximity to the wonderful beaches and what campsite he would choose.
Michael's Favorite Thing To Do In The Park
I really enjoy touring the historic settlement on the property.
Michael's Favorite Campsite
I would chose site 37, due to the dense vegetation.
Get To Know Koreshan State Historic Site
How long has Koreshan State Historic Site been there and how did it get it's start?
Koreshan State Historic Site was donated to the State of Florida in 1961 along with several buildings. A religious group, called The Koreshan Unity Foundation, Inc. was the donor. The property originally was a settlement started in 1894 by about 75 members of this Utopian group. It was planned to be a great city, eventually home to 10 million people. Their leader, Dr. Cyrus Teed professed to be the new Messiah, believed in the equity of women and that we lived on the inside of the earth. The group steadily declined after his death in December of 1908. The only surviving 4 donated 360 acres with the agreement they could live out their lives here. The last one passed away in 1982. 11 buildings remain along with a 60 site campground, a nature trail along the Estero River, picnic area and playground.
What are the most popular activities in the park for guests?
Touring the historic settlement, and there are many programs and events from November through April. We are close to many beaches and other historic and natural SW Florida attractions.
What are some other attractions in the area worth checking out?
There are many places near the park to visit. Some of the most popular are the Edison-Ford Winter Estates, SW Florida Museum of History, JN Ding Darling Preserve, Sanibel Island, Tin Can City in South Naples, and various beaches are all close by.
Which of those attractions is your favorite and why?
The Edison-Ford Winter Estates is my favorite as it changes with the seasons and is so closely related to us.
What are the campsites like? Are they more open or secluded?
The campsites are all buffered with vegitation with natural ground cover except 4 ADA sites that are paved. They all have water, 30 amp service, a picnic table and firering. There is a centrally located restroom and shower facility with a laundry area.