We enjoy putting things in perspective. That's one of the reasons we love being in the outdoors because we're able to slow down and look at things from a different viewpoint. This is especially true for relaxing under the stars and looking up at the awe-inspiring night sky, wondering what it all means and feeling very small if only for a moment. When a product comes along that allows us to further explore in a way that we never would be able to do without it, we are intrigued to say the least. Celestron launched an official National Park Foundation product line to encourage the exploration of the outdoors. A cool gadget with a good cause, Celestron caught our attention. So we pointed the Celestron Explorascope 60AZ into the night sky and here is what we found.
Functionality: The Explorascope 60AZ is a 60 mm refractor telescope with a redesigned mount for added stability and fully-coated glass optics. It features a pan handle control with clutch for smooth and accurate pointing. You can use it for both terrestrial and astronomical exploration. That's during the day and at night for you beginner telescope aficionados. We are biased toward the night sky but it works equally well during the daytime.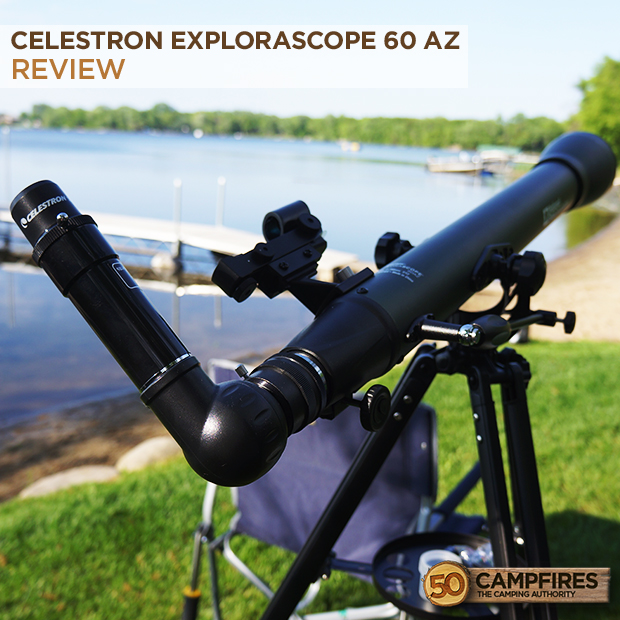 Ease of Use: Quick and easy no-tool setup with rugged tripod and permanently-mounted finderscope for convenience make the Explorascope a breeze to use. From in the box to fully set up takes just minutes. Focusing is a snap and the lens quality is great. Super clear with very little distortion.
Portability: At just over 5 lb. you won't break your back toting the Explorascore around camp. Portability isn't something you would normally think of being important in a telescope but for how much we like to travel and explore new places, the equipment we use has to travel as well as we do. The aluminum construction really cuts down on weight while remaining stable.
Value: For $99.99 the ExploraScope 60 AZ comes with a full accessory package with everything you need to get started with amateur astronomy: 2 eyepieces, a 3x Barlow lens to triple the magnifying power of each eyepiece, an erect image diagonal for correct image orientation, a full-height aluminum tripod, LED flashlight, and compass. Plus you get a two year warranty against repairs or replacement for normal wear and tear. All in all, you get a heck of a lot of stuff for under $100. Factor in all the fun you can have with your friends and family, Celestron is almost paying you to look at the beautiful night sky. Poor you.