Like gardening fanatics who get itchy for spring in the dead of winter–you can tell them by the intensity in which they study garden catalogues in February with such longing—I get itchy to buy the perfect holiday gift gear for the campers in my life come the fall.
I've learned over the years pay attention to what someone likes that you have in your camping trove. Or, simply note what they are lacking; in need of upgrading; or find them something new and spectacular no one in your clan owns. Read reviews at websites such as this. It's never too early to start plotting to purchase the perfect present. Nothing is better on a holiday morning than waking to a great gift. A present that surprises you, surpasses your expectations or introduces you to something new. We all know these are the best gifts because it means someone gave your interests or needs careful consideration. It's a message that says "I know you well" or an indication how much they care. It's never too early to start your holiday shopping prep nor too soon to let others know what will delight you!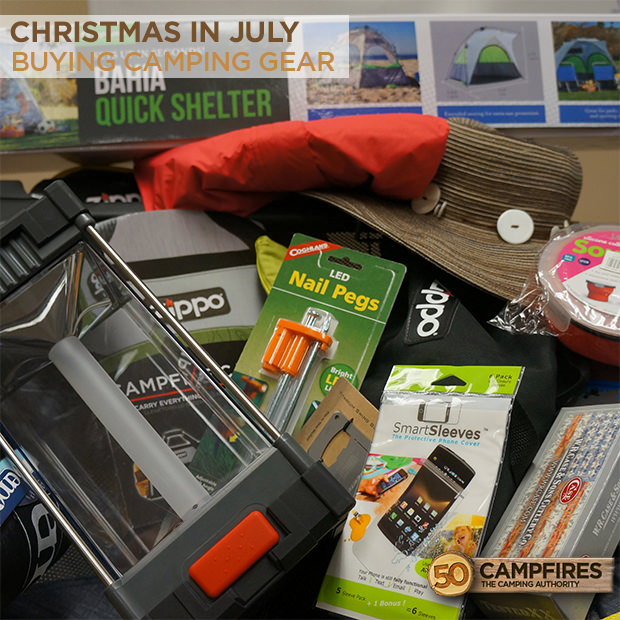 Let Santa take care of the naughty and nice list. You keep track of gift ideas for your friends and family. Don't wait until December, start now and I guarantee you will be glad you did! Begin a wish list for friends and family but don't forget yourself. If you are a very practical person, think of things you would never buy for yourself, because you don't really need them, but that you would enjoy anyway. Let others treat you to those things. Oh, and if you're somebody who might be buying a gift for me, a medium cast iron Dutch oven with a lid and handle to hang over fire would be greatly welcome.
Remember gifts don't need to be extravagant. One of my favorite Christmas presents in recent memory are a pair of woolen hiking socks, Austrian made. I wear them year round because they are soft and breathe and wick nicely.
Pay attention while camping and you will come away with inspired gift ideas for the campers in your life! December will be much less stressful to if you start your observations in the heat of July.