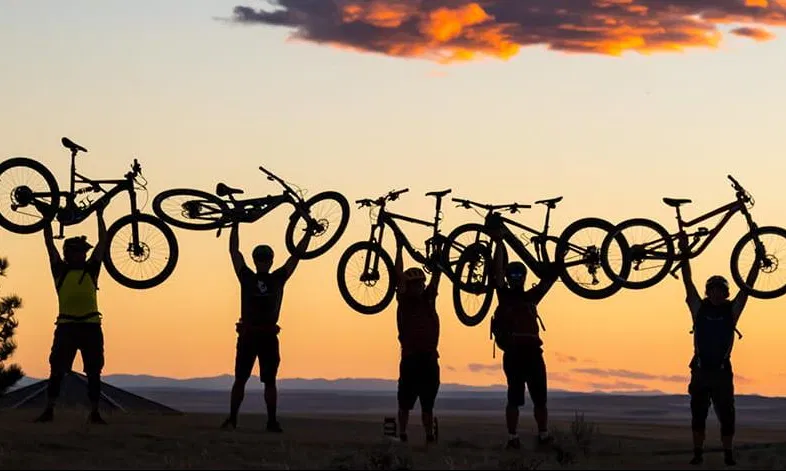 10 Epic Mountain Biking Trails in Utah
There's mountain biking… and then there's mountain biking in Utah. 
The state is home to some of the most breathtaking landscapes in the world, and its many world-renowned mountain biking destinations boast a ton of diverse landscapes, elevations and difficulty levels.
Let's take a look at Utah's top trails, some of the best in the country.
The Slickrock Trail, Moab, Utah
Experience the thrill of mountain biking through the stunning Navajo sandstone landscape with a ride on the Slickrock Bike Trail in Moab, UT. Originally established in 1969 for motorcycles, this 10.5-mile loop has also become a must-ride destination for mountain bikers from around the world.
At the trailhead, you'll find all the facilities you need to prepare for your adventure, including a parking area, shade structure, trail register, vault toilets, picnic tables, trash dumpster, and information kiosk. However, note that there is no drinking water available, so come prepared.
For those with less time or experience, there's a 1.7-mile Practice Loop that offers a chance to test equipment and skills without venturing too far from the trailhead. While it's not easier than the Main Trail, it's still a challenging ride that should be approached with respect. Novice riders or young children are advised to stay away from this difficult trail.
Several portions of the main trail are marked with yellow dashes, indicating narrow ledges, abrupt drop-offs, or steep ascents that may require walking bikes. Riders are cautioned to be especially careful at these locations and anywhere else the trail approaches a cliff, changes grade, or crosses rutted rock. It's recommended to allow 3-4 hours to complete the trail because of numerous steep ascents.
E-bikes are permitted on the Slickrock Bike Trail and all 4×4 Trails, but prohibited on the Raptor Route and singletrack portions of the Whole Enchilada, including UPS, LPS, and the Porcupine Rim singletrack.
Take a ride on the Slickrock Bike Trail, and you'll experience the thrill of mountain biking in one of the most scenic and challenging environments in the world.
Wasatch Crest Trail, Salt Lake City, Utah
Nestled in the majestic Wasatch Mountains of Utah, the Wasatch Crest Trail is a stunning out-and-back mountain bike trail that offers some of the most breathtaking views in the Salt Lake area. Whether you're a seasoned pro or a novice rider, this trail will satisfy your soul with its high alpine environment and stunning 360-degree views.
The 18.1-mile route is generally considered a challenging one and takes an average of 8 hours and 32 minutes to complete. However, despite its difficulty, the trail is still very doable, and you'll be rewarded with awe-inspiring views the whole way. You'll also share the trail with hikers and trail runners, so be mindful of others while you ride.
The best time to visit the trail is between June and October, when the weather is at its most pleasant. Keep in mind that dogs aren't allowed on the trail, so you'll need to leave your furry friends at home.
The trailhead is located at the end of Mill Creek Canyon's scenic drive on the east side of Salt Lake City, where you'll find ample parking, vault toilets, and an information kiosk. The ride begins on the Big Water Trail, a gentle climb through dense shadow-filled woods, before taking the Great Western Trail through the upper reaches of Mill Creek Canyon to the ridge-top divide overlooking The Canyons Ski Resort.
From there, the route turns south and follows the Wasatch Crest Trail along the ridge and around the head of the upper Mill Creek basin. Along the way, you'll climb through sun-dappled woods, cross luxuriant basins, and trace the "Backbone of Utah." You'll encounter steep hills, tricky sections, and many miles to log, but the stunning alpine architecture of the mountains will make it all worth it.
As you ride, you'll be captivated by the majestic views of the broad, fertile valley surrounding Park City far below, the alpine bowls scooped out by ancient glaciers, and the emerald green Lake Desolation nestled in a wooded glove. On the horizon, the serrated summits lining Big Cottonwood Canyon loom, drawing nearer and growing into a colossal aggregate of ragged crowns overshadowing ice-carved cirques and hanging valleys.
The trail ends near Scotts Hill, where the singletrack reverts to a jeep road and the trail leaves the national forest. Here, you'll enjoy a new and varied perspective of the Wasatch Crest Trail before turning back and enjoying the ride in reverse.
Rocky Tops Mountain Bike Trail, Moab, Utah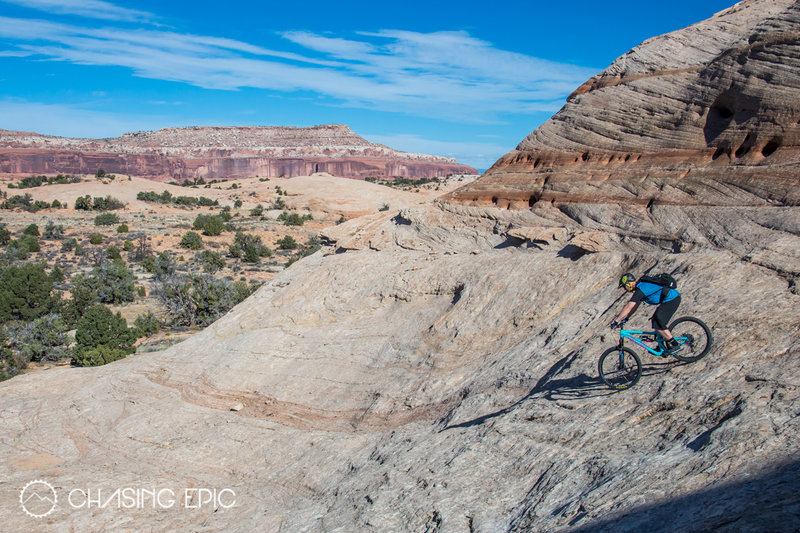 Looking for a big adventure and have intermediate biking experience? Rocky Tops Mountain Bike Trail in Moab, Utah is where you should be headed. The 8.6-mile loop is a great link-up with the Ramblin' Trail and is perfect for a moderately challenging bike ride.
This trail offers a little bit of everything – from short climbs, flow, slickrock, and great views of Monitor and Merrimack, the La Sals, and more. It's a beautiful trail that's open year-round, making it an excellent destination for mountain biking anytime.
The loop consists of two distinct sections: Ramblin' and Rocky Tops. Ramblin' is an intermediate ride with aerobic climbs, heart-stopping descents, and moderately smooth cross-country travel. The average grade is about 6%, with 5 or 6 stretches exceeding 15%. The highest point is about 5200 feet, and the lowest point is about 4950 feet.
Rocky Tops, on the other hand, is a solid intermediate ride with one tricky approach to a steep climb and one mentally challenging off-camber traverse. The average grade is about 6%, with short climbs exceeding 15%. The high point is about 5300 feet, and the low point is about 5000 feet.
If you're feeling adventurous, you can try this trail on an adaptive mountain bike. However, be warned that it has aMTB 3 Rating, meaning that major obstacles exist, and you will not be able to ride this solo. We recommend taking two bombers and doing a lot of spotting for them on off-cambered spots, and rock crawls.
Porcupine Rim/Whole Enchilada, Moab, Utah
This trail is a 35-mile loop that will take you from an alpine pass above treeline to the sandstone canyon of the Colorado River. This ride covers every type of riding and scenery that Moab has to offer in one massive, magical, mind-blowing sensory overload.
While the Whole Enchilada is technically a complete loop starting in town, involving many miles of paved road, and returning all the way back to town, most riders opt for a shuttle to Geyser Pass in the mountains above Moab. The trail includes several named sections, starting with Burro Pass, then Hazzard County, Kokopelli, then Upper Porcupine Singletrack, Lower Porcupine Singletrack, the famed Porcupine Rim Trail, and finally the Colorado River. There are several access points along the way that shorten the overall riding route, so if you aren't ready for the whole enchilada, you can still enjoy the best of what this trail has to offer.
Descending from Burro Pass, anticipation is palpable. You won't be able to hold in the whooping and hollering as you get moving through the dense forest full of steep switchbacks that eventually open into awesome aspen groves. The next trail section, known as Hazard County, is fast and flowy, filled with kickers, small gap jumps, and banked corners for those who prefer adding a little extra spice to their enchilada experience.
After Hazard, you enter a stretch of the dusty, rolling Kokopelli road trail and then the Upper and Lower Porcupine Singletrack sections. Here, the trail steps it up a notch in terms of technical difficulty, incorporating ledges, drops, and slick rock sections that you just can't believe your tires are sticking to – all while riding along the edge of a sizable cliff. It may be safer to walk some of these more dangerous sections rather than riding them, although one rider hailing from England recommended, "just have a healthy appreciation of curse words and you'll be fine."
Once you make it through this part, you'll find yourself at the official Porcupine Rim section, where the trail clings to the side of a sizable sandstone cliff. Ride carefully, channel your inner mountain goat, and bask in the airy views surrounding you. The view into Castle Valley, before the Porcupine Rim Trail descent begins in earnest, makes for an unforgettable lunch spot. The final stretch of Porcupine Rim is the pinnacle of the ride, especially when the winding Colorado River comes into view as you make your way toward the canyon floor.
While this trail is technically considered a downhill ride, it's not an easy one. There are a couple of big climbs and if you've ever ridden in Moab before, you know that descending here is no walk in the park.
Mid Mountain Trail, Park City, Utah
The Mid Mountain Trail in Park City, Utah, is a classic Wasatch singletrack with everything you could ask for in a mountain bike ride – climbs, descents, and ridge-top riding through beautiful aspen and pine forests. At around 8,000 feet above sea level, it's important to give yourself some time to acclimate before hitting the trail.
There are many different starting points for the Mid Mountain loop, but one particularly nice option is to begin at Park City Mountain Resort and climb up the Armstrong trail. From there, you'll encounter extraordinary views of the surrounding area as you make your way around the Mid Mountain loop.
The Armstrong Trail is a moderate climb with a few challenges, but overall it's an enjoyable warm-up for the Mid Mountain Trail. It gains about 1,400 feet by the time it hits the Mid Mountain Trail, which is well-maintained and easy to follow due to its popularity.
The Mid Mountain Trail itself is a beautiful singletrack that takes you through deep forests, open meadows, and along a ridge line. You'll pass through a ski area and see lift towers and mining remains from Park City's history before skiing. While there is a bit of climbing along the way, it's nothing too brutal, and there are occasional rocky sections to keep things interesting.
As you make your way north on the trail, you'll be treated to periodic beautiful views out over Park City and likely see wildflowers and aspen groves along the way. Eventually, the trail will bring you to Canyons Resort, where you'll have many options for descending into the Canyons area.
The Mid Mountain Trail is perfect for intermediate and advanced riders looking for a challenging and exciting ride with breathtaking views. After finishing the ride, follow the paved Olympic Trail back towards Park City and soak in the stunning views.
Rush Downhill Bike Trail – Draper, Utah
Here's a hidden gem of mountain biking. This moderately challenging, 3.0-mile point-to-point trail is a popular choice among local riders, but still provides ample opportunity for solitude during quieter times of day. While the trail is open year-round, the best times to visit are between March and October. Just be sure to leave your furry friends at home, as dogs are not allowed on the trail.
The main Rush Trail stretches 3.5 miles, descending 1150 vertical feet from the Peak View trailhead on Traverse Ridge at an altitude of 5900 feet. The trail offers an exhilarating downhill ride, with a newer alignment bypassing an up-and-down section called The Trees to provide a more continuous descent. If you opt for the "Classic Rush" route and detour through The Trees, you'll bypass 0.3 miles of the "official" Rush for 1.0 mile of flatter riding, extending your total to 4.2 miles.
Around mile 0.4 from the top, you'll reach a fork in the trail. A new steeper route was cut in 2013, bypassing a longer but not-always-downhill section. The new route to your left is 0.3 miles, while the bypassed trail is 1.0 mile and has been renamed The Trees. If you take the "classic" route, you'll do some pedaling but will be rewarded with extra distance and breathtaking views. Add 0.7 miles to your ride if you take The Trees.
To access The Trees from Brock's Trail, use the connector called Fly By Night, which is only about 100 yards long. If climbing, it's on the right about 0.2 miles from where Brock's forks away from Canyon Hollow. When descending from Peak View on Brock's, Fly By Night is at mile 0.3 from the trailhead on your left. As you hit The Trees, turn to the right to align with the one-way riding direction. Keep straight when you join the main Rush downhill trail 0.6 miles later.
The portion of the trail below the Bonneville Shoreline Trail (BST) is called Rush Limelight, a 1.09-mile section that begins at mile 2.5. After dipping through a little (often dry) creek, cross the BST to the Rush Limelight trail.
It's important to note that this trail crosses several multi-use trails, so bikers must yield to other users. Hikers, dogs, and horses are not allowed, and no uphill traffic of any kind is permitted. Restrooms are available at Andy Ballard Arena and the Peak View Trailhead at the top of the trail.
JEM Trail – Hurricane, Utah
The JEM Trail is the perfect ride when you're looking for a quick and easy blast of fun. You'll find stunning vistas, a smooth ascent, and a fast flowy descent that'll leave you grinning ear-to-ear. Though it's an out-and-back trail on its own, JEM can be combined with other nearby routes to create loops of over 20 miles.
Finding the lower trailhead can be a bit of a challenge, but using the MTB Project mobile app will help guide you to it. Turn right onto Sheep Bridge Road before entering Virgin, Utah while traveling east on State Road 9. After crossing the Virgin River on the bridge, take the first right after the cattle guard, and follow the two-track for about a half-mile until you reach the end. This is where you'll find the trailhead and parking area.
It's important to note that the trail can have two-way traffic, so keep your eyes open at all times. Thankfully, there's usually good line-of-sight, making it easy to avoid any issues.
The trail begins as you leave the parking lot and head west along the rim above the Virgin River. You'll enjoy some great views of the river, with Zion National Park in the background. The trail is pretty straightforward at this point, but after the trail bends south and exits the canyon, it merges with a dirt road and can be a bit confusing (mile 1.3). Take a right (west) on the road and ride for around 100 yards until you cross a dry wash. After the wash, turn left and look for the brown trail sign to get back onto the singletrack.
At mile 1.6, you'll come across the junction for Hurricane Rim trail – stay left on the JEM trail. As you continue, you'll cross a few double tracks, but the singletrack is clear on the other side. When you reach mile 4.5, the singletrack will cross a well-maintained gravel road. If you're riding the JEM out-and-back, cross the gravel road and continue on the other side. Ride the singletrack until you come to a hill that's too steep to climb on your bike – this is the JEM drops. You can either turn around here and start your descent back, or hike-a-bike up the hill and continue to the upper parking lot. If you choose to continue on, you'll face another short hike-a-bike, but will be rewarded with a ride all the way to the upper parking.
Whether you turn around at the JEM drops or continue on to the upper parking lot, you'll be in for a thrilling descent. The trail is fast, flowy, and a ton of fun. While you can ride the trail in both directions, most prefer to save the downhill for last. Some folks opt to shuttle to the upper trailhead for a downhill-only run, leaving a shuttle vehicle at the lower parking lot.
Big Mountain Trail – Snowbird, Utah
Experience the thrill of the descent on the Big Mountain Trail, a thrilling ride that drops 2,400 vertical feet with a 7% average grade. This trail is perfect for those looking to let gravity do the work as very little pedaling is required. Starting from the tram access, you'll descend through steep switchbacks on a scree-filled doubletrack trail, offering breathtaking views of the surrounding mountains.
As you make your way down the trail, you'll pass through scenic mountain meadows, maneuver tight forested turns, ride over small earthen tabletops, and cross over several wooden bridges. The trail offers a variety of alternative b-lines that will keep you on your toes and add excitement to the ride.
The trail intersects with Mid-Way Trail, where you can continue the descent, or alternatively, take Baby Thunder Trail down to the bottom of the park.
Thunder Mountain Trail – Bryce, Utah
Thunder Mountain lives up to its name. This 14.7 mile loop takes you through stunning views of the backside of Bryce Canyon and lets you pass through hoodoos, mountain ridgelines, and pine forests.
The singletrack trail offers plenty of switchbacks for climbs and descents, with almost 3,000 feet of elevation changes throughout the ride. While the trail gets a little technical towards the end, with some drops and tighter switchbacks, it's still manageable for intermediate riders.
To make the most of your ride, plan to start at Red Canyon paved bike trail and make it a loop if you don't have a second car or shuttle service. The trail quality is mostly smooth hard pack, but with some sections of loose, steep, switchbackery madness. However, the technical sections are short and walkable, and the climbing is mostly moderate.
As you climb the dirt road from 7,800′ to the trailhead at just over 8,000′, you'll be rewarded with breathtaking views of Thunder Mountain. The trail is mostly downhill from here, with a few exceptions, and you'll love the swooping hills and valleys along the way, with many memorable photo opportunities to capture the moment.
The last mile of the ride is particularly thrilling, with a smooth, flowing singletrack that lets you fly down at blistering speeds. If you're brave enough to let go of your brakes, this is a blast you won't want to miss.
After your ride, settle in at Red Canyon Campground, an excellent federal campground located just east of the Red Canyon Visitor Center. With flush toilets, paid hot showers, and grilled fire rings, barbecue grills, and free Wi-Fi, you'll be able to relax and recharge in comfort.
Upper Wheeler Creek Trail – Ogden, Utah
Looking for a scenic and convenient trail near Ogden? The Wheeler Creek Trail offers a beautiful hike or mountain bike ride with wide trail treads that make it perfect for sharing with horses too. This trail connects Art Nord trailhead to Maples campground, and runs across the hillside through a variety of trees, shrubs, and mountain wildflowers.
The trail is a popular choice for locals looking for an easier ride or hike, with a wide tread designed to avoid steep climbs. At the end of the trail, hikers are rewarded with stunning views of Mt. Ogden and Snowbasin Ski Area. It's a great choice for a quick ride or hike after work or when you're short on time.
To get started, head to the lower Snowbasin Ski Resort parking lot and park near the silver gate at the far corner. From there, follow the gravel road that takes you to the single track trailhead, which is about half a mile from the pavement. The trail quickly descends through grass-filled meadows and passes a small pond, so keep your eyes peeled for wildlife.
For those looking for a longer adventure, the trail makes an excellent shuttle hike or ride. Park a car at the top and another at the bottom and spend three to four hours enjoying one of the prettiest trails in the area.
To reach the trailhead, travel east on 12th Street in Ogden and follow the road through Ogden Canyon until you reach the first turnoff to Snow Basin Ski Resort on your right. From there, follow the signs to the resort on SR 226, and drive through the first lot past the lodges down the hill to the lower lot.