Gear of the Year Awards 2015: Stanley Adventure Happy Hour 2X System
Picture this: you and your friends have planned all year for your annual camping trip. You meet up from across the country, and make the four mile trek into the wilderness from where you can park your vehicles and begin the process of setting up camp. After building a campfire and making dinner, you raise a glass to your companions, toasting to your friendship and shared love of the outdoors. At the culmination of your speech, you give a nod to your friends, and take a sip of delicious… water.  How disappointing.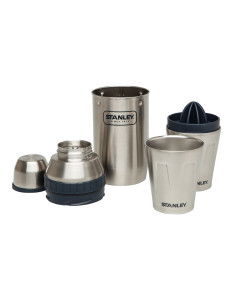 Parties in the great outdoors don't have to be limited to a six-pack of beer you've hauled in from the trailhead, or a simple flask full of whiskey that limits you to just a few ounces; the Stanley Adventure Happy Hour 2X System makes it easy to mix things up.  Whether you're crafting campfire cocktails, making mid-hike martinis, or serving Sunday sours at home, the Stanley Adventure Happy Hour 2x System makes mixology manageable.
This all-encompassing cocktail shaker set starts with a durable 20-ounce shaker, made from naturally BPA-free 18/8 stainless steel that won't rust up on you, and includes two sweat-free double wall steel rocks glasses for you to share a toast with a friend. Whether you're mixing a mojito or an old fashioned, the removable reamer makes quick work of juicing, and can strain directly into the included jigger cap. When you're done mixing up a nightcap, the entire 1.54 pound system stores inside the shaker, making this set compact enough to toss into your pack and include on a day hike.
We've tried alternative setups to pack up a bar while camping, and whether using multiple water bottles or risking breakable glassware in our bag, we have never found a satisfactory solution. We've always ended up scrounging through our pack, digging for the equipment we need, or searching through stuff sacks to find another glass. The Stanley Adventure Happy Hour 2x System is a great alternative, eliminating the chaos of searching for gear and allowing to get right down to what matters, mixing up another round.
Price: $35.00