2014 Gear Of The Year: OneLog Fire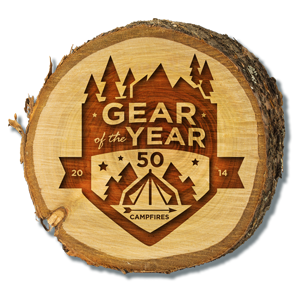 There is just something about sitting around a fire – big or small. That flame seems to hold special powers, allowing us to relax and enjoy the time spent with nature.
Campfires are usually reserved for those weekend trips camping or to a cabin, as most city dwellers don't have the luxury of starting a fire in their backyard. OneLog Fire is changing the game with a self-contained fire meant to go anywhere.
The OneLog Fire looks nothing like the "teepee" or "cabin style" fires you're used to building. It's much cooler than that. The OneLog is a kiln-dried log with two holes drilled in – one at the top and one on the side near the bottom. Sitting in the side hole is a wick with fire starting material that allows you to easily get the fire going. Once lit, the self-contained flame can be moved and comes with a braided cord handle for easy transportation. The log is thick enough that it takes almost two hours to burn through, giving you plenty of time to enjoy the outdoors. We used it for the first time right in our backyard; what a treat that was for the kids to roast marshmallows before bedtime! The fire not only amazes children but it impressed the heck out of us as any easy solution for a campfire anywhere. If you don't burn through it in one sitting, you have the ability to restart it at a later time by using a fire starter. For someone who doesn't have the ability to easily sit around a campfire, the OneLog Fire is the perfect solution.
Other Gear of the Year Winners – Fire Category