On February 1, 2023, for the first time in three years, Arizona's famous Havasu Falls will finally reopen to visitors.
Located within the Havasupai Reservation adjacent to Grand Canyon National Park, the falls are internationally famous for their unique, stepped pools and fluorescently blue water. Many attribute that fame to Instagram; if you've spent much time on the platform, you've likely seen an image (or several) of bikini-clad influencers posing before the falls.

Over the years, the falls' Insta-fame brought more tourism to the Havasupai Reservation—and increased crowding. So when the pandemic hit in 2020, Tribal leaders had to take action to protect the Havasupai People. Due to limited healthcare access and high Covid infection numbers, the Tribe was forced to close the falls. Then, in 2022, massive floods swept through the area, requiring further maintenance. Meanwhile, behind the scenes, the Tribe has been fighting a legal battle with an uncooperative tour operator and trying to fend off an incoming uranium mine that threatens the falls' headwaters.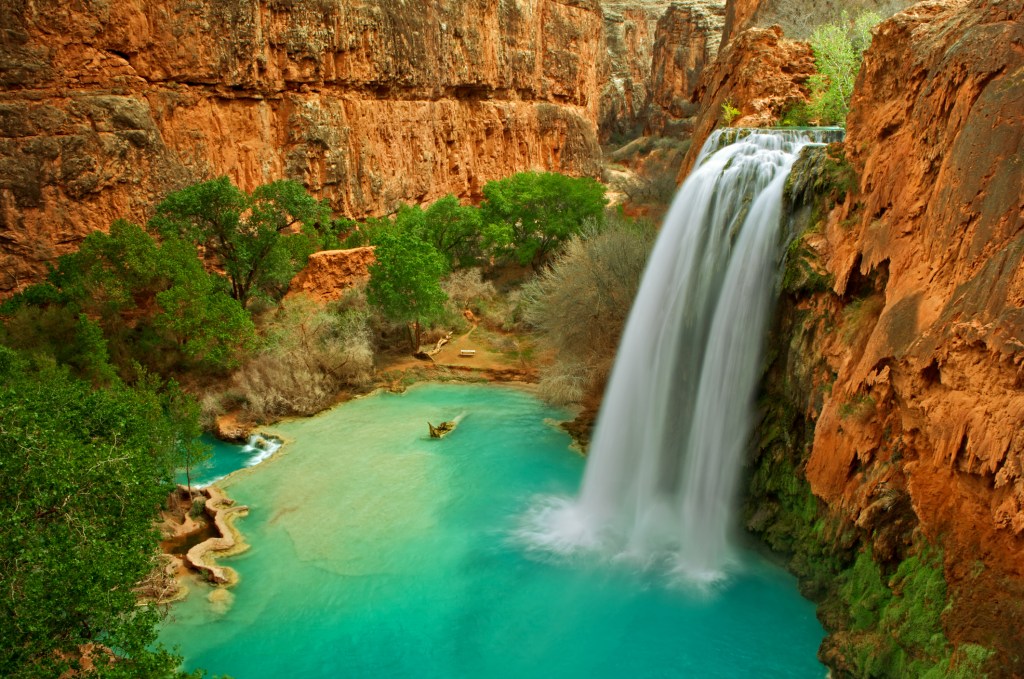 But now, at long last, the falls are finally reopening. Reservation canceled when the falls closed in 2020? You get first dibs. After that, more slots may open up on a first-come, first-serve basis. These limited reservations will be available through the Havasupai Tribe's online reservation system.

There are two ways to access the falls. The most popular is via a 10-mile hike from the Grand Canyon rim. To take this route, hikers are required to book a three-day permit and campground stay within the Havasupai Campground. The second way is via the Colorado River. A campground stay is not typically required via this route. However, river rafters will still have to pay a fee upon entering the Havasupai Reservation.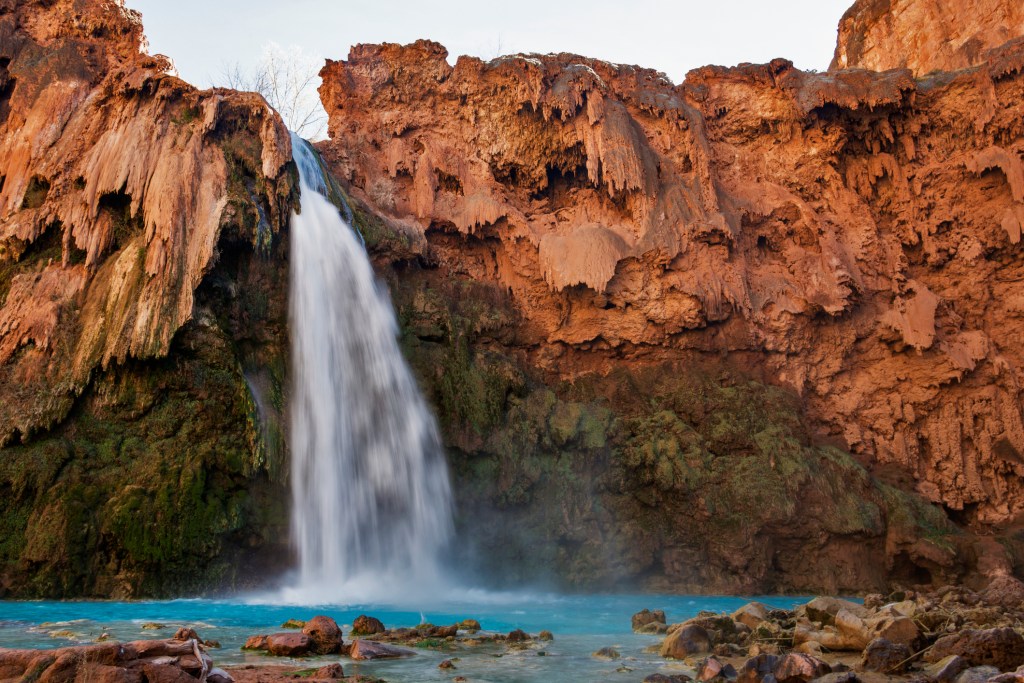 The Havasu Falls get their unique shape from travertine deposits, which form around the rims of the pools to create multi-stepped cascades. When dissolved in the water, the calcium carbonate that forms the deposits gives the pools their characteristic milky blue hue. This is similar to the way that dissolved minerals or glacial dust color many alpine lakes in the Rockies.
While the Havasu Falls area has suffered some damage from the flooding, it remains a gorgeous natural treasure and a must-see site for many hikers.
"While you may see downed trees on the trails where the flood crashed through, you will also see flourishing flora and fauna and new waterfall flows," the Tribe said in a statement. "This is truly a great time to visit, and please know that we are eager to welcome tourists back to our beautiful Reservation."