The higher the stakes, the higher the cliffs. As the contestant pool gets whittled down on HBO Max's adventure reality show The Climb, host Chris Sharma ups the ante and the size of the rock. He brings the remaining contestants, vying for a $100,000 cash prize and a sponsorship from prAna, to his literal backyard in Sant Llorenc, site of the oldest sport climbs in all of Spain.
It's an epic spot and the cast is blown away by its beauty and abundance. "I don't think I've seen this much rock in one place in my life," says Deco.
"It's incredibly personal," Sharma says of the crags that surround his home. He calls the breathtaking location his headquarters for hard climbing, and the place he develops his own routes. Sharma promises that the next challenge will push the climbers to and/or beyond their limits and it's likely they will fail.
"It's way harder than anything they've ever tried," he adds. "The magic spot of life is when you push your limits even when you're not sure if it's possible."
The contestants pitch tents for the night because Sharma doesn't have enough beds inside his house, and Tiffany laments that sleeping in the elements will absolutely affect their climbing performances. They're all already exhausted.
On top of that, we learn that young star Brad is burning the candle at both ends. He's a student at Montana State University studying biology and neuroscience and has been taking tests during The Climb shoot. He's planning on going to medical school but also dreams of becoming a professional climber like his idol Sharma.
"He's amazing, the Golden Boy," Deco says. "He burns brother, he burns."
Brad is the clear front-runner — he's topped every climb so far. But it's also obvious the stress of the show and school is wearing on him. "Things don't always go your way. Sometimes luck runs out," he foreshadows. Nah, the Golden Child's not going anywhere…is he?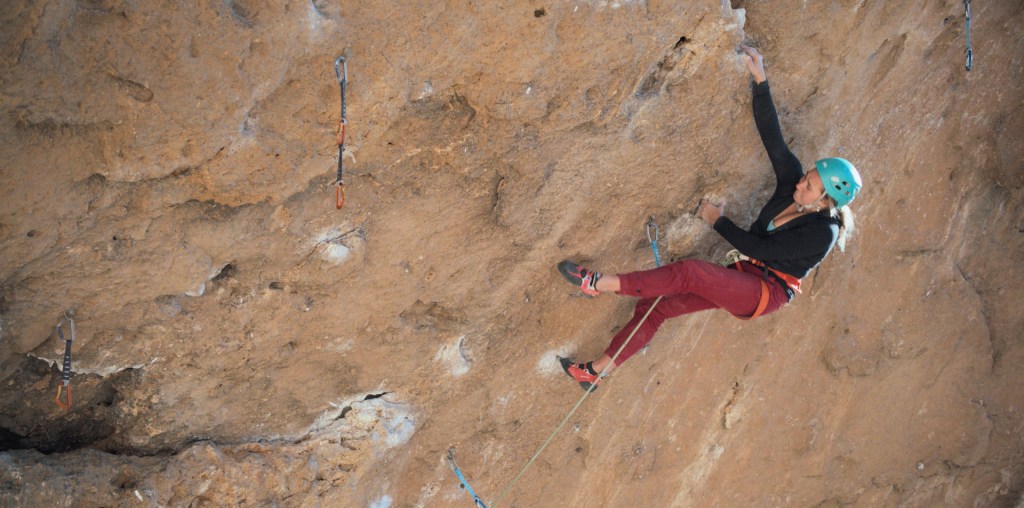 The Main Climbing Challenge
The main challenge, Patiasso al Pallaso, is 70 feet long. The bottom is polished rock that's harder to grip. There are a lot of different holds so it's easy to get lost. The crux is a strenuous move that starts in a crack in a cave, then the climbers will be completely horizontal before attempting a brutal 10 move sequence that requires insane upper body strength.
The climbers wear harnesses and helmets, and have belayers, for the seemingly impossible feat ahead. Cat goes first and as always gives Brad a run for his money for top dog. Cat doesn't quite make it all the way but reaches the arch. Another impressive climb from the scrappy little dude.
Dom (with a throbbing knee), Alice (with a bloody finger), Deco and Robyn give it their all but fail to make it to the end, mostly because they're "pumped." That doesn't mean overexcited, it's climber jargon for lactic acid buildup in their forearms, making it near impossible to keep going.
Tiffany falls sooner than the rest again, co-host Meagan Martin thinks her hips were too far away from the wall. Brad heads up, and he seems off, almost nervous. He makes it one move past Tiffany when, drum roll please…. he slips and falls. The gasps from the peanut gallery below could probably be heard in Barcelona.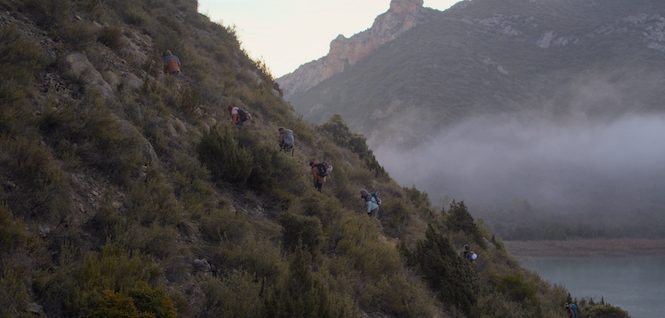 Elimination Round
It's like everyone there and at home watching knows Brad is the best climber but he's not performing to the best of his ability. He has to face Tiffany in the elimination round, and it almost seems unfair. Feels like a no-brainer that she will be saying adios. She even admits that every week has been an uphill battle and that her "exhaustion is real."
The two face off on "Obtuso on the Mordor Wall," a 100-foot tall tufa, which is rock formed from stream deposits. Here, water drips over the rocks creating a column formation. The climb has vertical edges and pockets, and it will take eight moves to get to one large pocket. There's only one resting spot, 20 feet from the top.
Tiffany heads up first and looks the best she's ever looked in the competition. The fire is still in her heart. She paces herself and makes it to the top. "She's a fighter who does not give up,"
Cat marvels.
It's Brad's turn and dare we say he looks miserable as he approaches the rock? He heads up and doesn't seem confident at all. At first, he's choosing all the right footholds and makes it to the middle of the tufa. Everyone is holding their breath. He reaches and…he falls! It's over. Brad is going home. He asks Deco to let him hang in the air for a minute before coming back down to Earth.
It's a truly shocking sad moment, and not gonna lie, some tears flow watching it. It's like when SPOILER ALERT Jennifer Coolidge was killed off on White Lotus. Like, what? No! This can't be.
Sharma's despondent face says it all. Brad had this in the bag and he would have been the perfect face of prAna! But in climbing, one small slip and you're finito. It can happen to anyone at any time. "It can end so quickly," Brad says himself.
There's a climbing quote that goes something like, "You cannot stay on the summit forever. You have to come down again." It's a humbling sport. Brad's fall on The Climb will probably be a defining moment in his life that he'll never forget. It can crush his spirits, or it can propel him forward and challenge him to be even better than he ever thought possible. He's young, only 21, but hopefully he will realize that failure isn't necessarily a bad thing. Sometimes that's when we learn the best things in life that make us better humans.
"I'll always be hungry for more," Brad says before departing. Good.
It's such a cliché when reality show contestants get eliminated and in their exit interviews they say, "You haven't seen the last of me." Because 99 times out of 100 those people will fade into obscurity. Brad might be the exception to the rule. He's a good guy with a very unique, special talent. We can't wait to see where he ends up in the climbing world. Just take it one step at a time, kid.
Episode Four: Tufa, We Hardly Knew Ya