The Fishing Wire has some great tips to make sure every anglers catch-and-release fish survives.
Not only will it help improve fisheries, anglers will learn that releasing fishes like trout, muskies, bluegills etc. can help increase the quality and amount of fishes for future catches.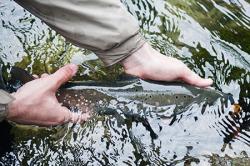 With these catch-and-release guidelines, fishes can survive and avoid internal damage caused by hooks, stress and the act of being pulled from deep water if anglers follow them properly. However, fishes that are hooked in the gills or gut have a lower chance at survival.
Here are some basic methods The Fishing Wire recommend following when angling:
Active baits such as crankbaits are more likely to give fishes a better chance at survival after being hooked in the mouth. Jigs and circle hooks are good as well.
Avoid deepwater when planning to catch-and-release.
When taking hooks out, have pliers handy or cut the line and leave the hook in the fish.
Land a fish as fast as possible to limit the amount of time a fish is out of water.
Handle the fish with care and make sure to wet your hands before touching it. That helps to prevent anglers from removing the protective slime coating.
Proceed to unhook and release the fish while it is still in the water, if feasible. Support its weight with both hands or with a net (preferable rubber) when removed from the water and use caution — never lift them vertically from the water.
If you plan on releasing a fish, never place it on a stringer or in a live well.
Anglers can revive a fish by cradling it under the belly and gently moving it forward in the water until it swims away.
A fish can be legally kept if it is bleeding profusely or cant right itself. Do not release it.