If you've stumbled across this article it probably means that you're thinking about going camping. First time campers have a lot of questions like:
"Will I like it?"
"Where should I go?"
"What will I need?"
And perhaps most importantly…
"Why should I go camping?"
Let's start with the why.
Why You Need To Go Car Camping
 We live in a very frenzied world and I think we all know that it's not healthy to stay plugged into it 24/7, 365 days a year. It's just not good for your brain. We all know it's important to take a break. That's where the 10 day vacation comes in, right? Well, sure…but most of us don't get to do that as often as we'd like. Camping lies somewhere in between the daily grind and those mega vacations that we all love. They're way cheaper, much closer, and can be had more often. The first time you sit around a fire in silence you wonder how you've gone this long without it.
Finding A Campground
Your options for location range from isolated with no amenities to crowded with all of the amenities you could want. I'd suggest picking somewhere in between. One of the great things about car camping is that you can set up shop just about anywhere and have a good time.
I always start with both Google Maps and your state's DNR website. This will give you a quick idea of both the private and state campgrounds you have available. As far as distance, I prefer a weekend car camping trip to be two hours or less away from my home. This leaves you plenty of time to enjoy Friday night and makes for an easy drive home on Sunday.
Here's a search for "campground" in Google Maps. I have more than enough to pick from.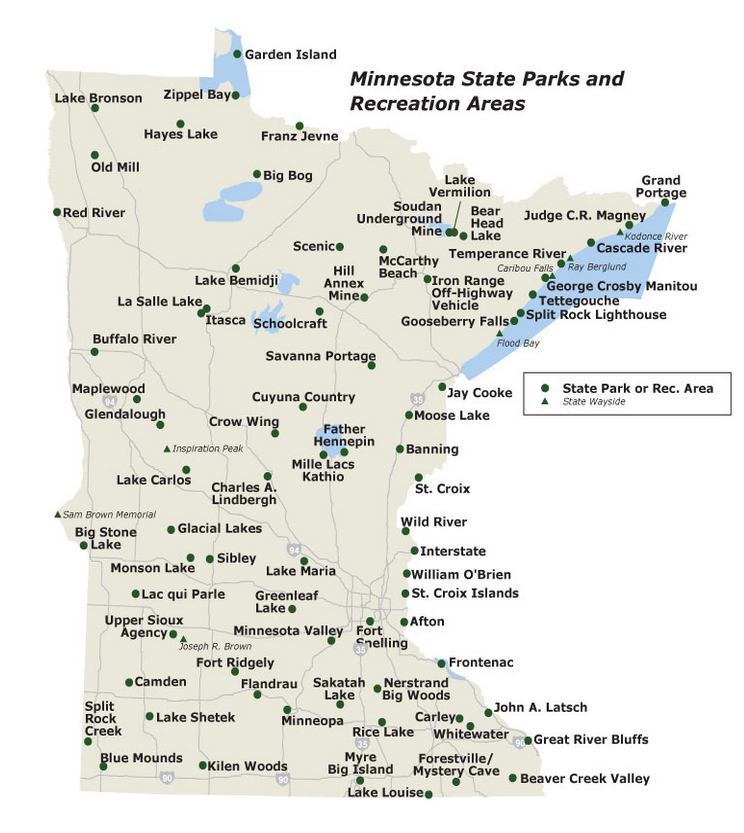 And here is an interactive map of state parks from the Minnesota DNR. With these two tools I'll have no problem finding a campground that suits my needs.
Picking A Campsite
First things first – you don't always get to pick a campsite. Sometimes you show up and just get what you get. With that said – you usually can pick a campsite, because most places set aside both reservable and first come, first served sites. Usually about 80% of the sites are reservable. Once again, I like to use both Google Maps and any maps that the campground might provide to inform my decision. Let's take a look at Sakatah Lake from the DNR map above and see what we find. (The red numbers are reservable sites).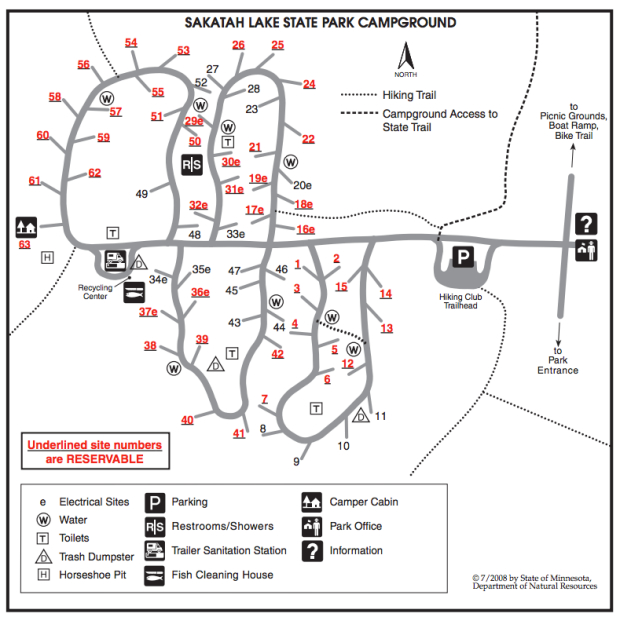 At first glance here my immediate thought is that #40 is looking pretty good. It's on the outer side of the loop, so I'll have woods behind me vs. being surround by other campers. It's also by the water, which is convenient. However, look what we find when we hop into Google Maps.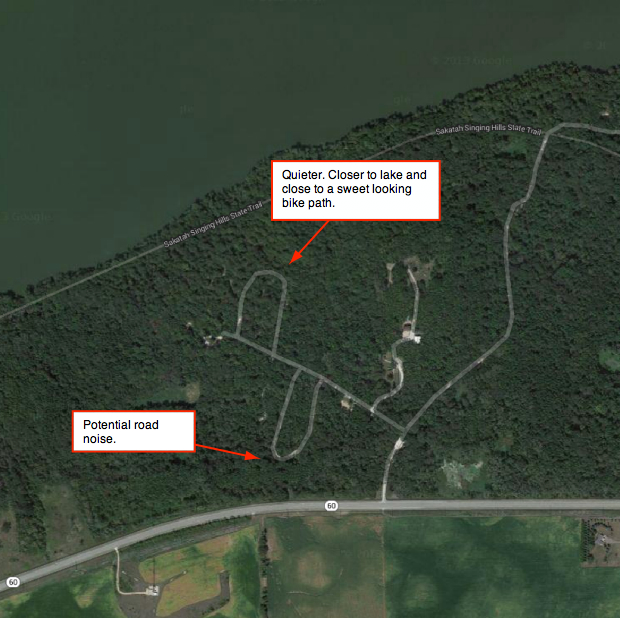 The spot that I originally wanted might have some road noise – not what I want when I'm sipping a beer by the campfire. It looks like that upper loop is going to be the best bet. In this case I'm going to pick #56. There is water right across from my site, and while I'm right on the hiking path coming into the campground, that will likely calm down after dusk.
Deciding What Gear You Need For Car Camping
I'm gear guy, so I'm always on the lookout for things that will save time and will make my camping experience more enjoyable. With that said, I don't think you should get all "gear crazy" your first few times out. The reason is that it's smarter to find out what things you can't live without by experience instead of going to REI to drop $500 on stuff you think you'll need. Some people just need a hammock and a hotdog and they're good to go. Others need to bring the the kitchen sink to be comfortable.
Let's just break it down to what you really need to do at a campsite: 1) You need to eat something, and 2) You need to sleep somewhere.
Eating – One of the easiest, most delicious ways to cook while camping is to use foil packets. Make some sausage and vegetables or potatoes in foil packets Friday night over the fire and everyone will be eating like kings. For breakfast heat up some pre-cooked breakfast sausages right on the grate over the fire and eat them with cheese and english muffins. Sandwiches for lunch and then maybe brats for dinner. Keep it simple your first time out.
Sleeping – Once again, keep it simple and cheap. Get a used tent on Craigslist and some cheap sleeping bags at Target. Camping mats make a pretty big difference, so try to get your hands on some. If you don't want to drop the cash, just throw a bunch of blankets in the car and sleep on those. I'm a big fan of ear plugs and an eye mask at campgrounds. You'll be able to get an extra hour of sleep with them.
There are three big benefits to getting gear on the cheap when you first start camping:
1. You can get into it for a small outlay of cash.
2. You'll get a chance to develop preferences based on your camping style. This is important because there an incredible amount of camping gear to choose from.
3. When you get hooked and buy some sweet gear (totally will happen), you'll really appreciate it.
I hope this helps you form a game plan to get off the couch and out to explore the great state that you live in. It doesn't matter where you are, I guarantee that within a few hours of your house are tons of unexplored nooks and crannies for you to discover. Have fun, stay dry, and eat well!