Camp Alabama had the chance to speak with Suzanne from Logan Landing RV and Cabin Resort about what makes their park so special, inflatable obstacle courses, and why they're a great campground if you're headed to Talladega. Listen to our full interview here:
Logan Landing RV and Cabin Resort
Camp Alabama: Talking with Suzanne today; she works at Logan Landing RV and Cabin Resort in Alabama. How's it going today, Suzanne?
Suzanne: I'm very well.
CA: How long has Logan Landing been there, and how did it get its start?
Suzanne: Logan Landing, under the current ownership, we have been in operations for about five years.
CA: Okay, so relatively new, because it looks pretty established already.
Suzanne: Well, under the new ownership it's only five years old. This has actually been a campground for about 22 years, I think.
CA: So you guys have RV camping there, but then you also have a lot of cabins.
Suzanne: We have cabins, cottages, and campers that we rent out, plus we have the RV spot, and all of our spots are full hookup.
CA: Nice. Is it only long-term, or can people come in for a night?
Suzanne: Oh no, they can come in for a night or a lifetime.
CA: Perfect. I saw something on the website about actually buying a cabin there on the property. Is that correct?
Suzanne: Yes it is.
CA: How does that work, and what kind of prices do those run for? Because that sounds like a pretty attractive option for someone maybe who doesn't want the full hassle of having to either build or seek out a piece of land, and you have all the amenities right there.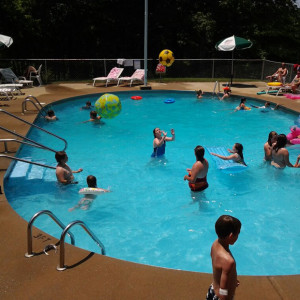 Suzanne:
All of those sites are open for purchase. We do 99 year leases, because we keep the deed to it. So we pay the property taxes, take care of the water and the sewer, but then they have the lease and it is fully transferable, so they can sell it to their friend or give it to their children. It's also called a forever lease.
CA: What are some of the more popular activities on the property there for the guests?
Suzanne: Boating. Everybody likes to bring their boat and go onto Logan Martin Lake.
CA: It looks like here that's a 15,000 acre lake, so pretty good size.
Suzanne: Yeah.
CA: Where are you guys located in Alabama?
Suzanne: Our address is Alpine, Alabama. It's in Talladega County.
CA: If somebody wants to venture outside of Logan Landing RV and Cabin Resort, what are some of the more popular attractions in the area?
Suzanne: Barber Motorsports is not very far. Talladega Racetrack is only about 20 minutes from here. Birmingham, so you can go see the Vulcan. That is about 45 minutes. Within an hour, there is a lot of things to do.
CA: Let's say you had some guests in town for the weekend; what's your favorite thing to take people to do in that area?
Suzanne: I took them to the old grist mill when my friends from Wisconsin came down. It's a quaint little thing. They've got a museum and trails. It's a really nice look into the past.
CA: Within the park there, if you had a little bit of downtime, what would be your favorite way to spend your time at Logan Landing RV and Cabin Resort?
Suzanne: I love just sitting around campfires, talking with the campers here. We also have pedal boats and canoes, and the swimming pool in the summertime.
CA: Cool. Sounds like there's a little bit of something for everybody.
Suzanne: Yeah. In fact, last Saturday we had a luau on the beach.
CA: Oh, fun.
Suzanne: Yeah. We try to have something at least once a month.
CA: Sure, we have Halloween coming up.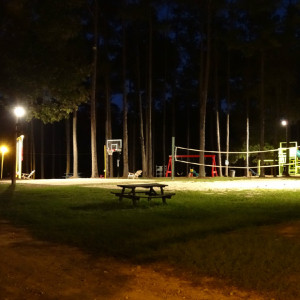 Suzanne:
Oh yeah, that's huge. That's absolutely huge. We've got a fall festival, we'll have vendors, craft vendors and food vendors and we're having activities for the kids. A 62-foot blow-up obstacle course. There's just so much to mention. We've got the haunted trail and the trick-or-treating.
CA: Wow. And that's all right at Logan Landing?
Suzanne: That's all right at Logan Landing.
CA: Is that open to the public, or just the guests?
Suzanne: It is open to the public. We open to the public two times a year. That is our spring festival and our fall festival. We open that to the public so everybody gets a chance to see what we're all about.
CA: That sounds great. That's all I have for you this morning. Thank you so much, Suzanne, for taking some time to talk to us about Logan Landing RV and Cabin Resort. We'll get the word out to our visitors.
Suzanne: All right. Thank you.