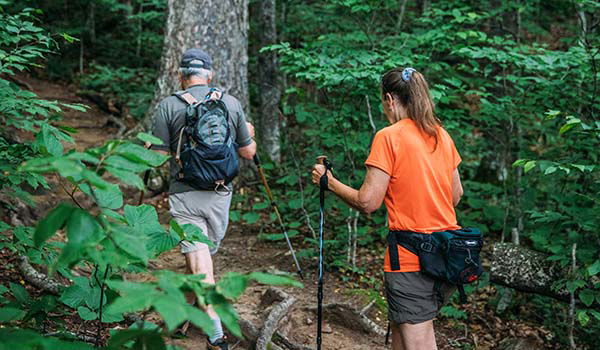 What Is the National Trail System?
Most outdoor enthusiasts are aware of the National Parks, National Monuments, National Forests, National Grasslands, National Seashores, and even National Wildlife Refuges … but did you know the United States also has a National Trails System? In fact, the National Trails System in the U.S. totals more than 60,000 miles in all 50 states. That's nearly 25 percent longer than the U.S. Interstate highway system that has just 46,876 miles.
2018 will mark the 50th anniversary of the National Trails System Act authorized by Congress in October of 1968. In the official proclamation the system was created to: "… promote the preservation of, public access to, travel within, and enjoyment and appreciation of the open-air, outdoor areas and historic resources of the Nation."
11 National Scenic Trails
There are 11 trails designated as National Scenic Trails and 19 as National Historic Trails. Both these designations are made by Congress. The system also includes more than 1,000 National Recreation Trails designated by the Departments of Interior or Agriculture. These are found in every state, Washington D.C., and Puerto Rico.
Arguably, the most well-known trail in the National Trail System is the Appalachian Trail running between Springer Mounting in northern Georgia to Mount Katahdin near Millinocket, Maine. It's nearly 2,200 miles long though the exact length changes occasionally as parts of the trail are modified. It's estimated that 2-3 million people take at least a one-day hike on a portion of the Appalachian Trail every year.
The other 10 National Scenic Trails are the:
Arizona Trail – 800 miles from Utah to Mexico
Continental Divide Trail – 3100 miles from Canadian border in Montana to Mexican border in Arizona
Florida Trail – 1000 miles current, plus 300 planned from Big Cypress National Preserve between Miami and Naples to Gulf Islands National Seashore at Pensacola Beach.
Ice Age Trail – 1000 miles winding through Wisconsin from Interstate Park on the St. Croix River to Potawatomi State Park in Door County.
Natchez Trace Trail – 444 miles from Natchez, Mississippi to Nashville, Tennessee
New England Trail – 215 miles through Connecticut and Massachusetts.
North Country Trail – 4600 miles from Crown Point in eastern New York to Lake Sakakawea State Park in North Dakota (It's thelongest of the National Scenic Trails.)
Pacific Crest Trail – 2600 miles from Mexican border near Camp, California to Manning Provincial Park in British Columbia, Canada
Pacific Northwest Trail – 1200 miles from the Continental Divide in Montana to the Pacific Ocean at the Olympic Peninsula in Washington.
Potomac Heritage Trail – 710 miles (current and planned) in Pennsylvania, Maryland, and Virginia.
19 National Historic Trails
There are also 19 National Historic trails that commemorate historic and prehistoric routes of travel that are significant to the entire nation. Examples include the:
Iditarod Trail – 2350 miles in Alaska
Nez Perce Trail – 1170 miles in Montana, Wyoming, Idaho, and Oregon
Mormon Pioneer Trail – 1300 miles in Illinoi, Iowa, Wyoming, Nebraska, and Utah
Lewis and Clark Trail – 3700 miles in Illinois, Missouri, Kansas, Iowa, Nebraska, South Dakota, North Dakota, Montana, Idaho, Oregon, and Washington
More Than 1,000 National Scenic Trails
While all of the trails in the National Trail System have mapped routes, many are under constant development and expansion. The ultimate goal is to make every inch of these trail systems hikeable and open to the public. However, as the estimated 18,000 people who have hiked the whole Appalachian Trail since its completion in 1937 will tell you, not every step will be "easy."