Ruby Inns RV Park Campground UT
Ruby Inns RV Park Campground UT
Camp Utah: I'm talking with Kerry today. He's the Manager at Ruby's Inn RV Park and Campground in Utah. Kerry, why don't you get us started by giving us a little bit of history around Ruby's Inn RV and Campground?
Kerry: Sure. Well, Ruby's Inn has been around for almost 100 years. We were opened in 1916 by Ruben, so Ruby was actually a man, not a woman. And the campground hasn't been open quite that long, but we are the largest campground in the area and we're the closest campground to Bryce County National Park.
CU: Okay. And what types of camping do you offer there?
Kerry:
We offer tent camping and we have full hook-up sites, electric and water sites. Some of our sites have cable TV and pretty much all of our sites have Wi-Fi. And we can accommodate any size rig from a pop-up all the way to 40-foot Class A.
CU: Okay. I see on the site here that you have teepees there.
Kerry: We do, yes. We also have teepees. They're kind of fun. The kids love them, and we also have rustic cabins that are small cabins. And we've got picnic tables and fire pits, and we have a barbecue area. We have a pool and a hot tub. We have pretty much any kind of camping that you'd like.
CU: And there's a picture here on your landing page of a teepee that looks like it's right on the water.
Kerry: It is. We have one teepee that's close to. We have a small irrigation lake, because we also do some farming up here, and we have one teepee that's very picturesque and it sits out there next to the lake.
CU: That looks like a ton of fun. What are the most popular activities for guests there?
Kerry: Well, obviously number one is hiking in Bryce Canyon. That's one of the biggest tourist destination it the State of Utah, and we get almost two million people a year coming through this area. And so, Bryce Canyon is the main attraction. And besides that, we have ATV rides and horseback riding. We have a country dinner show. There are all kinds of bike riding and different things around the area.
CU: Okay. How far are you from Bryce Canyon National Park?
Kerry: Only a mile from the entrance to the Park. And we have a shuttle during the main season from May through September. There's a shuttle that runs from our campground into Bryce Canyon about every 15 minutes.
CU: Perfect. I can't think of any reason why I wouldn't stay there. It sounds really convenient. I have two more questions for you, Kerry. If you were going to spend just one hour at Ruby's Inn RV Park and Campground, how would you spend your time there?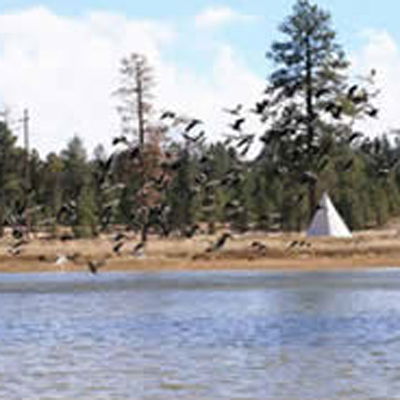 Kerry:
Wow, that's a great question. I think probably, if I was going to stay one hour, hit the swimming pool and check out the hot tub. And maybe go on a short hike in Bryce to see some of the sites, and maybe spend some time roasting some hotdogs over the campfire.
CU: Perfect. And if you were going to spend just one night at Ruby's Inn RV Park and Campground, which specific site would you stay at, Kerry?
Kerry: Wow, that's a great question too. There are so many great ones. All of our sites are a little bit different. I think I would definitely choose one down in kind of our older section. There are a lot of nice trees down there, and those are full hook-up sites. They're beautiful sites and a lot of guests request that area just because it is so nice, and we've got some big sites down there. And of course I'd spend the day hiking in Bryce Canyon and come back for a nice cowboy dinner.
CU: Perfect. That place sounds great. Thank you so much for taking some time out of your day, Kerry, to give us a couple tips on camping there and some information about Bryce Canyon and to tell us a little bit more about Ruby's Inn RV Park and Campground in Utah.
Kerry: Absolutely. Well, I appreciate your time.