Rush No More RV Resort and Campground, South Dakota
Camp South Dakota: I'm speaking with Ed today about the camping opportunities at Rush No More RV Resort and Campground. How are you doing?
Ed: I'm doing great. How are you?
Camp South Dakota: I'm doing very well today. We can certainly kind of get into the questions that we have for you. When was Rush No More Campground started?
Ed: Rush No More Campground was started about 15 years ago. I bought the campground three years ago, at the end of 2010, so I've been here for three years.
Camp South Dakota: Perfect. And then, when people are there for the weekend, camping, what are usually the most popular activities in the campground?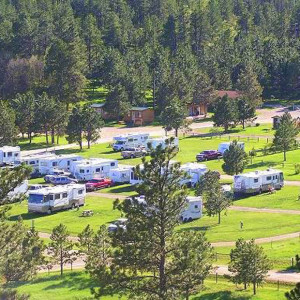 Ed: Well, being located in the Black Hills of South Dakota, probably most people are touring, and we can talk about that. But within the campground, we are located directly adjacent to the Black Hills National Forest, so that's over 30 million acres of forested land that people can hike through. There are four-wheeling trails that are accessible from the campground. There's horseback riding. There's hunting during the season. Within the campground itself, we've got a pool, a heated pool, and a hot tub. We've got a game room that has foosball and air hockey. Commercial laundry. You'd be surprised RVers use the commercial laundry when they're behind the nice one.
Rush No More RV Resort and Campground[/caption]
We've also got a beer garden that serves beer and soda pop, pizza, and it becomes a nice social area for folks. We've got a cafe that is available to cook in during special events. So, there's a lot to do in the area as well.
Camp South Dakota: Yeah, absolutely.
Ed: I guess we'll get to that.
Camp South Dakota: Yeah, and so where is Rush No More Campground located?
Ed: Rush No More Campground is located about 20 miles outside of Rapid City, South Dakota, which is in the southwest corner of South Dakota. We're best known, of course, for Mount Rushmore and everybody thinks that all there is to do here and they couldn't be more wrong. You could come here for several weeks and never do the same thing twice.
Camp South Dakota: Yeah, absolutely.
Ed: We've got the forest. We are halfway between all the attractions around Mount Rushmore, which would be a lot of your tourist attractions. There are different water slides, as well as Mount Rushmore. So, Custer State Park is a beautiful, big State Park, where they have the buffalo herds that roam freely as well as you can see deer, elk, antelope. Donkeys that will come right up to your car and beg for food. And you can drive through that. You can hike through that. It's a pretty amazing place. The natural beauty of the Black Hills is what astounds most people. When they come they don't really expect how beautiful it is, seeing the mountains, and then you can drive five minutes away and be out in the middle of the high planes of the west.
We've got Deadwood. It's about 15 miles from out. That's the old goldmine town, and they have really preserved that well. They've kept all the facades of all the buildings and basic construction of the buildings along Main Street look the same as they did back in the 1890s, during the Gold Rush. And then what they've done is they've put a lot of casinos in behind those facades, but they really have an Old West feel. It's nothing like you would expect if you go to Vegas or Atlantic City, or any of the casinos. They're very small. They kind of look still like the Wild West. They do Wild West reenactments there. That's where Wild Bill Hickok was assassinated, and so the reenactments of that. For anybody who's ever seen the Deadwood Program on HBO, they get a pretty good idea of what Deadwood was like back then, but there are a lot of tours that go through Deadwood and reenact that time period.
Devil's Tower National Park is only about an hour and a quarter away. Of course that's the mountain that looks kind of like a chimney that was made famous. So, yeah, there's a lot to do.
Camp South Dakota: Yeah, absolutely. There's just so many attractions and things for families and kids, and even couples just coming out there for a vacation. There's an immense amount of things that you can do while you're out there.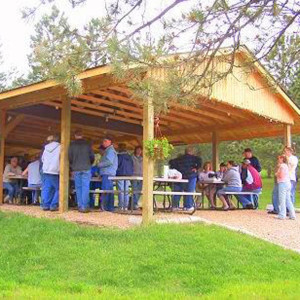 Ed: Yeah, there is. I mean there's stuff out here for the kid in all of us. Like I said, if you're into four-wheeling, you can do that. Horseback riding. Hiking. You can go gold panning the hills. There are still people that find gold up here by just taking an pan out and going out into the forest and panning for gold. There are some gold mines where you can take the kids, where they can pan as well if you want to get out in the wilderness. And of course probably the biggest thing other than Mount Rushmore that this area is known for is the Sturgis Motorcycle Rally, which happens every August. It's the biggest motorcycle rally in the world. The Sturgis South Dakota goes from Sleep Town – about 6700 people to over 600 thousand and sometimes close to a million people during the first two weeks of August.
So, if you are a motorcyclist, this becomes the mecca for any motorcyclist, and we get people from all over the world here that come for the Motorcycle Rally. If you are a family touring with kids and you're not a motorcycle fan, that's probably the one time that you'd probably avoid the area.
Camp South Dakota: Yes.
Ed: It's very hard to get accommodations and it's basically hundreds of thousands of motorcyclists.
Camp South Dakota: Absolutely. And kind of bringing it back to the campground, what are the campsites like? I know you have, I think, RV, tent, and cabins – kind of everything – at the facility.
Ed: We do. We have everything from basic tenting area and we're one of the few campgrounds in the Black Hills area here that has actually shaded tent sites. So, that's a plus. We have got full service RV sites. They have either 15amp or 30amp or 50amp electric service, full water and sewer hook-ups. We have pull-throughs that will fit big rig RVs. We've got some that are up to 100 feet long. We have got what we call our luxury sites that include a cement patio, patio furniture, and a propane barbecue grill. And then we've got one update from that, where you actually have your own personal hot tub on the RV site. We have cabins that range from two-person sleeper cabins all the way up to a one-bedroom house. It would come with a full bath and kitchen, a wraparound porch, a barbecue grill, and everything in between. All the cabins here are conditioned. We are (Unclear 7:45.2). Some have televisions. You probably won't have time to watch it much when you're up here.
So, like I said, we run the full gamut from primitive tent camping sites to tent sites with electric. We also have teepees that people can rent. They're already setup, so you can bring your sleeping bags and your camping gear and camp out in a teepee like the Old West.
Camp South Dakota: Awesome.
Ed: So, we've got pretty much everything that you need. We're just one mile off the Interstate, which is nice because it's quiet. You don't hear the Interstate noise, but we're only – it's actually nine-tenths of a mile and it's paved all the way into the campground.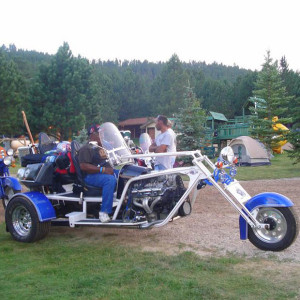 Camp South Dakota: Perfect. Well, yeah, certainly you offer quite a unique camping experience. And we just have one last question for you. If you could spend just one night at Rush No More RV Resort and Campground, which campsite would you choose and why?
Ed: Well, if I had an RV, I'd probably take a spot site. There's nothing like sitting in some of my spot sites at night, in the hot tub, and looking at the stars here in South Dakota. Our skies are wide open. The air is clear and clean. And you'll see all kinds of constellations, shooting stars, and everything. I guess I'd go farther than that. If I was in a cabin, I'd probably stay in one of the ones that has a kitchen and everything so you can make a nice meal. And I think anywhere you stay here you're going to enjoy.
Camp South Dakota: Absolutely. Well, thank you so much. We really appreciate the insights.
Ed: I guess just two other things I'd mention is we do host special events. We are rally-friendly for RVers who have RV clubs and would like to have a rally. We can fit as many as you can bring here, up to probably 150 RVs. We have weddings here. We've got a beautiful location for an outdoor wedding, and then we can cater it or we can have caterers in the area. And family reunions are big here. And we also do a steak night on Thursday nights if we have people that are interested, and that's a big Ribeye steak. They get potato, vegetable, and dessert.
Camp South Dakota: Great. Well, yeah, that seems like you can pretty much accommodate any group and you're always going to have some room there.
Ed: Yeah, we do.
Camp South Dakota: Perfect. Well, yeah, once again, thank you so much. We really appreciate you taking the time.
Ed: Thank you very much and have a nice holiday.