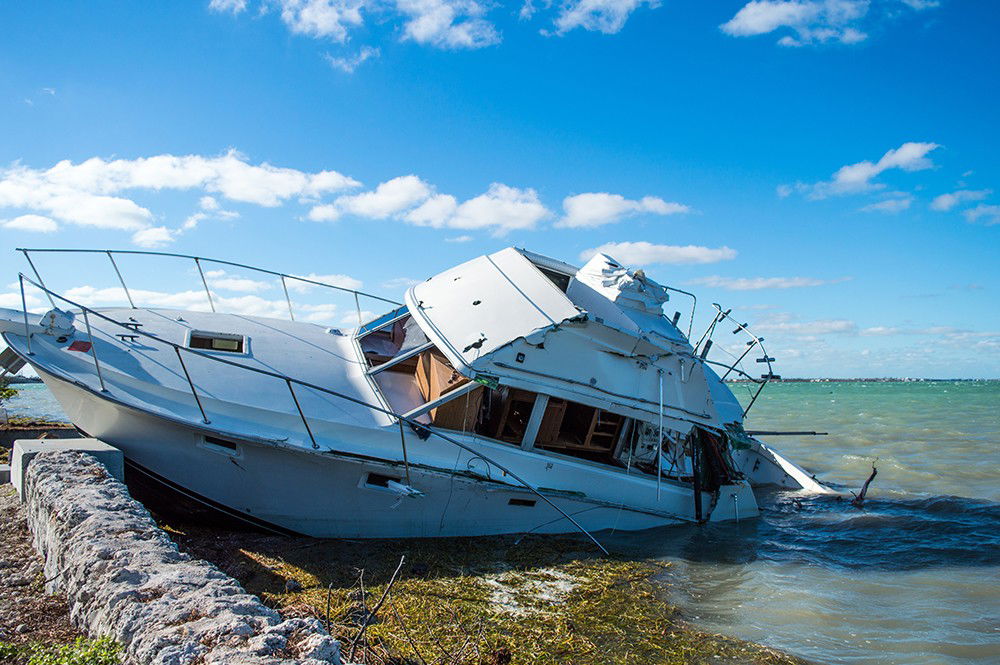 5 Tips For Recovering Your Boat After A Hurricane
It's hurricane season. And in the wake of Hurricane Florence, many boat owners are starting recovery efforts. To help affected boat owners with the recovery effort, BoatUS offers these five tips to assist boaters in recovering their vessels and starting the salvage process.
Get permission first. Never try to enter a storm-affected marina or boat storage facility without permission. Spilled fuel combined with the potential of downed electrical wires and a host of other hazards make them extremely dangerous places. Smoking is a big no-no. For your safety, never climb in or on boats that have piled up together or are dangling precariously from dock pilings or other obstructions.
Remove valuables. If your boat has washed ashore, remove as much equipment as possible and move it to a safe place to protect it from looters and vandals. It's a good idea to put your name, telephone number, address and email somewhere conspicuously on the boat – along with a "No Trespassing" sign.
Minimize further damage. Protect your boat from further water damage resulting from exposure to the weather. This could include covering it with a tarp or boarding up broken windows or hatches. As soon as possible, start drying out the boat, either by taking advantage of sunny weather or using electric air handlers. All wet materials, such as cushions, must be removed and saved for a potential insurance claim. The storm may be gone, but the clock is ticking on mold growth.
"Pickle" wet machinery. Engines and other machinery that were submerged or have gotten wet should be "pickled" by flushing with freshwater and then filled with diesel fuel or kerosene. To learn how to pickle a boat motor, go to BoatUS.com/Hurricanes/Pickle.
Consult your insurance provider. If your boat is sunk or must be moved by a salvage company, BoatUS recommends that boat owners should not sign any salvage or wreck-removal contract without first getting approval from their insurance company. Proceeding without your insurer's knowledge may jeopardize your coverage.
All BoatUS and GEICO Marine Insurance customers have assistance available for post-storm recovery. Call the BoatUS Claims department at 800-937-1937 as soon as practical, or file a claim using the new BoatUS app or online at www.BoatUS.com/Claims.