I was first introduced to fishing by my grandfather when I was a young boy. He'd come and pick me up for afternoon adventures catching panfish on a small lake in southeastern Wisconsin. I can clearly remember sitting at the end of a wooden dock, enticing sunfish and bluegills with my worm and bobber. All the while, my grandfather would be standing on the shore – casting his fly rod. Back and forth, back and forth. It really didn't make any sense to me at the time, and I think he knew  I didn't have the patience, then, to understand the sensitive art of fly fishing.
http://gph.is/2i8BQka
Fast forward three decades, and I find myself sitting at the end of the dock with my son – luring panfish. It was a few weeks back, I started thinking back on my childhood and remembering the techniques of my grandfather, which had since been lost to time. It was at that moment I knew I was finally ready to dabble in fly fishing.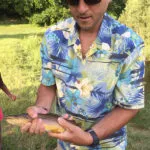 Fast forward a week or so, and I was in Park City, Utah meeting with Daniel from Tenkara USA. If you're unfamiliar, Tenkara is a style of Japanese fly fishing that involves simply a rod, a line, and a fly. There's no reel, making the learning curve shorter – allowing you to get out on the water faster. Translated from Japanese, Tenkara literally means "from heaven" – which was much my experience…near perfect.
Fourth of July weekend, I packed up the family and headed south from Minneapolis to Lansing, Iowa. Situated directly on the Mississippi River, Lansing is surrounded by hills, valleys, and a bounty of trout-rich streams that in my mind, were the perfect kickoff for my father-son Tenkara adventure. Packed into the truck, we had a basic Tenkara setup, all made by Tenkara USA:
–Tenkara USA Sato Triple-Zoom Rod
–11'6" of Tapered Nylon Line
– 5x Tippet
–Takayama Kebari Flies, Size 16
I'm not going to lie, I was a little bit nervous. After spending a lifetime working with bobbers, sinkers, and worms – I thought I might be in a little over my head. We arrived to our destination, a campsite on the banks of Village Creek, and pitched camp. Like six year old boys have a tendency to do, my son was anxious to get near (into) the water. After a heavy sunscreen application, we headed toward a quiet spot in the creek with Tenkara in tow. I followed the simple setup instructions that were included with the Sato Rod Kit, and we were up and running within just a few minutes.
Within about a half hour of casting the Tenkara fly, I felt I had the hang of it. A fluid motion from the 12:00 position (straight up) to about 10:00, where the line and fly would extend and lay out on the water. In my head, there was going to be more of a wrist-motion to the whole process – but I quickly realized that this was a technique best left in my head, and not on the water.
Neither my son or myself had ever seen a brown trout, especially one pulled directly from a stream. The first fish I landed on the shore was equivalent to a Martian landing. We both stared in amazement – the smooth skin of the trout, combined with more muscle per inch than I've ever seen in a fresh water fish.
We caught a total of three fish that afternoon, but I know that we'll be back for more. Tenkara is the perfect setup for amateur fly fishermen – and I'm looking forward to progressing with it even more.
If you're looking for more information on Tenkara Fishing, or want to check out the gear, I'd suggest heading over to the Tenkara USA website. They're great guys who make a great product.