In this episode of Avid Outdoorsman Product Showcase, we interview DOA Lures' Captain Ed.
Jeff [Host]: Hey everybody, this is Jeff from Avid Outdoorsman and I hope you're doing great.
Today we're talking with the people at DOA Lures. They make a lot of soft plastics, mostly for saltwater. They've really grown over time, they have a great story, they're based in Florida. They are USA-based and USA manufactured. I'm really looking forward to talking with them. We've used their products a number of times on the water and they've done really well.
Captain Ed is the guy that's with us today from the DOA Lures. He spent 20 years a professional guide. He spent his whole life on the water, on the east coast of Florida, fishing all kinds of species, so he knows what he's talking about. He's tested and helped build a lot of lures that we're going to talk about today, lots of trial and error type of stuff.
Captain Ed was also a tournament Pro in the Redfish Tour. He really knows what's he's talking about, he's fished up and down the East Coast and all over the place.
So sit back and enjoy the show, Avid Outdoorsman Product Showcase!
Jeff [Host]: Captain Ed, welcome to the show.
Captain Ed: Thanks for having me, Jeff.
Jeff [Host]: It's great to see you. I'm seeing the warehouse in the background, looking forward to learning more about what you guys are up to. How you guys started and everything else. We did a video series with you not too long ago. I was unable to go down to Florida and fish with you guys, it was right as the [Covid-19] virus hit, unfortunately.
Tell me a little bit about your background personally and how you got involved with DOA and we'll work from there.
Captain Ed: I grew up right here in South Florida. guiding in this area for over 20 years now and my association with the DOA started in the very beginning, they are the very first sponsors that I ever had. I've been involved with the company for over 20 years now, and I've been working with Mark directly doing marketing and PR, and managing the Pro Staff for about seven or eight years. Taking on those responsibilities has been really fun. After guiding in the same location for 20 years it was nice to get out and do more traveling around the country, fish in different areas, and expand on what I was doing. I'm really having a blast and enjoy working for Mark. DOA is an outstanding company with some great values so I'm pretty excited to be a part of it.
Jeff: Tell me more about guiding. I know you've been doing it for 20 years, mostly off the east coast of Florida. Is that where you primarily spent your time?
Captain Ed: I grew up in South Florida and I had a passion for everything outdoors, hunting and fishing, we were always in the woods or on the water. As I got older, I spend so much time on the water and it was almost a natural transition just to try to figure out a way to make a living on the water. I didn't really know anything about guiding or anything about the fishing industry. I just knew the area and knew how to catch fish and I just started. it was pretty scary to step out and try something like that. But you know, looking back, it really is one of the best things I've ever done. As soon as I got out and started guiding, started fishing the redfish tour the ESPN in the FLW, back when it was just getting started. So I was able to do a lot of traveling, catch a lot of fish in different areas, so I honed my skills very rapidly, getting to a new area and learning how to find fish and being comfortable just being thrown in different situations that we're kind of stressful as a young guy. It's just been a great career and I've loved every minute of it.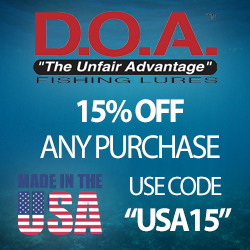 Jeff: I've spent about 13 years at ESPN Outdoors. I've been in the industry for a long time. We've all been out with 10 of hundreds of guides over the course of our career. But I'd love to get your inside. I'm always wondering what the guides are thinking when we're there fishing with them. what is it that you generally see when someone steps on the boat to go fishing with you.
Do you get more people that you like then not and do they have more experience than they say they've got or not? Tell me a little about the guide experience.
Captain Ed: I'd say that right away you automatically have something in common. You're both passionate about fishing, otherwise, I wouldn't be there and you wouldn't be there. So right away we have that connection. What's so much fun about guiding is that I get to fish with people from all different walks of life: from professional ballplayers and musicians, the governor here in Florida. Everybody has that same passion, they love the outdoors and they love fishing. As far as skill level, I find it to be usually exaggerated by some guys, and the guys that really have skill they tend to downplay their skills and they don't really build it up.
My number one priority on all of my trips is for you to have a good time, and when you get off the boat I feel like we've made a connection, I've made a friend and they will come back and that's the best. When they rebook I know I've done my job right."
Continue watching this episode of Avid Outdoorsman Product Showcase featuring Captain Ed.
Related Videos: DOA Lures Fishing Event: Lure Colors
Watch the complete coverage of the DOA Fishing Lures Media Event.
Catch Captain Ed in other fishing series such as the Chasin' the Sun and Emerald Tails.