The World's 16 Most Terrifying Bridges
Don't look down if you're afraid of heights. But you should totally look up, around, and over if you're a thrill seeker. These 16 bridges—which we're deeming the most terrifying in the world—are sights to see for those not faint of heart. While some are not super easy to get to, many on the list are open to visitors, so you can get your adventure fix. Which of these scary bridges do you want to traipse across?
1. Glass Skywalk
Location: Tianmenshan National Forest Park, China
The picture alone is enough to convince anyone that Glass Skywalk is one of the scariest bridges ever. This walkway, located on the side of Tianmen Mountain in Zhangjiajie National Forest Park in the Hunan Province of China, is 328 feet long, but only a little more than 5 feet wide. It's 4,600 feet above the ground and a portion of it is made of glass, which truly makes it a nightmare for those afraid of heights (and possibly even those not).
2. The Vine Bridges of Iya Valley
Location: Iya Valley, Japan
Bridges made entirely of tree vines that may sway when there's a strong breeze? We can sign you up to cross one for about 500 yen, or less than $4. The Vine Bridges, which hover over Iya River in a "hidden" valley in Japan, are surrounded by a beautiful forest. Who built the bridge in the first place is still a mystery, but one theory is that they were created by Kōbō-Daishi, the founder of Shingon Buddhism, approximately 800 years ago.
3. Eshima Ohashi Bridge
Location: Lake Nakaumi, Japan
Connecting Japan's Matsue, Shimane Prefecture and Sakaiminato, Tottori Prefecture, the Eskimo Ohashi Bridge is open to cars, walkers and even cyclists. Constructed in 2004, this bridge has become an internet sensation, having been shared countless times on social media. And while it looks utterly terrifying depending on the photo angle, its gradient of 6.1% and the fact that it's built well mean it's not as frightening IRL.
4. Longjiang Suspension Bridge
Location: Baoshan City, Yunnan Province, China
Also known as the Long River Bridge, this suspension bridge landed on our list because it's one of the highest, at 920 feet above the river below. It connects the Chinese cities of Baoshan and Tengchong while crossing the Long River Valley. Want to visit? Tourists can walk across for 30 yuan, or under $5.
5. Bach Long
Location: Son La, Vietnam
There's nothing scarier than looking down from a bridge that is completely transparent. You'll basically feel like you're floating in the air while standing on the new Bach Long Bridge located near the border of Laos and Vietnam's capital, Hanoi. The bridge, whose name is Vietnamese for "White Dragon," seemingly floats 492 feet above the forest, hugging a mountain before it winds across two peaks. It measures nearly 2,100 feet long and just over 8 feet wide and can hold the weight of 450 people at one time.
6. Titlis Cliff Walk
Location: Engelberg, Switzerland
Positioned in the Swiss Alps, the Titlis Cliff Walk pedestrian bridge is located 9,800 feet above sea level and is assumed to be the highest-elevation suspension bridge in Europe. If brave enough, tourists can cross the bridge to get from the Ice Flyer chairlift and Südwandfenster viewing platform.
7. Suspension Glass Bridge
Location: Shiniuzhui National Geological Park, China
Located in Zhangjiajie, in south China's Hunan province, this glass-bottomed suspension bridge is 1,410 feet long, composed of a metal frame and more than 120 panels of three-layered, 2-inch-thick reinforced glass. Somehow, that seems not thick enough if you're factoring in the 800 max people walking across it at one time.
8. The Confederation Bridge
Location: New Brunswick, Canada
Connecting the province of Prince Edward Island with the province of New Brunswick on Canada's mainland, The Confederation Bridge is Canada's longest, and the world's longest when it comes to being above ice-covered water (during winter months, that is). The two-lane toll bridge carries the Trans-Canada Highway and stretches for 8 miles above 62 piers.
9. Capilano Suspension Bridge
Location: North Vancouver, Canada
This one is scary because of its primitive nature, having been initially constructed with hemp rope and cedar planks. Nowadays, the hemp rope has been replaced by steel cables, but that doesn't make the experience of crossing the Capilano Suspension Bridge much less frightening. Located above the Capilano River in British Columbia, it spans 460 feet long and is 230 feet above the water. More 1.2 million brave visitors per year pay an admission fee of $50-plus to get access each year.
10. Langkawi Sky Bridge
Location: Mount Mat Cincang, Malaysia
The Langkawi Sky Bridge is made for pedestrians—who don't suffer from vertigo, that is. The cable-stayed bridge, located in Malaysia, has a curve that makes for a freaky vantage point and 360-degree view of the Langkawi island below. It's 410 feet long, 5.9 feet wide, and is located 2,170 feet above sea level. Bonus thrill: The cable car ride you'd need to take to get to the bridge is equally death-defying.
11. The Sidu River Bridge
Location: Hubei, China
Also known as Siduhe Bridge and also part of the G50 Huyu Expressway, this 4,009-foot long suspension bridge goes across the Sidu River and connects the Sichuan Basin to the lowlands of Hubei. What makes it particularly scary is that it seemingly hovers over 1,600 feet above the canyon floor.
12. Carrick-a-Rede Bridge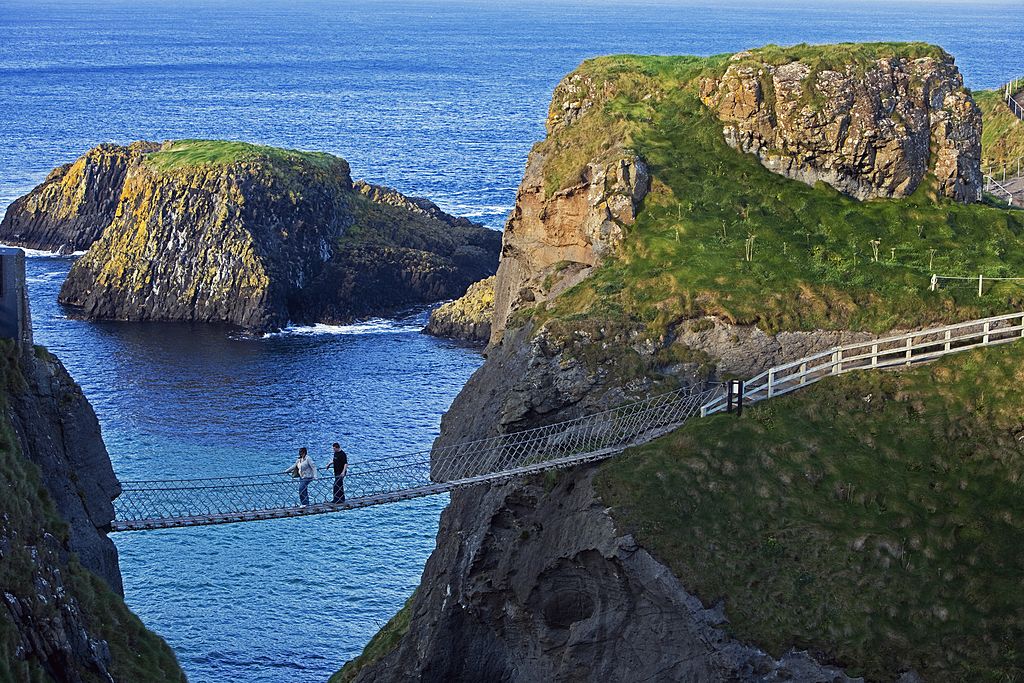 Location: Ballintoy, Northern Ireland
Don't look down as you cross the rope-ridden Carrick-a-Rede Bridge, located near Ballintoy in Northern Ireland. This bridge, which was also used as a setting of a Game of Thrones scene, connects the mainland to the small island of Carrickarede. It's only 66 feet long and hangs 98 feet above the rocks below, but tourists who walk across will get quite a thrill. Over 400,000 visitors may visit this bridge each year for a fee (about $15 for adults, with kids and family rates available). Note: It's closed during the winter time.
13. U Bein Bridge
Location: Amarapura, Myanmar
Arguably one of the more romantic bridges on our list, the U Bein Bridge above the Taungthaman Lake in Myanmar is considered to be one of the oldest teakwood bridges in the world. Built roughly around 1850, this bridge was first used by locals but has since become a tourist attraction. And while the bridge has been reinforced with concrete to withstand more foot traffic, there are concerns that the pillars holding it up are decaying. Hence, why we're considering this one a scary bridge.
14. Millau Viaduct Bridge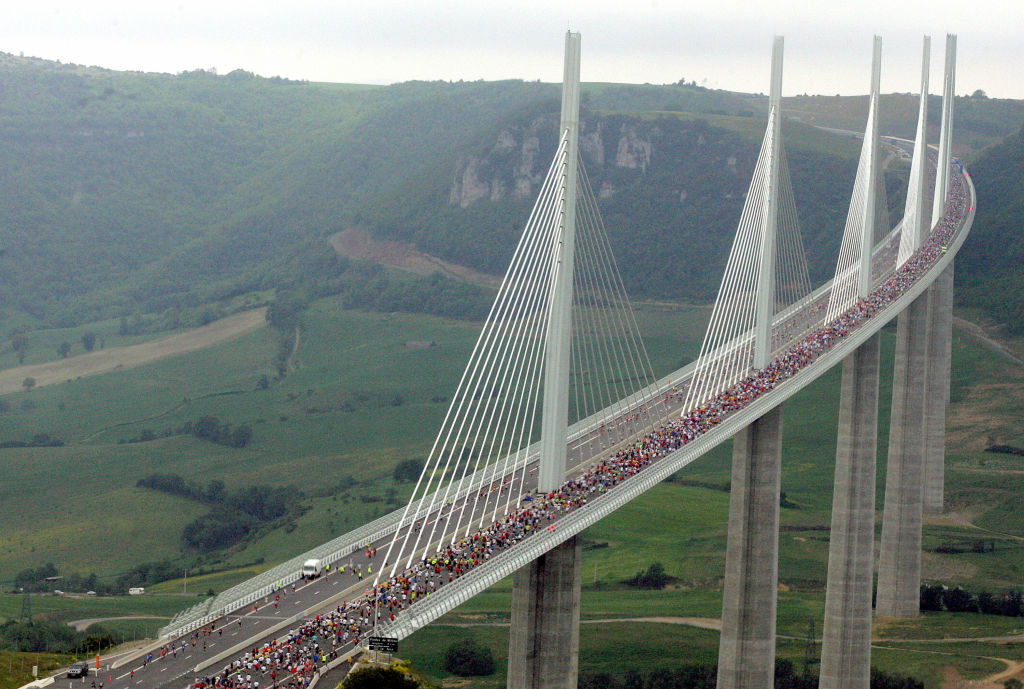 Location: Millau, France
One of the tallest bridges in the world, the multi-span cable Millau Viaduct Bridge has a structural height of 1,104 feet. Structurally, it's as safe as they come, but we still added it to our list because, from certain vantage points, it's quite alarming. To see it in person, you'll have to head to the Tarn River in the south of France, which it crosses over. You can walk to see it, canoe under it or if you're really adventurous, you can hang-glide over it via a local tour company.
15. Royal Gorge Bridge
Location: Canon City, Colorado
The highest bridge in the United States, the Royal Gorge Bridge, crosses the Arkansas River in Central Colorado. With a total length of 1,260 feet, the suspension bridge can hold more than 2 million pounds, so there's nothing to be scared of, safety-wise, but its height alone can spook many. Visitors can zip line, ride roller coasters and even take a gondola nearby this attraction.
16. Seven Mile Bridge
Location: Florida Keys, Florida
You've probably seen the Seven Mile Bridge in popular movies such as "License to Kill," "True Lies," and "2 Fast 2 Furious," but if you've ever driven across it, you may have experienced a burst of anxiety purely based on how long it is. Connecting Knight's Key in Marathon, Florida to Little Duck Key in the Lower Keys, the Seven Mile Bridge is actually 6.765 miles long, but it's still one of the longest bridges ever built. Another spooky tidbit: Some scientists theorize that there are monster sharks in the water below.