We've compiled a list of some great sleigh rides in Minnesota. From the Twin Cities area all the way up to the North Shore, taking a winter sleigh ride is something that's fun for families and lovebirds alike. If you know of a great sleigh ride in Minnesota that we missed, please let us know – and we'll get it added to our list!
If you're planning on taking a sleigh ride in Minnesota this winter, be sure to check out our list of warm cocktails for your Thermos – and cut the chill right out of the air!
Cocktails not your thing? You're probably going to need a solid hand warmer to fend off the frostbite.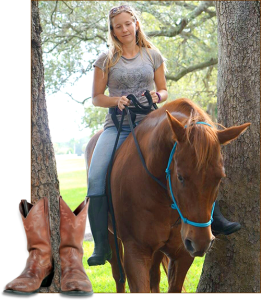 Image by Bunker Park Stable
Bunker Park Stable : Andover, MN
Enjoy a 45 minute sleigh ride through Bunker Hills Regional Park aboard your choice of draft horse drawn sleighs. For a smaller group, the Antique Sleigh is a cozy option – providing room for 1-4 people for just $80. If the size of your group is larger, or you just need a little bit more room to spread out, they also offer a red bench sleigh or flatbed sleigh for groups up to 25 people. To finish off your winter journey, Bunker Park Stables offers fire pits and picnic tables to enjoy a hot beverage or toasty meal after your sleigh returns. A great option for sleigh rides in Minnesota
Bunker Park Stable
550 Bunker Lake Boulevard NW
Andover, MN 55304
(954)424-1060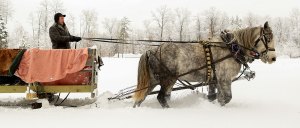 Image by Grand View Lodge
What's better than a picturesque sleigh ride through the North woods of Minnesota? A free one.
The Grand View Lodge offers up their pair of Clydesdale horses for a short (15 minute) but sweet ride around their property in Nisswa. You'll be able to take in the beauty of the pine trees, the sound of their hooves in the snow and the jingle of their bells before your hands even get a chance to freeze over. If you're looking to make a weekend out of it, be sure to check out their cabins, cottages and suites – and complete your weekend outing.
Grand View Lodge
23521 Nokomis Avenue
Nisswa, MN 56468
(866)801-2951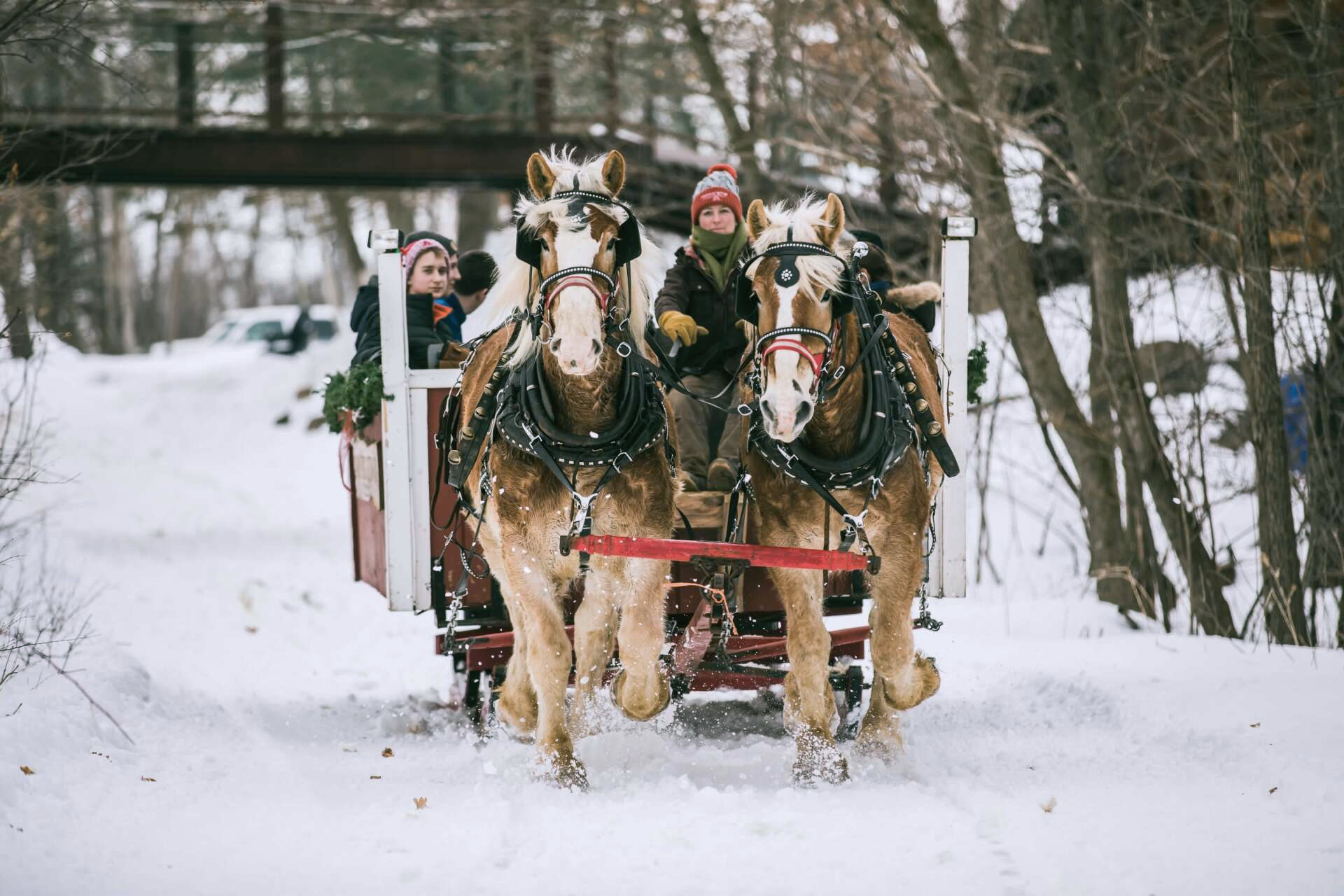 Image by Ironwood Springs Christian Ranch
Ironwood Springs Christian Ranch: Stewartville, MN
There's something to be said about a ranch that'll accommodate sleigh ride groups from 2 people all the way up to more than 60 – they're built for it! The Ironwood Springs Christian Ranch will deliver a romantic "cutter ride" on their sleigh built for two, along the Root River near Stewartville. If the group outing is more your speed, their 20 person sleigh will work in shifts, ensuring that everyone in your group gets a chance to be pulled behind their horse fleet. The amount of time on the sleigh varies depending on how many are in your group – and they even offer meeting space to make sure that no one is left out in the cold while they're waiting.
Ironwood Springs Christian Ranch
7291 Couty Road 6 SW
Stewartville, MN 55976
(507)533-4315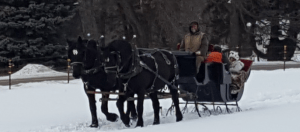 Image by Roselawn Stables
Roselawn Stables : St. Francis, MN
Less than an hour drive from Minneapolis sits the Roselawn Stables, and their team of horses. Situated outside the scenic town of St. Francis, this dedicated horse and riding ranch will whisk you away on a once-in-a-lifetime horse drawn sleigh ride that's ideal as either a family friendly activity or as a romantic evening away near the Twin Cities. Their options range from their Enchanted Sleigh, designed for groups up to 4 people all the way up to their Bob Sled for groups up to 20.
Roselawn Stables
24069 Rum River Blvd. NW
Saint Francis, MN 55070
(763)753-5517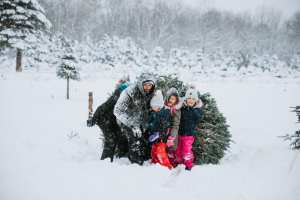 Image by Happy Land Tree Farms
Happy Land Tree Farms : Sandstone, MN
Combine two activities into one, when you ride a horse drawn sleigh to pick out your Christmas tree at Happy Land Tree Farms. Sure, the thought of riding a sleigh on a Christmas tree farm might invoke thoughts of the Griswold's in a National Lampoons classic, but the trees at Happy Land are legendary….like best Christmas trees at the Minnesota State Fair famous. In addition to the sleighs and trees, they offer a bonfire, gift shop and concessions, as well as free coffee, apple cider and popcorn. Might be time to make a new tradition.
Happy Land Tree Farms
16706 Groningen Road
Sandstone, MN 55072
(320)245-5135
Image by Outback Ranch
Dashing through the snow, in a one horse open sleigh – is real! The folks at Outback Ranch have assembled Maggie and Mollie (their team of Belgian horses) to pull your private sleigh ride through the scenic woods near Brainerd, MN. As the saying goes, it's less than a tank of gas away – and you'll be well on your way to a North woods sleigh ride. They can easily accommodate groups or more private rides regardless of the amount of snow on the ground.
Outback Ranch
12210 Pillsbury Forest Rd. SW
Pillager, MN 56473
(507)896-5550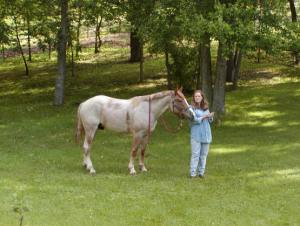 Image by Cyclin Inn
There's nothing quite like the sound of the clip-clop of horse hooves as your sleigh glides over a blanket of freshly fallen snow. The folks at Cyclin' Inn understand this, and combine their sleigh rides with scenic overlooks as the trip winds through over 100 acres of private property in Southeastern Minnesota, outside of Rochester. They can accommodate groups ranging from a couple (call ahead – they might be able to pair you up with another group) families up to five for a single price.
Cyclin Inn
439 Half Street
Whalan, MN 55949
(507)251-5101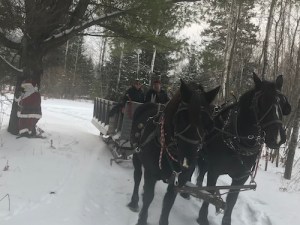 Image by Mr. Ed's Farm
If you close your eyes, you can almost picture it. A sleigh ride through snow covered woods, meadows and pastures near Hibbing. You're not dreaming, and Mr. Ed's will make it a reality! While the farm takes its name from the famous talking horse, we can (almost) guarantee that you won't find him on this sleigh ride. If you're planning on a group outing of 12 people or more, Mr. Ed's also offers an event center that can be reserved for hanging out after the ride. If that wasn't good enough – you're welcome to hang out and visit with the animals as well. Be sure to dress for the weather, the only thing that cancels trips at Mr. Ed's is ice!
Mr. Ed's Farm
10796 Foss Rd.
Hibbing, MN 55746
(218)966-1354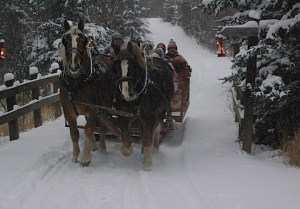 Image by Okontoe Fellowship
Okontoe Campground : Grand Marais, MN
Travel 27 miles up the Gun Flint Trail, and you'll find the Okontoe Campground. This 100 acre slice of heaven switches over from lakeside campground in the summer to a North country sleigh ride haven in the winter. A trip up to Okontoe is for only the most dedicated adventurers, but while you're up there – there's plenty of winter fun to keep you busy along the North Shore, the Gun Flint Trail – and of course, the beautiful town of Grand Marais.
Okontoe Campground
110 Bow Lake Rd.
Grand Marais, MN 55604
(218)388-2285