Happy summer, everyone! Run outside and breathe in that air! Notice how it doesn't freeze up your lovely nose or bite at your cheeks? Yep, you could literally spend all day out here. That's not a bad idea, actually. 
Whether you're trying to go camping or planning a day trip nearby, you need to make sure you figure out what your options are before committing to the drive. Assuming you don't want to go far away from home, we've made a list of the 25 best campgrounds within two hours of Detroit to help you out.
SOUTHEAST MICHIGAN
Covered Wagon Camp Resort: Ottawa Lake, MI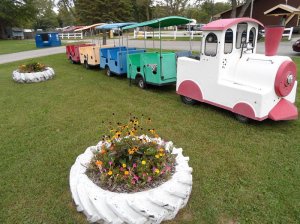 This campground wants to make sure you're comfortable while still giving you a great price per night. Covered Wagon Camp Resort is only an hour away from Detroit and gives you amenities that you may not have at home to enjoy. There is a pool, a pond for fishing, mini golf and free wagon rides. You decide whether you want to camp in a tent or bring your RV and have full hookups. Because of all the activities, this is a great place for kids to run around and socialize while enjoying the outdoors.
Recent campers say: "Always have a relaxing time here." "Uneven water pressure." "So much potential."
Covered Wagon Camp Resort
5639 St. Anthony Rd.
Ottawa Lake, MI 49267
$50+ per night
Ja Do Campground: Tipton, MI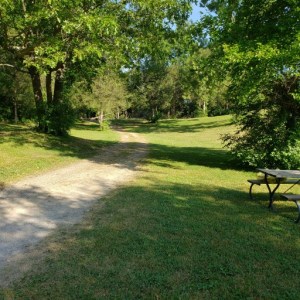 Ja Do is a campground that loves leprechauns. Its website is covered in green clovers and makes you wonder if you forgot it's St. Patrick's Day. In fact, they've hidden leprechauns throughout the area for you and your family to seek out and the occasional surprise visit from Lucky Lou the Leprechaun! There are plenty of adventures and activities to participate in near the grounds as well. Golf, jet and water skiing and the Michigan International Speedway are local attractions. Overall, this campground is well-rated and a unique experience that not only leprechaun-lovers should check out.
Recent campers say: "Clean, very friendly, very helpful." "Great place for kids." "Staff was friendly and kind."
Ja Do Campground
5603 US-12
Tipton, MI 49287
RV full hookup: $42+ per night
Detroit Greenfield RV Park: Ypsilanti, MI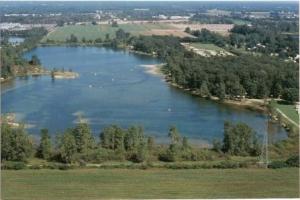 If you're not looking to drive extensively, this campground is only about half an hour from Detroit and has plenty of things for everyone. You might want to relax at the beach or watch your kids frolic on the playground equipment. If you want to be more involved than that, fishing or horseshoes can be great pastimes. Active people can run around with their pets, swim, or slide on the 90-foot waterslide! The fully stocked store and gift shop will make sure you are comfortable and never in need of forgotten supplies. So put your feet up and enjoy a stay at this RV park!
Recent campers say: "Truly a family campground with everything." "Easy access to I-94." "Muddy after rain."
Detroit Greenfield RV Park
6680 Bunton Rd.
Ypsilanti, MI 48197
$44.16+ per night
Way Back In Campground: Jonesville, MI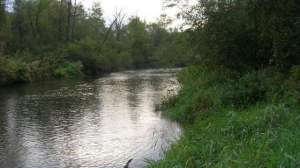 For a friendly and overall beautiful camping experience, check out Way Back In Campground. The proprietors are thought of fondly by their visitors and try their best to provide a great camping experience for all. Kids can enjoy the rec room of games like foosball, air hockey and pool. Weekends usually have planned events for people to partake in. Campers can fish, swim or play sports with one another. There's also Wi-Fi for those interested in staying connected with friends while away. At Way Back In, you're welcome to stay in a tent, RV or cabin. There are clean bathrooms and lots of areas to enjoy a picnic breakfast, lunch or dinner.
Recent campers say: "I like the spots down by the river." "Everyone was friendly and kind." "Small."
Way Back In Campground
3590 Jonesville Road
Jonesville, MI 49250
Tent: $20-25 per night
RV site: $35 per night
Cabin: $65-85 per night
Apple Creek Campground: Grass Lake, MI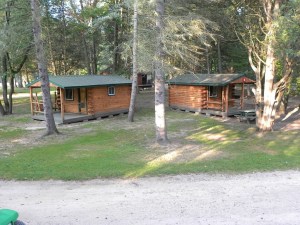 This beautiful campground has plenty of areas for play, whether that be the pool, rec hall or any of the group areas. There's a modern bath and shower area for your comfort, along with a laundry room so you're not stuck with dirtied clothes during your stay. Tent sites have plenty of trees for shade, picnic tables and fire rings. You have the choice between sites with or without electric and water hookups. Nearby attractions include an illuminated waterfall, museums and golf courses among other places.
Recent campers say: "Nice place and nice people." "Really enjoyed our 3-night stay." "Reasonable rates."
Apple Creek Campground
11185 Orban Road
Grass Lake, MI 49240
$38+ per night
Camp Sequoia: Adrian, MI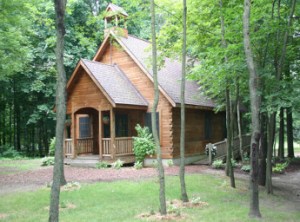 There are plenty of amenities in this campground to choose from. There are areas for sports, catch and release fishing and swimming. Each site has fire rings and areas with tables to eat. Sites also have hook-ups available for electricity. This is a great option for families with young and old children. There are scheduled family activities such as relay races, movie nights, craft time, and hidden gnomes. Camp Sequoia is a great way to enjoy summer and bond with the family and it's only about an hour away!
Recent campers say: "These people are awesome!" "Nice sites… no sewer hookups." "Clean, roomy campsites."
Camp Sequoia
2675 Gady Rd.
Adrian, MI 49221
RVs: $65-$75 per night
Marble Springs Campground: Allen, MI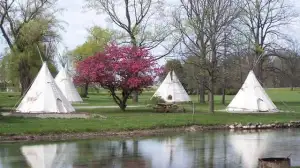 There are multiple ponds in this campground, each dedicated to summer activities. Trout Pond and the Fishing Pond are for the people and their fishing poles who are looking to relax and enjoy the calm while waiting for bites. The swimming pond is available to those who want to cool off and don't mind sand, plants or fish. There is a swimming pool as well in case campers are more interested in swimming in crystal clear waters. Kids who don't want to spend too much time in or at the water's edge can play on one of the two playgrounds. Scheduled activities are fun events at Marble Springs Campground. A favorite event is the Water War in July that occurs between campers and the Allen Fire Department.
Recent campers say: "Wonderful camping experience." "Owners are so friendly." "Older."
Marble Springs Campground
9411 West Chicago Rd
Allen, MI 49227
$20+ per night
Taylors Beach Campground: Howell, MI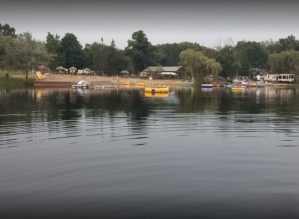 Taylor's Beach Campground offers affordable family camping with seasonal, overnight, weekly and monthly campsite rentals. It's a great place for your family and friends to have fun and enjoy time together. Yearly site rental solves storage problems and saves gasoline. It's like having your own cottage up north, but close to home!
Recent campers say: "The campsites were clean." "One of the best campgrounds I have ever been to!" "No cement pads."
Taylor's Beach Campground
6197 N Burkhart Rd
Howell, MI 48855
$32+ per night
SOUTHWESTERN MICHIGAN
Cottonwood Resort: Quincy, MI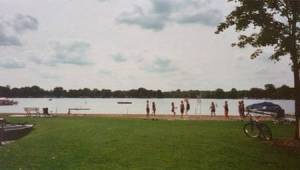 This resort is next to the beautiful Marble Lake, a lake with sandy beaches perfect for swimming and water activities. This well-maintained campground has flush toilets, showers and electricity. Sites have picnic tables, fire rings and access to areas for play. There is a playground and a playing field for whatever sports or activities your heart desires. Feel free to bring your lovable pets, too, just so long as they're leashed.
Recent campers say: "Great friendly folks." "Accommodated all our needs." 
Cottonwood Resort
219 Wildwood Beach Road
Quincy, MI 49082
$30+ per night
Rockey's Campground: Albion, MI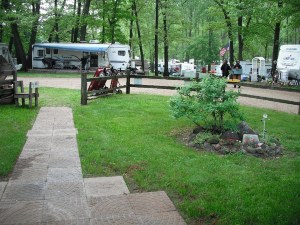 If you're looking for a place to relax and sit back but that still has the option of exploring the local area, this might be the campground for you. Within the campgrounds there are places for paying visitors to play mini golf, play indoor games, swim and fish at the beach, and more! Wi-Fi is available as well. Off site, there are malls to check out and two golf courses if playing mini golf whetted your appetite. Couples can go to a winery nearby and families can check out a few museums in their downtime. There are also scenic areas, a water park and a zoo to see while staying in the area.
Recent campers say: "Great, clean campground." "Nice and small." 
Rockey's Campground
19880 27 1/2 Mile Road
Albion, MI 49224
Water and Electric Site: $44+ per night
EAST MICHIGAN
Krystal Lake Campground: Vassar, MI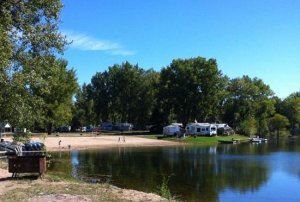 This campground is dedicated to giving you a classic camping experience while still providing luxurious amenities. There's a 33-acre lake for fishing, a heated swimming pool for swimming, gaming areas and a pavilion. The bathrooms have showers for your comfort. Weekends have scheduled events for you to participate in that you can check out ahead of time online. There are multiple playgrounds and even a store with ice cream to cool off with during the warm seasons.
Recent campgrounds say: "Decent park and friendly staff." "Excellent experience and lots of fun things to do."
Krystal Lake Campground
5475 Washburn Rd
Vassar, MI 48768
Tent: $26 per night
Full Hookups: $42 per night
Sleepy Hollow State Park: Laingsburg, MI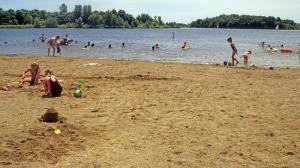 This campground has equestrian trails, disc golf, boat rental and lots more. This is a great place to bring a group of friends who want to partake in a variety of activities together. The wheelchair-accessible areas make it possible for everyone to enjoy camping. There are also areas for metal detecting, hunting, paddle sports, snowmobiling and cross country skiing for year-round fun. There are just so many opportunities here that the two-hour drive will be filled with anticipation for the all the exciting activities!
Recent campers say: "Was overall a nice campground." "Have to walk through the parking lot to get to the beach." "Super stunning views."
Sleepy Hollow State Park
7835 East Price Road
Laingsburg, MI 48848
Recreation Pass Required
Emmett KOA: Emmett, MI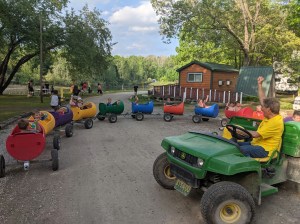 This KOA grounds is great for family and interaction, as it's not secluded. It is, however, clean and there are owners on-site to help you during your stay. There are bike rentals, a mini golf course and a snack bar, if you want to treat yourself. Nearby attractions include Thomas Edison's childhood home and lighthouses with historical significance. The beach is sandy and the fishing is catch and release, so make sure you bring your sunscreen and food for a picnic! Don't worry about running out of supplies, either, as propane and firewood are both available for sale.
Recent campers say: "We absolutely love this campground." "Short staffed." "Very nice and fun campground."
Emmett KOA
3864 Breen Rd
Emmett, MI 48022
$40 per night
Walnut Hills Family Camping: Durand, MI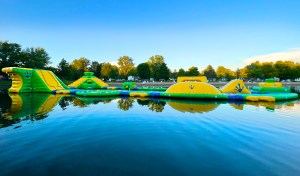 With a giant sandy beach, paddle boats for rent and an area for fishing, this is a great place for mild water activities. The 55-acre property has 200 sites for you to choose from. It's known for being a place to buy seasonal passes for so you can come whenever you please. Here there are themed weekends, sports courts, river tubing and playgrounds for your enjoyment. The area has some pretty interesting activities available, such as a casino, plenty of seasonal events and movie theaters. Feel free to bring your family or even a group of people to go camping.
Recent campers say: "Such a great place for families." "Large-sized sites." "Some amenities need updating."
Walnut Hills Family Camping
7685 Lehring Road
Durand, MI 48429-9424
$42+ per night
Wolverine Campground & Buttercup Beach: Columbiaville, MI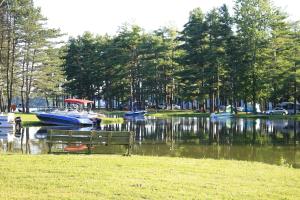 This campground is one of many through Genesee County Parks. It provides a classic camping experience for everyone. If you check the website ahead of time, you can plan on participating in the themed weekends scheduled all summer up to the beginning of the school year. Make sure to make your reservation and visit for a few nights.
Recent campers say: "Just the coolest little park there is." "Staff was awesome!" "Bathhouses need updates."
Wolverine Campground & Butterup Beach
7698 N. Baxter Rd.
Columbiaville, MI 48421
Rates vary
Myers Lake Campground: Byron, MI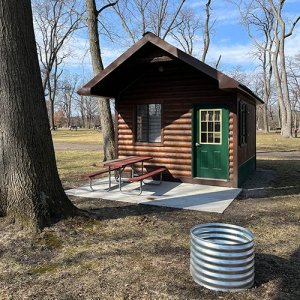 This family campground is known for wonderful staff and clean facilities. It's a Christian campground, meaning you have the option of participating in religious events or education, but you won't be bothered if you don't wish to take part in those events. There are RV sites, cabins for rent and tent sites. If you're interested in this type of family camping experience, check out their website for more locations. This is one of the proprietors' nine locations throughout Michigan.
Recent campers say: "Well maintained campground." "Family campground." "Friendly staffed."
Myers Lake Campground
10575 Silver Lake Rd.
Byron, MI 48418
Rates vary
Attica Pines Campground: Attica, MI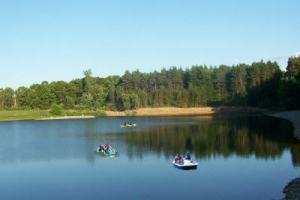 Attica Pines Campground is a great destination for the family. There are tons of activities for everyone to participate in together, especially if you're a competitive group. Mini golf, volleyball, and tetherball are available for you to determine the sportiest of your friends. If you're not looking to pummel each other in games, you might be more interested in the activities like the hayrides, movie nights and nature trails. All are welcome!
Recent campers say: "Enjoyed our time." "Love this campground." "Needs better staffing."
Attica Pines Campground
4142 Belle River Road
Attica, MI 48412
Hookup, water and electricity: $35 per night
Ruby Family Campground: Avoca, MI
This beloved campground is well reviewed online. You can partake in plenty of themed events if you time your visit just right around a holiday. The campground offers full hookup, electric hookup, rustic sites and cabins. It has a creek flowing through its grounds, accompanied with a pond, making it worth bringing your swimming trunks so you can enjoy the escape from summer heat. This campground family-owned and, based off of their website's "About This Site" page, these folks have a great sense of humor.
Recent campers say: "I really like this campground." "Clean campground." "Well managed."
Ruby Family Campground
7700 Imlay City Rd.
Avoca, MI 48006
$30+ per night
DETROIT METRO AREA
Highland Recreation Area: White Lake, MI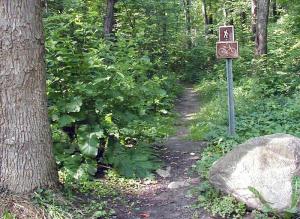 This recreational area allows for camping, but is often used for day trips as well. There are tons of activities here. Visitors can bring horses or pets and go on trails through the giant forest. The beach house near the lake is a great place to hang out before swimming or fishing in the lake. During the winter, activities are still plenty. People cross country ski, snowmobile and watch wildlife. There are multiple areas for eating your picnic lunch outside.
Recent campers say: "ABSOLUTELY INCREDIBLE." "A great place."
Highland Recreation Area
5200 E. Highland Road
White Lake, MI 48383
Clearwater Campground: Ortonville, MI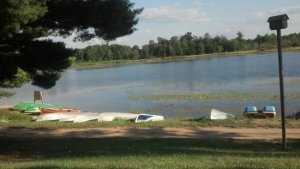 This campground has a petting zoo, trails winding through the woods, and a lagoon with a fountain among other things. There are scheduled weekends for your enjoyment, and the family-owned campground will do its best to please you. Clearwater Campground is also known for its rope swing that everyone loves and the beach, too!.Make sure to look into Clearwater Campground for a great stay.
Recent campers say: "Fun family campground." "Clean, beautiful, and pristine." "Sometimes the staff is very friendly."
Clearwater Campground
1140 Ortonville Road
Ortonville, MI 48462
$50+ per night
SOUTH CENTRAL MICHIGAN
Sherwood Forest Camping: Olivet, MI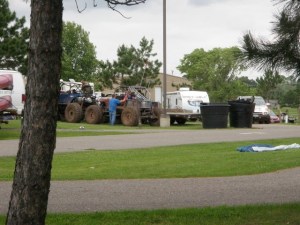 This family-owned campground is a great place to enjoy campfires, fishing and sports. The heated swimming pool and fishing pond allow for water activities. Hookups include 30 amp and 50 amp electrical. There are themed weekends to plan your trip around starting after Memorial Day weekend each year. Don't worry about water, that is provided, as are clean bathrooms and showers.
Recent campers say: "The kids had a blast." "Smaller campground." "Campground is very rundown."
Sherwood Forest Camping
5563 Sherwood Hwy
Olivet, MI 49076
$45+ per night
EAST CENTRAL MICHIGAN
Lake of Dreams Campground: Merrill, MI
Lake of Dreams campground has a variety of activities to engage in during your stay. Whether you decide to sleep here in a tent, RV, or cabin you'll enjoy your vacation here. Go fishing, swimming or cook over a fire and enjoy being away from busy life. There are 253 campsites here, but should still make a reservation if you're planning for a camping trip during the busy summer season.
Recent campers say: "The sites are nice." "We loved it so much." "Bathrooms were on the dirty side."
Lake of Dreams Campground
1000 So. Fenmore Road
Merrill, MI 48637
Tent sites: $37 per night
Cabins: $65 per night
Frankenmuth Jellystone Park: Frankenmuth, MI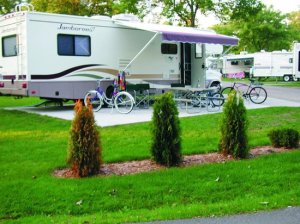 If you love Yogi Bear, check this one out! This campground is known for having a great staff. The amenities are clean and there are lots of opportunities to be social. It can get pretty packed, which can be a positive or negative, depending on what kind of an experience you want. If you want to feel as though you are in nature's solitude, then it might not be the best fit for you. However, to those interested in being able to meet others and share summertime activities, this is perfect. There's even a Yogi Bear who loves to take pictures with campers that walks around the park. Don't worry: No one has complained about missing picnic baskets yet.
Recent campers say: "Office staff were friendly and helpful." "We love the culture and the amenities of this park."
Frankenmuth Jellystone Park
1339 Weiss Street
Frankenmuth, MI 48734
$62+ per night
Pine Ridge RV Resort & Campground: Birch Run, MI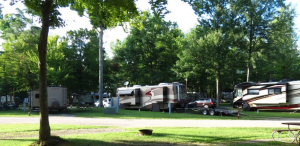 This campground and resort has a lengthy list of nearby attractions within five miles of the grounds. You have the option of shopping in the outlet malls, antique stores, the River Place and a few more places. If you want to feel like your vacation is on the more educational side, there are historic sites and a couple of museums that can satisfy your scholastic thirst. Adults can enjoy the brewery and kids will love the carriage rides and indoor water park nearby. Also, your much-loved pets are allowed in the park, just don't forget their leashes.
Recent campers say: "Very secured." "Online reservations would make it easier." "Nice-sized lots."
Pine Ridge RV Resort & Campground
11700 Gera Road (M-83)
Birch Run, MI 48415
$48 per night