Aqua-Vu is preparing to release the HD10i Pro Underwater Viewing System to give anglers the ability to see fish at any depth, going beyond sonar's interpretive viewing. It allows them to discover and see subsurface sweet spots and the fish living there with their own eyes in real time. Priced at $999.99 (MSRP), the new Aqua-Vu HD10i Pro system arrives at retailers in fall 2017. Check out the preview video below!
The most advanced, user-friendly live video device of its kind, the HD10i Pro gives you both a modular, interchangeable underwater camera and a RAM Mount compatible LCD monitor for your boat.
Related Stories: 4 Kite Fishing Tips To Try On Your Next Big Boat Outing
"Aqua-Vu's new HD10i Pro solves mysteries I can't get answers to any other way," says Bassmaster Elite Series Pro, Ott DeFoe. "It's an invaluable tool for insuring those fish you're seeing on sonar are bass instead of something else. And the fact I can now mount the LCD right beside other electronics gives me the most complete underwater perspective possible."
Engineered with an expansive 10-inch ultra-bright LCD, the Aqua-Vu HD10i Pro is viewable in bright sun, with polarized sunglasses and from multiple angles — all thanks to 1300-nits of illumination and 3M® Anti-Glare coating. Packaged connected to its portable camera shuttle (with rechargeable 12-volt battery), the lean LCD module also instantly detaches for dash / console mounting, and can be powered by the boat's 12-volt power system.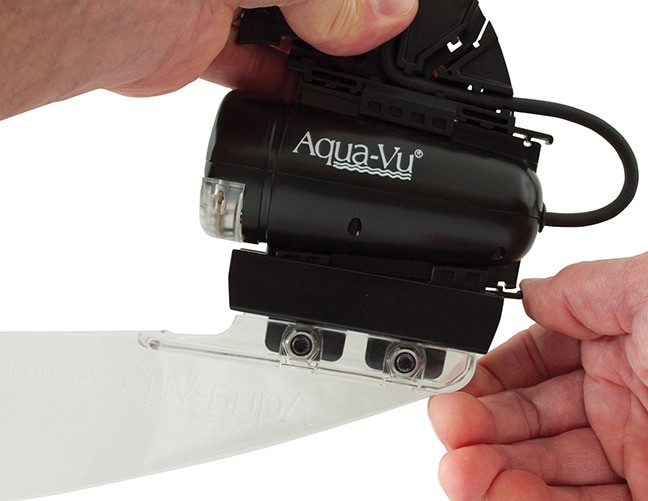 Cutting edge Aqua-Vu screen technologies include TouchZoom for putting big fish or any segment of the underwater world under the microscope. Exclusive on-screen data such as digital camera depth and direction and water temperature enhance anglers' abilities to pattern fish and dial in bites fast.
Related Stories: Boaters – How to Improve your Boating Skills the Easy Way
Beneath the surface, the high-definition (720p), multipurpose XD™ Camera features the Quick-Attachment™ System, compatible with new easy-to-connect accessories, such as the reversible XD Trolling Fin (for forward or reverse viewing), XD Flood Light and XD Pole Cam adaptor. Matched to any telescopic painter's pole, the XD Pole Cam adaptor allows anglers to manually probe beneath boat docks, fallen timber, matted vegetation and other previously inaccessible cover.
The new Aqua-Vu XD Live Strike™ accessory brings new levels of excitement and interactivity to sight fishing. Simply clip your fishing line to the Live Strike snap (lure trailing 1 to 10 feet behind the optics), deploy the camera to the desired depth and begin trolling or drifting. In live, clear HD video, anglers will enjoy the show right on the 10-inch Aqua-Vu screen. Watch fish strike and follow lures; get a realistic view of each lure's underwater action.
Other standard HD10i Pro camera features include:
High-intensity, adjustable infrared lighting
125-feet of HD cable
Camera storage shuttle with internal 12-volt rechargeable battery and Smart Battery Charger
Integrated screen protector
Rated IP67 waterproof
HDMI video output for connection to an auxiliary monitor or recorder
A custom Soft Carrying Bag
Originally reported by thefishingwire.com