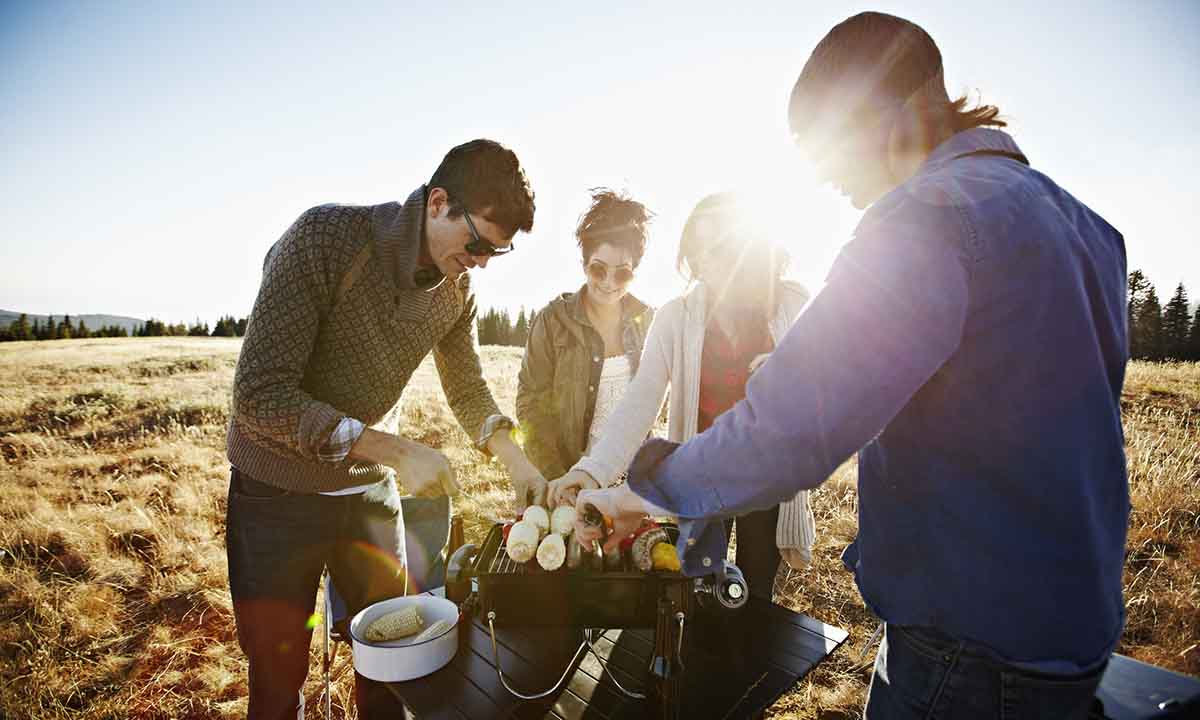 Backcountry Cooking: 9 Tips for Crafting Simple, Yet Gourmet Meals on Backpacking Trips
The backcountry is no place for the decadent, cast-iron cooking made viral with those Men With The Pot cooking videos. We love that fantasy as much as the next person, but when you're marching for miles with your whole campsite in tow, it's quickly apparent that heavy pots, knives, and juicy steaks are a recipe for disaster (or at least very sore shoulders). 
That doesn't mean you have to settle for tuna packets and granola bars—or drop hundreds of bucks on those deliciously overpriced freeze-dried meals (looking at you, Backpacker's Pantry). We've got a plethora of ideas for crafting cheaper, tastier, and lightweight meals in the middle of the woods, from fast-food condiments and camp stoves to the all-powerful tortilla.
Always bring tinfoil
Cheap, lightweight, and endlessly riffable—tinfoil is a chef's best friend in the backcountry, especially while cooking on a live fire. Wrap it around a few potatoes (or really any meat or vegetable combo) with salt and olive oil, and stow that tinfoil packet in the coals of a fire for a beautifully soft, charred dinner. It also works as a makeshift lid (or even a pan) in a pinch. Think of it like cookware origami; it can take on any shape or function you may need.
Single-use condiments are your friend
The next time you order Chinese takeout or go through a fast food drive-thru, grab a few extra packets of ketchup, soy sauce, mayonnaise, hot sauce, or whatever condiments float your boat. Those little packets of salt, pepper, honey, and jam often found at diners are also great candidates. That dash of flavor can make all the difference when you're cooking with limited ingredients, providing desperately needed zing to a rice dish or a sandwich wrap.
The more dehydrated goods, the better
If you're a hardcore backpacker, you probably know someone who owns a dehydrator (maybe you've even considered it yourself). That's because the best way to both preserve and reduce the weight of your food is, in layman's terms, to suck out all the water. Luckily, for us mere mortals who do not (yet) own a dehydrator, there are plenty of commercial options.
At most grocery stores, you'll find dehydrated packets of sauce, broth, peanut butter, and sometimes even hummus. Our personal favorites are the dried packets of pesto and alfredo sauce, which can seriously punch up a pot of pasta. Powdered milk is another versatile ingredient to keep on hand for a creamy, decadent flourish to anything from oatmeal to a pot of tea. If you do decide to spring for a dehydrator one day, we highly recommend this recipe for scrambled eggs.
Don't skimp on salt, spices, and oil 
This one might seem obvious, but you'd be surprised how many folks forget. Since salt and spices don't weigh very much, it's really a win-win. The real trick is to bring the appropriate amount of salt and spices (more than you think) and to store the oil properly. Seriously, there are few things worse than spilling olive oil inside your pack.
We recommend storing the oil of your choice in a shampoo bottle, and then wrapping that bottle inside a plastic bag to guarantee nothing slips out. Olive oil is our go-to, but if you want to imbue even more flavor, try an infused olive oil with rosemary, garlic, lemon—or all of the above.
Make sure you have the right gear
Live-fire cooking is wonderful in the wilderness, but factors like weather, timing, and park rules mean you can't always depend on a campfire. We recommend opting for a lightweight, flexible stove such as the MSR PocketRocket, along with an aluminum or titanium lidded pot that is fire-resistant. Other important items are a knife, lighter, small quick-dry towel, sponge/scrubber, and eating utensil. We also love chopsticks as a super lightweight alternative to tongs.
Get creative with carbs
There are more lightweight simple carbs than you think. Rice, oatmeal, and pasta (especially ramen) are usually what come to mind first—and those are great options—but don't forget about dried polenta, grits, instant potatoes, refried beans, or even pancake mix. Personally, we love flour tortillas for their versatility and burrito-making powers. Wrap whatever you want into a tortilla, wrap that in tinfoil, and rest it on the coals of a fire for a supremely satisfying dinner.
Pack goods with flexible expiration dates
We're begging you, please don't forget about hard cheese. Parmesan and aged cheddar can usually last in the wild for at least a few days, and in our experience, it gets devoured before it has a chance to spoil. Summer sausage, pre-cooked pepperoni slices, and even dehydrated bacon bits are also great ingredients to bulk up a dish. If you're more of a plant-based chef, try nutritional yeast or dried mushrooms for a wondrous umami bomb.
Remember . . . fruits and vegetables exist 
Onion, garlic, cabbage, carrot, apples, and asparagus are a few examples of produce that hold up surprisingly well in a backpack. Alliums are especially clutch, since it often takes just a few slivers of garlic or onion to amp up a dish—but don't discount the power of a cooked vegetable dish, either. Carrots or asparagus can easily be diced and sauteed inside a small, lightweight pot and folded into pasta, rice, or any other carb or protein of your choosing for a desperately needed splash of freshness.
Keep your eye out for wild edibles
We always recommend exercising caution when it comes to wild edibles. That being said, if you learn a few basic identifications, you can forage your way to some incredible backcountry meals. In the summer, keep your eyes peeled for wild berries like blackberries, elderberries, and strawberries. Wild onions and ramps grow in many places around the country—and the chicken of the woods mushroom (known for its meaty, juicy texture) is one of the easiest edibles to spot.