Best Multi-Tools For Camping
Best Multi-Tools For Camping
Few camping tools are as useful as the trusty multi-tool. Whether you need a screwdriver, a can opener, a knife, or a pair of pliers. These reliable tools provide a variety of functions, so you can perform every camping task imaginable. Remove a fish hook, whittle some wood, open a can of beans, or adjust your camp stove. With a multi-tool, everything you need is at arm's length. Of course, there are many multi-tools on the market. But some of them are worth their weight in gold, and others aren't even worth the paper the owner's manual is printed on. How do you know what's what? We're about to take you through what multi-tools are worth using, and which ones aren't. Let's take a look!
Leatherman Charge Plus TTi
The Leatherman Charge Plus TTi is the manufacturer's flagship product, and it's easy to see why.
This versatile tool provides a fantastic combination of tools, along with a rugged construction that allows it to take a lot of abuse. The titanium frame in particular is a much-appreciated selling point, both lighter and more durable than steel. At half a pound, this multi-tool is reasonably lightweight. It also has exceptionally sharp knives, and is very portable. It can be carried in a belt sheath, inside or pocket, or on a lanyard using the built-in lanyard hole. The low-profile screwdrivers are also well-designed, and come in several sizes for turning a variety of different screws. That said, this multi-tool is a bit pricey when compared to the competition. In addition, it includes too many screw bits, and might have done better with a more versatile array of tools. As is, you still get a great quality multi-tool, with a wide variety of bits. If you're more concerned about screwdrivers than you are about saws, scissors, and a sewing kit, this is a great multi-tool for you.
Leatherman Wave Plus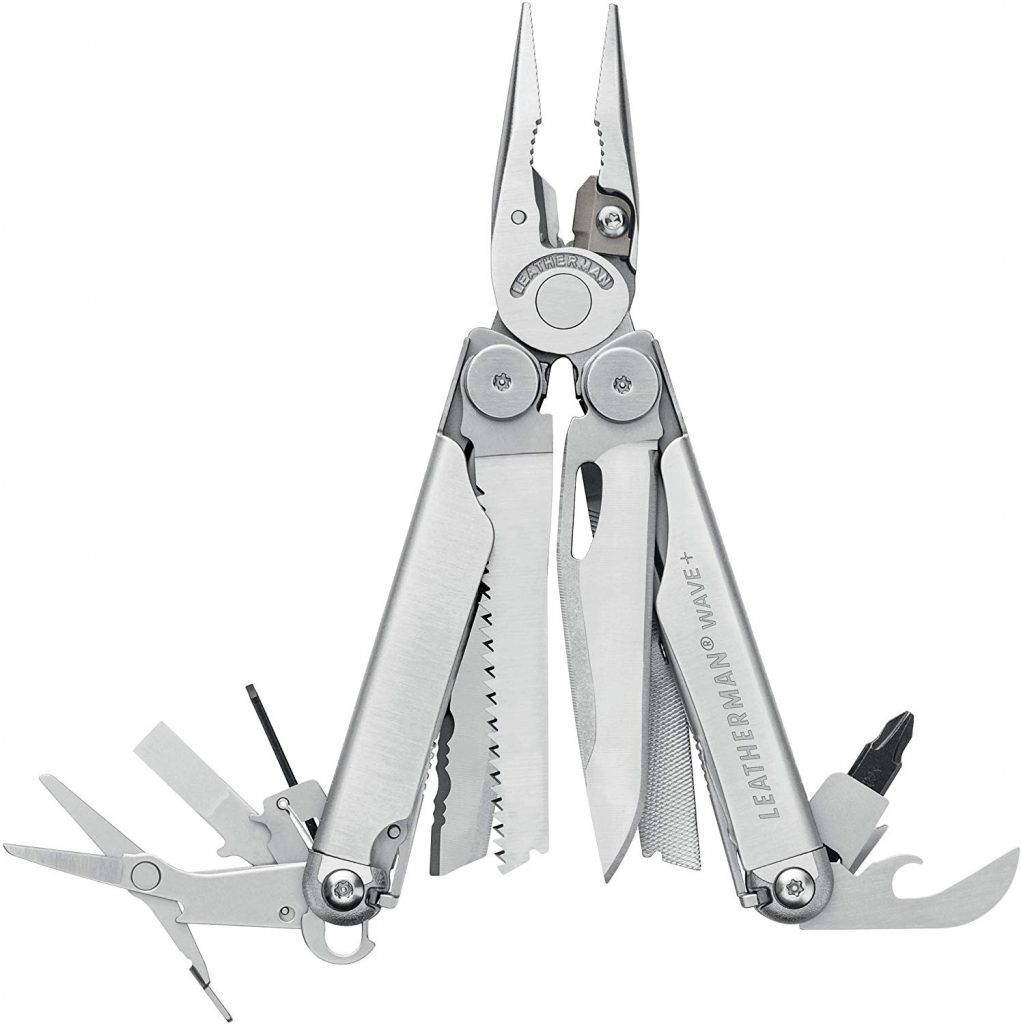 The
Leatherman Wave Plus
is a modified version of the TTi, designed for campers who have more modest needs, but who still demand the same quality standard. You'll get the same rugged, corrosion-resistant titanium case, which keeps all your tools safe while they're sheathed, and which doesn't bend or flex while you're applying a little bit of torque.
That said, compared to the Charge Plus TTi, you're looking at a less complex tool overall.
To begin with, you'll be short all the extra screw bits, and you won't get the same belt clip and lanyard hole as the original model. That's to be expected when you're trying to save money, but it's important to point out the differences. Other than that, you're getting the same high-quality multi-tool you're getting with the TTi, at a more reasonable price.
Leatherman Wingman
The
Leatherman Wingman
is an even more affordable multi-tool, which they produce without compromising their reputation for integrity and high quality. The Wingman brings their longstanding pedigree to the budget-rate market, and it's a welcome addition to the marketplace.
This model features a spring return on the pliers, which is a nice touch when you're performing a series of repetitive tasks.
It also reduces strain on your hands, so you can squeeze harder without wearing down your wrists. All of that being said, any multi-tool of this price is going to have some issues. For one thing, the blade is constructed from mid-grade steel, not the high-grade stainless of the Charge Plus TTi or the Wave Plus. This means it will need to be sharpened more frequently, although the softer steel is also easier to sharpen.
Stanley 12-in-1 Multi-tool
The
Stanley 12-in-1 Multitool
is our only entry from a brand that isn't Leatherman, but it's a worthy addition to the lineup. For one thing, it's frequently on sale, and you'll often see it on offer for half price or even better. That doesn't mean that Stanley compromises on quality, though. For one thing, the screwdrivers are tough and durable, although the only ones available are on the small side. On the other hand, most of the accessories are only available with the pliers open, which adds extra effort every time you need to use a tool.
That said, the Stanley 12-in-1 Multitool is a great value for the price.
If you're looking for reliable tools at a reasonable price, this is a great choice.
Leatherman Crunch
The
Leatherman Crunch
is an offset pair of pliers that are designed to work on hex bolts, although the fatter design is poorly suited for fine work.
These tools feature a lightweight design and are spring-loaded for easy opening and closing.
This multi-tool has the same disadvantage as the Stanley; namely, most of the tools are only accessible with the pliers open. This makes all but one of the knives difficult to access, as well as all the screwdrivers. This is a significant oversight, but the rugged design and the wide tool selection still make the Crunch a worthwhile choice.
Backpacking? Check out our review of the Leatherman Signal.