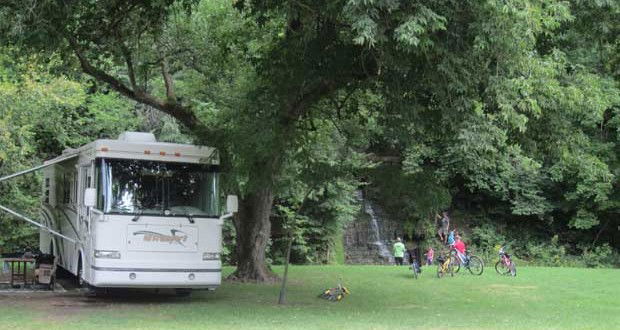 Camping at Spook Cave and Campground in Iowa
Located in McGregor, Iowa Spook Cave and Campground has become a family friendly camping destination in Eastern Iowa. We recently had the chance to speak with Paula, the manager at Spook Cave and Campground to gain some insights on what makes Spook Cave so great.
Camping at Spook Cave and Campground
Camp Iowa: How long has Spook Cave had established areas designated for camping?
Paula: Since 1955
Camp Iowa: What are the main reasons that people choose to camp at Spook Cave?
Paula:
We are located in a valley surrounded by beautiful bluffs, trout stream, waterfall and lake. 8 miles from the Mississippi River. Family friendly, peaceful campground. We also, have 6 fully furnished cabins to choose from, with 4 of them being log cabins that sleep 6.
Camp Iowa: What activities does each of the parks offer? Rentals? Programs?
Paula:Cave tours by boat, 2 playgrounds, lake swimming sand beach, trout fishing, lake fishing, creek stomping, waterfall, hiking trails, sand volleyball and game room.
Camp Iowa: Can you bring your own firewood into the park?
Paula:Yes, and we also sell it and deliver it to your site.
Camp Iowa: When guests leave the parks for an outing, where do they usually go in the area?
Paula:Pikes Peak, Effigy Mounds, Yellow River, Osborne Nature Center, Mississippi River.
Camp Iowa: Do you sell ice or any food stuffs in the park? If not, how far to the nearest convenience store?
Paula:We sell ice and we have several refreshments/supplies in our Gift shop. Nearest town is 6 miles away.
Camp Iowa: Do you offer any group camping sites?
Paula:
Yes, by our lake is the best for groups.
Camp Iowa: How secluded are the campsites in Spook Cave?
Paula:They are spacious sites with large trees. You have other campers beside you but not in front or behind. Our log cabins are secluded and private.
Camp Iowa: Can you make reservations for the campsites or are they on a first come – first served basis?
Paula:We take reservations and every May 1 you can start reserving for the next year.
Camp Iowa: If you could spend just 1 night in a Spook Cave campsite, which campsite would you choose – and why?
Paula: I have children so I love to be near the playground with the trout stream behind me and the restroom near by but our most popular site is 108 which is right next to Beulah Falls (waterfall).