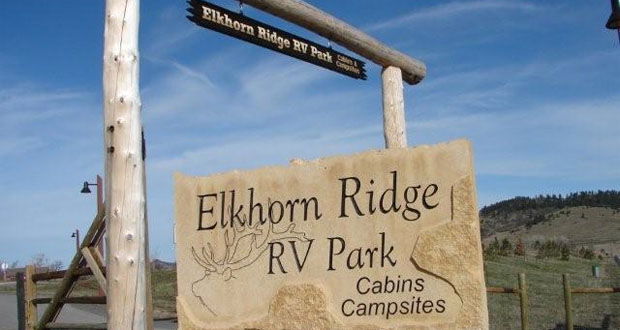 Elkhorn Ridge RV Resort in South Dakota
Elkhorn Ridge RV Resort in South Dakota
Camp South Dakota: I'm talking with Nick today. He's the General Manager at Elkhorn Ridge RV Resort in South Dakota. Nick, why don't you get us started with providing a little bit of background on Elkhorn Ridge RV Resorts?
Nick: Okay. Elkhorn Ridge RV Resort is setup right between for easy access right off the Interstate 90 at exit 85. It's exit 17 on I-90, right between Spearfish, Sturgis, and Deadwood. We're seven miles from each town. We have 288 RV sites, 36 cabins and general store-in side, and about 30 tent sites along a little creek side bed here at the exit.
Camp South Dakota: Okay. So, camping for just about all types of campers. What are the most popular activities for your guests there?
Nick: Well, onsite here, we actually have a basketball court, tennis court, horseshoe pits, volleyball nets, swimming pool outdoors, and then we have a walking trail. We also have a dog park onsite, where we separate the furry friends from the regular campers and they can have some fun too.
Camp South Dakota: And I see here on your website, Elkhorn Ridge Golf Club. Tell me a little bit about that.
Nick: We have one of the best 9-hole golf courses right across the Highway 85 from us here. It's been open for about four and a half years, and we just got authorization this fall. This summer we'll start the new 9 and it's going to be an 18-hole golf course by the end of 2015.
Camp South Dakota: Nice. Nice. And let's say I were staying there for the weekend and I wanted to venture outside of the resort there. What are some of your favorite attractions in the area that you'd recommend, Nick?
Nick: Well, Deadwood is just seven miles away also, so there are casinos and gaming, and a lot of history up in Deadwood. Spearfish Canyon is a beautiful drive, especially in the fall when the changing colors of fall the trees go through. That's only ten miles away from us here also. So, lots of hiking trails, biking, just about everything you want to do outside.
Camp South Dakota: It's a gorgeous area. I remember going through there on our way to, I think, Yellowstone, when I was a kid, and I'm pretty sure it's in Deadwood. My strongest memory is that one of the establishments we were in had a two-headed calf.
Nick: Yeah.
Camp South Dakota: Do you know what I'm talking about?
Nick: Yeah, I do. I specifically do. It's actually in the Adams Museum in actually Downtown Deadwood. And the cool thing about the Adams Museum is Mr. Adams, and actually the site that we're on here for Elkhorn Ridge, Henry Frawley started up. And the two of them actually rode to town together. Their first meeting was on the train coming in from Bismarck, North Dakota. They came best friends and two of the most prosperous people in Deadwood.
Camp South Dakota: Wow. Wow. Yeah, that was certainly a site that I will never forget. Very memorable and also very fun to go back and tell all of your fifth grade friends about that. That was pretty awesome. Two more questions for you, Nick. If you were going to spend just one hour hanging out at Elkhorn Ridge RV Resort, how would you spend your time there?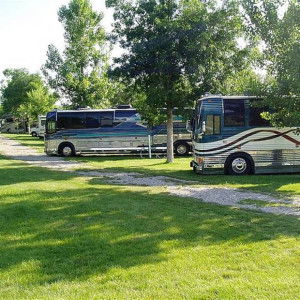 Nick: One hour? I specifically would sit by the pool, relax, and just enjoy the sun into the black hills. The scenery around here in itself, I mean you're surrounded by hills pretty much on all four sides, going up into the black hills. Just beautiful.
Camp South Dakota: The black hills are absolutely amazing as well as the bad lands. I mean there are parts out there I try to tell people. It feels like you're on a different planet. I mean it's just amazing topography out there. And last question for you: if you were going to spend just one night at Elkhorn Ridge RV Resort in South Dakota, where would you stay specifically there? What would you recommend?
Nick: We have fire pits throughout the campground here, so sitting out by a fire with family and friends and just enjoying, once again, the scenery. The openness. The quietness. I mean we have actually birds set out, so it takes the sounds away from the highways running by, so it actually gets very quiet and peaceful in the campground itself.
Camp South Dakota: Oh, nice. Perfect. Well, hey, thank you so much, Nick, for taking some time out of your morning to give us some more information about the surrounding area there as well as Elkhorn Ridge RV Resort in South Dakota.
Nick: Thank you very much. We hope to see people out here.