Harold Tan and the World's Most Portable and Powerful Solar Charger
Portable solar chargers are nothing new. As avid campers we have had the option to purchase these gadgets for a few years now to power our devices when outdoors. The only problem was they took so long to charge! And when they finally did charge, they did not provide that much power. Do not fret fellow campers, we found our savor in Harold Tan, President and Creator of SunJack — The World's Most Portable and Powerful Solar Charger.
What is your backstory?
I've been an entrepreneur in various eCommerce and tech ventures for over a decade. You can lookup specifics through my LinkedIn (haroldtan.com), but generally I love creating and growing businesses. My experience has primarily been in eCommerce, and I've been in the solar industry for about 3 years now.
What motivated you to develop SunJack?
I was working on GoGreenSolar.com, an online eCommerce store for solar components, when I noticed that the portable solar chargers on the market were too weak to provide wall-outlet charging speeds, or too big and bulky to be backpackable. I could see the demand for portable solar power and felt that we could innovate power and portability into our own solar charger. As an avid multi-day camper myself, I felt I could really understand the need of our target demographic.
Can you describe your products and its uses?
Yes, the SunJack harnesses solar power during the day and stores it in a specialized battery for use 24/7. The battery can charge and power any USB device – phones, tablets, GPS, cameras, speakers, lights, and more. We're constantly finding new things to power now that we have the capability for power on the go. We've found it to big a big hit with campers, travelers, festival goers, and survivalists. We've also developed our own USB light bulb that puts out an incredible amount of light for several hours off one solar charge.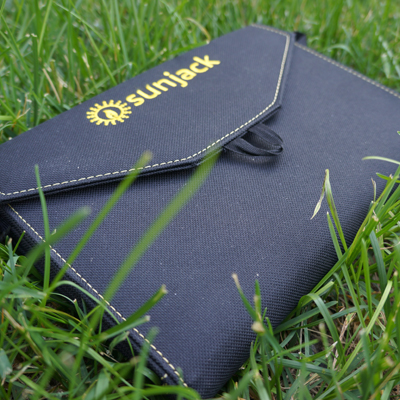 You describe the Sun Jack as "world's most portable and powerful solar charger" how did you accomplish this?
Our 20 Watt SunJack is able to store 16Ah of energy within 5 hours of sunlight. No other charger currently accomplishes this in our form factor. The way we accomplished this is by having dual 2 Amp outputs on the solar panels, and two lithium-polymer batteries that are each capable of taking 2 Amp inputs. This effectively allows the panel to put out and store energy at a 4 Amp rate, which is FAST compared to other similar chargers.
What makes this solar charger unique compared to the competition?
Our claim to fame is really the charging speed, but we also have a complete solution with our battery pack. Many competitors don't provide a battery with their solar panels, which really renders their charger somewhat ineffective when you're really going off-grid and sunlight may be inconsistent.
You doubled your goal on kickstarter, why do you think this product was received so well?
Apart from having a useful product for campers and outdoors people, we also have a humanitarian effort in the background. While the SunJack is useful for powering our first-world luxuries, it can change people's lives overseas in countries that lack stable sources of electricity. What TOMS does for shoes, we do for energy – and providing the ability for rural villages to power a light not only encourages literacy and education, but can also be the difference between life and death when dealing with medical emergencies and health repercussions from indoor fires.
What do you hope to accomplish with this new funding?
We have been able to complete our initial production run and now hope to get it out to publications such as 50 CampFires that would be interested in reviewing it.
What do you think is the next steps in advancing portable solar energy and its uses?
The SunJack 14 is designed for phones, the SunJack 20 is designed for tablets – our next step is to develop a SunJack that can power laptops and even fridges. I see a future where people can really untether themselves from the grid and have mobile power for anything, anywhere. Portable solar power will do for energy mobility what laptops did for computing mobility. As we provide people the power, the uses will reveal themselves even further.