Looking for the perfect weekend camping getaway spot this fall? Foster Falls in Tennessee's South Cumberland State Park has got you covered for a weekend of adventure. If you can go in the next few weeks, you should experience a wonderland of vivid autumn colors.
Foster Falls is just one of the many wonders of South Cumberland State Park, which spans 30,845 acres across its nine areas. While the area around Foster Falls is enough to keep campers entertained for a weekend there are so many waterfalls and trails within the larger park, if you want to stay and explore for an extended time.
A Secluded Camping Experience
If you're looking for a more secluded camping experience, check out Father Adamz campground. This primitive campground close to Foster Falls in South Cumberland State Park requires campers to leave their vehicles in the parking lot and hike in. The hike from the parking lot to the campground is a relatively easy, 0.5 mile hike with a little bit of up and down, but overall relatively flat, so it isn't too difficult to hike in with gear.
At the parking lot, there are bathrooms and/or porta potties available depending on the season. There is a spot to fill up water in the picnic area by the parking lot, as well. Once you get the campground, there is no water source available so be sure to fill up here or before you arrive. There are no bathrooms with running water at the campground, however there is an outhouse close to the campsites.
The campsites are fairly large and can accommodate six people per campsite. These campsites must be reserved in advance. While the campsites are somewhat close together, there is enough distance that for the most part you can't hear your neighbors and can enjoy your own space. Surrounded completely by trees, fall is the perfect time for a trip to this campground as you're enveloped by a forest of the most brilliant shades of red, orange, and yellow trees. Opening a tent flap to this blend of colors is almost surreal and pictures don't nearly do it justice. While the forest blankets the view of the sky, the stars in this area are still bright and evident enough to allow stargazers to catch a glimpse through the trees.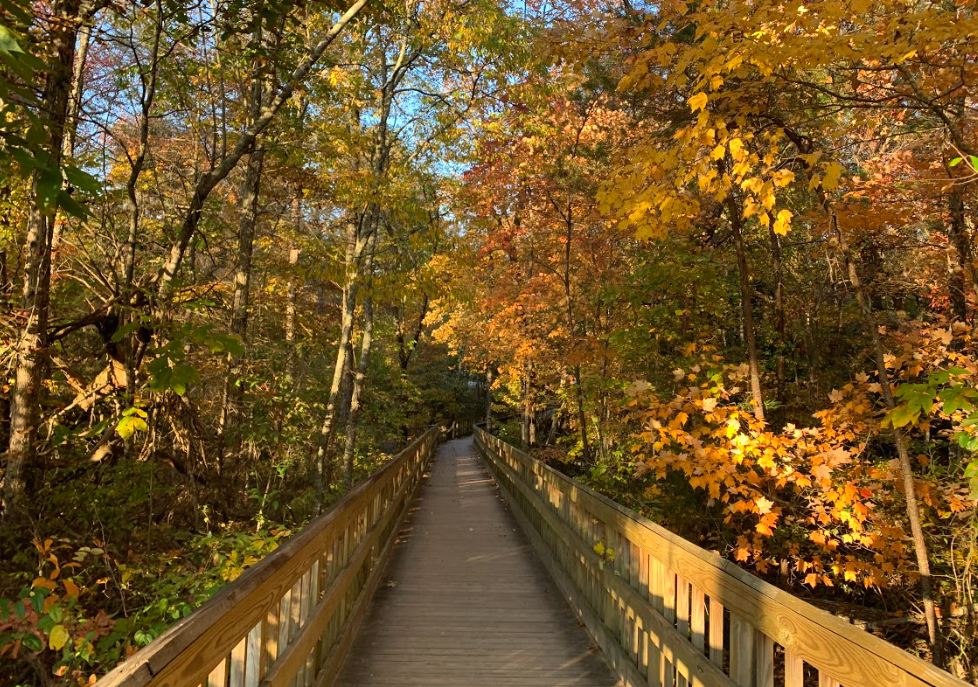 These nine campsites are rather spartan and come with just an area to build a fire. There aren't amenities like picnic tables or trash cans, so be sure to properly take care of your trash. As with any campground, remember to be respectful and aware of wildlife. Keep your trash in a safe location out of reach from animals and be sure to pack out everything that you bring in with you.
More Primitive Camping Experience
For those looking for primitive camping with a bit of a longer hike to the campsite, the Small Wild campground is also in this area, offering six campsites roughly a 2.5 mile hike away from the Foster Falls parking area. For campers who want the comforts of having their vehicle at their campsite, Foster Falls Campground not only allows you to park a vehicle at your site for the night, but each site also includes a fire ring and a picnic table.
This area of Tennessee is an outdoor enthusiast's dream. The hike to the base of Foster Falls is just a mile away from Father Adamz campground. It is a relatively easy hike that does involves some stairs and a walk across a suspension bridge. In the summer months, once you get to the pool at the bottom of the falls, spend an afternoon in the cool water. Bring a lunch and spread out on the rocks by the water's edge for a picnic. While at times it is flowing steadily, due to lack of rain the past few week, the waterfall is currently pretty dried up. However, the colors of the trees in this section of the park most definitely make up for the lack of waterfall.
The Father Adamz campground is located on the 11.75 mile Fiery Gizzard Trail, which takes hikers past numerous waterfalls and overlooks, showcasing some of Tennessee's most stunning landscapes. This hike can be rather strenuous so be sure to plan ahead to allow enough time to finish the hike or simply select a portion to hike to do.
Rock Climbing
If rock climbing is your thing, the rock climbing in this section of South Cumberland State Park is known as a favorite amongst climbers in the south. With routes for climbers of all skill levels, you'll often see groups heading from the parking lot heading out for a day of climbing. Be sure to check out the park's website for details and rules for climbing.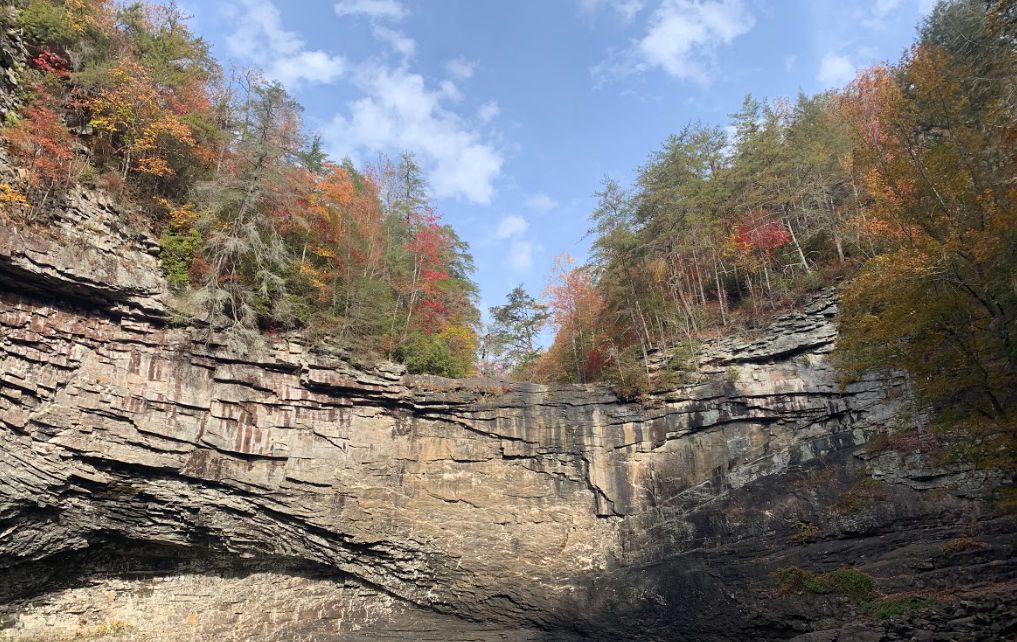 Whether you use it as a basecamp for a weekend of outdoor adventuring or simply a nice quiet spot to relax in the woods, with its scenic surroundings, Father Adamz campground at Foster Falls will not disappoint.