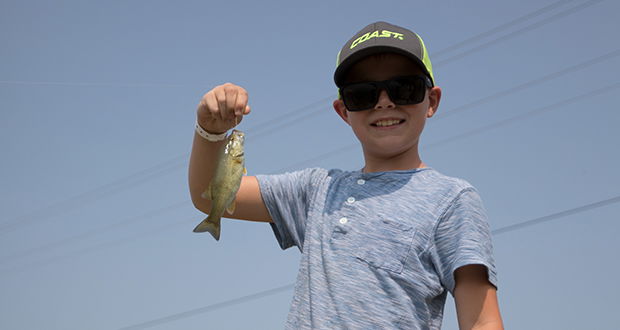 Fishing The Beautiful Lakes Of Door County WI
Planning the 50 Campfires Lake Michigan Shores Field Trip, the temptation was great to focus on "The Big Pond" as it's sometimes called. After all, Lake Michigan is home to three species of salmon, four species of trout, and other game fish. Around the Lake, hundreds of fishing charters are ready to take you out and help you enjoy a "big day" on the water.
Door County, Wisconsin also has Green Bay to offer fantastic fishing off the western shore of the peninsula. It's world-renowned for its smallmouth bass, walleye, and even muskie fishing. But to really hope for success … and access the kind of boat and complicated, expensive gear that's required … you need a guide there, too.
Our 50 Campfires crew was looking for something a little more laid back, something that anglers of all ages, experience levels and varied dedication could enjoy. They found it in fishing inland waters, from shore, mostly for panfish like sunfish and rock bass and the like. It's not complicated. It's not expensive. And it allows plenty of time for family interaction … without the meter running.
A stop at a local bait and tackle store provided the information they needed for several promising locations. The crew grabbed some trusty spin casting and spinning gear … and just the most basic of tackle … and some good bait.
To Catch a Fish
When you're introducing newcomers, or helping someone who hasn't fished in a long time reconnect, simple is always better. Simple gear, simple location, simple fish to catch.
While nothing is simpler than a cane pole with some line tied on it, they aren't necessarily the best way to start especially for anglers of diminutive stature. Get a trusted, reliable spincast outfit with a matched rod. These are easy to learn and use for anyone, and they can take a beating. Combo systems come set up with line, too.
As for tackle go with: a small hook, a split shot sinker clipped to the line about a foot above it, and a clip-on bobber big enough to be seen easily, but not too big for a small fish to pull under. The most common bait is earthworms, but some folks find them too "icky" to put on the hook. There are also many kinds of artificial "live" bait that work well, too. Ask at a local bait store what's working, but be specific about the kind of fishing you'll be doing. Chances are pretty good the recommendation will be, "worms."
The huge advantage of fishing from shore or a dock is that it doesn't take commitment. You're not locked in place for as long as the charter lasts. Someone needs the bathroom? Well, it's just back in the park. Somebody gets bored? Well, you can probably find frogs to catch and grasshoppers to chase not far away. The whole family is not into fishing? Well, they can be nearby doing their things, too.
Pick a shoreline or structure from which you and your whole crew can fish safely and comfortably. A life jacket is a good option for the small ones, especially where the water is more than a couple feet deep. And remember, just because it's easy for you to rock hop on a jetty, it's not for everyone. Bring along chairs and coolers for comfort, too.
Finally, choose a fishing method that's intuitive. First timers want to, expect to, catch fish. At this stage it's not about how you catch the fish or even what you catch. Go with abundant, cooperative fish like bluegills, sunfish, rock bass, or even bullheads. In fact, in Lake Michigan and surrounding waters, an invasive species of fish called the round goby is going crazy. In some places they literally cover the bottom. While they aren't good for eating and they don't get very big, if all else fails gobies can provide the fast action a first-timer needs. Just lower that worm to the bottom and you'll get a bite. To build enthusiasm, the philosophy "catch what's biting" definitely applies for impatient neophytes … even some oldtimers, too.