2014 Gear Of The Year: Aquapac Toccoa Drysack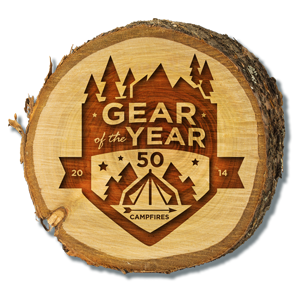 With an endless amount of brands and types of backpacks out there, researching the perfect backpack can be exhausting and overwhelming. The question you need to ask yourself on your quest for the perfect pack is, what will I use it for the most? At 50 Campfires our perfect backpack is one that will carry all our gear and keep it safe for the whole weekend. You'd think that task would be easy, but trust us, it's not always the case.
One of the biggest problems is rain. You don't want to be caught in it unprepared and you really don't want that for your backpack. Soaking wet gear is just an expensive reminder of your poor decisions. A waterproof backpack is the solution. This will help narrow down the search a little more. The outdoor elements can be a little harsh to our belongings, so we need a backpack that is proven to withstand whatever mother nature throws at us while we camp and hike. The last must have feature in the ultimate backpack is simplicity. We are a simple folk when it comes to the bells and whistles of a backpack.
Without sacrificing any of our much-needed demands, the Aquapac Toccoa Drysack emerged as the winner. It is made from an all wielded construction of 500D vinyl that is so tough it resists scraps and abrasions while on the trail or around the campsite. To ensure the safety of your gear, this pack simply rolls down and clips securely on both sides making it 100% waterproof. If you need access to your gear, simply unbuckle the sides and unroll the top. The Aquapac Toccoa Drysack is perfect for any outdoor activity by keeping the contents inside safe and offering comfortable, mesh, breathable back straps.
Price: $79
Other Gear of the Year Winners – Category